Safety Tips for Your Dog on the Oregon Coast Beach safety is something you have to not only keep in mind for yourself but for your pet as well
Oregon Coast Whales - Guide to Whale Watching updated news about Oregon coast whales
Oregon Coast History: World War II Remnants You Can Visit While the Oregon coast really enjoyed a special sense of being sheltered from the dangers, the war did hit home here in some remarkable ways it did not anywhere else in America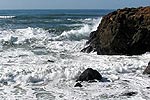 American Travel Photo Essay: Crazed Colors of Depoe Bay, Oregon Coast Depoe Bay has interesting interactions happening between sea and sky with the way it is lit.
Where Are You Going to Next on the Oregon Coast? = leave your comments at this link, and tell us why
Oregon Coast Travel Tips: Netarts is Bigger Than You Think Up on the north Oregon coast, tucked away along the rather secretive and intricate Three Capes Loop, sits a tiny town called Netarts
Highlights of a Spring Break in Cannon Beach, North Oregon Coast Cannon Beach is an oasis of many distractions for parents and the kids, especially if you like the finer things

Three Capes Spring Break Highlights on the Oregon Coast: Pacific City, Oceanside
One of the big treasured secrets among Oregon coast visitors who are in-the-know is the Three Capes Loop

Spring Break Highlights in Yachats, Central Coast
For a tiny town, this central Oregon coast spot is huge on natural attractions.

Seaside Spring Break Highlights on the N. Coast
The undisputed king of spring break for the Oregon coast, Seaside, has more to do this time of year for both kids and adults than you can shake a chunk of seaweed at

Central Oregon Coast Spring Break Highlights at Newport: for Kids and Grownups
Newport abounds with things to do in spring break for both the kids and mom and dad

Spring Break Highlights in Lincoln City, Oregon
Spring break is essentially about the family and the kids on the Oregon coast - but you may not want to discount what the grownups want
Searching for Ghosts on Oregon's Coastline The beaches of Oregon present plenty of opportunity for paranormal exploration
Beers by the Beach: Sampling Oregon Coast Microbreweries All along the Oregon Coast Highway, in seaside towns big and small, you can find talented and passionate brewers
Oregon Coast Road, Traffic Conditions Up to minute conditions, alerts for coast range highways, 101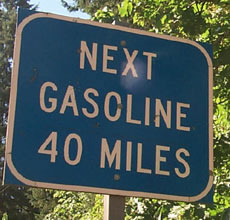 Surprising Unknown Rules of the Oregon Coast There's a lot coastal tourism entities haven't told you, and won't.
What's Up with Those Claims of Oregon Coast Towns? Those little burghs along the coast have a lot to offer, although some of the spin may be more fish tales
The Outrageous Side of Oregon Coast Beaches The Oregon coast is one of the most dynamic places on Earth, where things constantly change, sometimes in truly freaky ways.
Adventures in Oregon Coast Star Gazing For those wanting to try a bit of stargazing a la Oregon coast, the dark beaches and dark spots won't be hard to find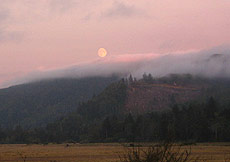 Oregon Coast Travel: Insider Tips from the Locals, Part 1 Fighting high gas prices, the rules for fires on the beach, where can you go camping on the beach, avoiding getting stranded on the highway, and more.
Nature Insider Tips for the Oregon Coast - part 2 There are fossil tours, wildlife tours, tips on where to find fossils, events for birders, kayaking possibilities, hidden nature spots most don't know about and much more. Especially this summer, there's much to do.
Places Where Things Explode on the Oregon Coast Get an oceanic eyeful in Yachats, Depoe Bay, Cannon Beach, Oceaside and more
The Sandy Coast: Soft Wonders of Oregon Beaches It's the stuff long, hand holding romantic walks are made of
Secret Coves of the Oregon Coast They are the beaches lost to most tourists and even to most locals
One Oregon Coast Village Has Gruesome History The pleasant town of Yachats had some truly dark, even demonic beginnings.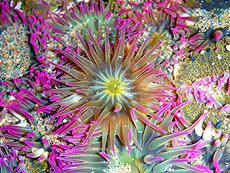 Oregon Coast Science Has Its Creepy, Gooey Side Some outlandish creatures inhabit the beach environment around you, as well as some freaky facts
Bizarre Oregon Beaches You've Never Heard Of One is in the middle of a kind of coastal nowhere, the other hidden in plain sight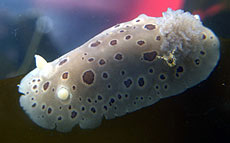 Colorful Sea Slugs Make Waves in Oregon Coast Tide Pools More than 200 varieties of these surreal creatures inhabit the northwest, existing in a myriad of shocking colors, shapes and patterns
Oregon Coast Green Flash at Sunset Caught on Video One magnificent natural oddity caught twice on camera on the Oregon coast in recent weeks
What They Miss About the Oregon Coast There are plenty of folks who remember chunks of living history about the region, and its more rugged, even ruddy appearance and vibes.
Freaky Facts About the Famous on the Oregon Coast Tales about King Crimson, Gov. Arnold, Heart, Sean Penn, John Cleese, Ted Nugent, David Ogden Stiers and more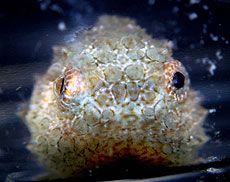 Oregon Coast Freaky Fish, Celebrities, Ghost Trees and An Exploding Whale Witness a wild and distinctive set of crazy facts about the coast
DVD Delves Deep Into Oregon Coast Lighthouses It's a perfect year-round gift for those in love with the coast
Guide to Oregon Coast Whale Watching - Whale News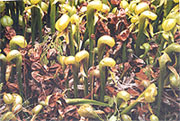 Odd Coast: Castles, Carnivore Plants, Edible Beach Goo Things can make you mmm on the beach, freaky landmarks, eco-friendly surprises and creepy plants
Oregon Itineraries, Day Trips and Tours on the Coast Things to do and quick drives to the coast
Oregon Coast Beaches The Locals Are Trying To Keep From You There's more to the coast than the clam chowder or visiting the same spot each time
More Tourists Turning to 'Living La Vida Local' on Oregon's Coast Not just part-timers, but day visitors are digging deeper too
Eternal Charm of Oregon Beach Burghs Forget the glitz and the commercialism,: this is the way to relax on Oregon's shores