Updated Weekly
Cannon Beach, Oregon Lodgings - Hotels, Motels, Vacation Rentals
(Cannon Beach, Oregon) – Here you will find: upscale lodging, inexpensive, lodging near Cannon Beach, oceanfront, jacuzzi, hot tub rooms, balcony patio, vacation rentals in Arch Cape. See here for changing lodging deals, availability. Check back frequently.
Also, click here for the Complete Guide to Cannon Beach - or the Bed and Breakfast Guide.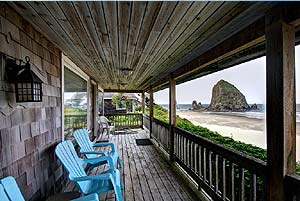 Beachcomber Vacation Homes. Numerous vacation rentals in the Cannon Beach area, including Falcon Cove and Arch Cape. All homes have full kitchens, most with wi-fi, TV's, washer/dryer, and some are oceanfront and/or pet friendly. Depending on the home, you may find amenities and luxuries such as a barbecue, claw foot tub, a ship's ladder, views of the estuary at Cannon Beach, granite counters, vaulted ceilings, skylights, and even a solarium. There is a wood-burning fireplace to be found, covered porch, a large deck, spiral staircase, top quality appliances and many more. One is in a forest looking out on the ocean. One home is two levels, one of which has a luxury apartment. Another is a whimsical A-frame close to downtown. Some homes sleep as many as eight. Close walk or drive to many of Cannon Beach's fine restaurants, shops, and the unpopulated beaches nearby. 115 Sunset Blvd. Cannon Beach, Oregon. 855-219-4758. 503-436-4500. Beachcomber Website here.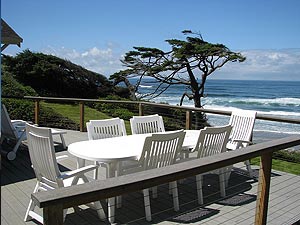 Cannon Beach Vacation Rentals. About 60 vacation homes to choose from: ocean view, oceanfront and very close to the beach, all in Cannon Beach or in Arch Cape. Many of them pet friendly. There are massive, grandiose homes with historic character; brand new, smaller cozy cottages, and even condos near the beach. All are either oceanfront or very close. Homes sleep as many as 12. Depending on the rental, you may find such delights as a clawfoot tub, oceanfront townhouse, gas log fireplace, lawns, garden areas, hot tubs, a deck, multiple bedrooms, a solarium with an intense beach view, and maybe even an electric organ. Some homes are in a condo complex with a swimming pool, where you may find fireplaces, decks, a sleeping alcove, woodstove and some large suites. Most come fully equipped with kitchens, TV/VCR, DVD, stereos, dishwashers, dryers, etc. 164 Sunset. Cannon Beach, Oregon. 503-436-0940. 866-436-0940. www.visitcb.com (Oceanfront vacation rentals, cottages, homes, Arch Cape, Cannon Beach, fireplace, outdoor tubs)
Mention BeachConnection.net when inquiring.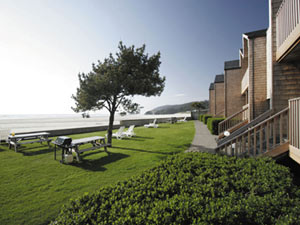 Schooner's Cove Inn. You can literally walk out your door and onto the beach. All oceanfront rooms and suites have newly remodeled kitchens, and bathrooms. Take in the ocean air from your own deck, or relax on a beachfront lawn complete with picnic tables and barbecues, where you can dine next to the beach. There's an oceanfront spa on the premises as well. Rooms have gas fireplaces, free wi-fi, DVD players with DVD rentals, HBO, in-room gourmet coffee and it has laundry facilities for guests. Handicapped access, and AAA diamond rating. Depending on the room, you may find a separate bedroom with a queen bed, living area and hide-a-bed; rooms with a king bed; some rooms host larger groups or families with a bedroom and a semi-private sleeping area. Some units cater to couples and romantic moments at the beach while others host families or multiple guests. 188 North Larch Street. Cannon Beach, Oregon. (800) 843-0128. www.schoonerscove.com (Hotel oceanfront, upscale, luxury, balcony/deck, spa)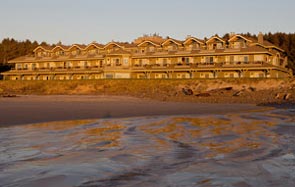 Stephanie Inn. Awe-inspiring ocean views with the casual elegance of a New England country inn and the sophistication of a boutique resort hotel. Suites and guest rooms are stylishly furnished, with warm fireplaces, Jacuzzis and a sweeping sense of romance. Some rooms or suites come with a gas fireplace, Jacuzzi, wet bar, balcony or patio, steam shower. Each unit comes with luxury furnishings and ocean views, along with flat-screen TV, DVD players and wi-fi. The décor is highlighted by natural woods, hand tiled baths and custom lit vanities. A complimentary breakfast served in the morning at the four-star Stephanie Inn Dining Room. No pets; children over 12 welcome. The Carriage House is a separate building with an extra measure of privacy, with four large suites dressed in pampering luxury and dramatic ocean views. Fresh cookies in the hotel lobby. 2740 South Pacific. Cannon Beach, Oregon. 1-800-633-3466. www.stephanie-inn.com/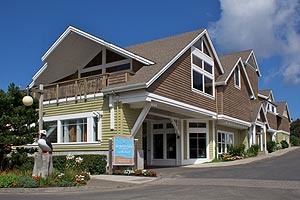 Surfsand Resort. A Cannon Beach legend, the Surfsand Resort is mere steps from Haystack with dramatic views of even more ocean and landmarks. Full-service is the key to this upscale contemporary hotel, with highlights that include an indoor swimming pool, iPod docks, wi-fi, deep soaking tubs, a beachfront deck, seasonal cabana service, DVD library and gas fireplaces. Child friendly and some pet friendly rooms. Also onsite is a hot tub, massage rooms and a comprehensive fitness center with two Finnish saunas. Guest rooms vary from two-bedroom suites to smaller but still sizable studios. Oceanfront balconies, patios available. Units come with microwaves, two showerheads, LCD TV's, snack refrigerators, coffee makers, radio and audio systems, in-room safes, complimentary morning newspaper, among others. Complimentary seasonal features complimentary kids activities, hot dog roasts and ice cream socials. Room service. Expansive wedding, meeting, business facilities. 148 West Gower. Cannon Beach, Oregon. 800-547-6100. www.surfsand.com Surfsand Fun Fact: the hotel occasionally hosts special wine events, sometimes wine dinners.
Shaw's Oceanfront Bed and Breakfast. It's like a vacation rental and a B&B in one. Right up against one of the coast's most pristine and private beaches, this glorious home lets you step right onto the sand. The deck is yours as well, along with a seaside garden. A cozy living room is furnished with easy chairs, a sofa and skylights, all in front of a large window to the wave action and serene beach of Arch Cape. During the winter, the fireplace crackles as waves explode on nearby rock structures. A full kitchen is another highlight in this unique lodging, which is part rustic, part upscale home. In the morning, hosts Jim and Barbara Shaw make a stunning breakfast for you. The suite features one bedroom with a queen size bed and two full bathrooms, while the living room can sleep as many as three. 79924 Cannon Road, Arch Cape, Oregon. (503) 436-1422. (888) 269-4483. www.shawsoceanfrontbb.com (BnB, vacation rental, fireplace, Arch Cape, Cannon Beach, kitchen)
Mention BeachConnection.net when inquiring.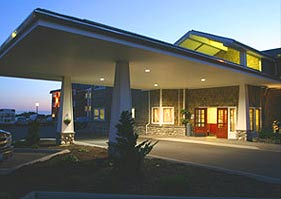 Tolovana Inn. With breathtaking views of Haystack Rock to the north and the pristine beaches of the Oregon coast just steps away, Tolovana Inn is one of Cannon Beach's favorite hotels. Spacious oceanfront and ocean view suites, which are complete with a well-equipped kitchen, cozy fireplace, private balcony, cable television, DVD players and complimentary wireless connectivity, are a perfect setting for adults and families alike. The warmth and comfort of each guest room is ideal for those stormy winter days and coming in after a beach bonfire in front of Tolovana watching the sun slip over the ocean's edge. Guests love the sparkling clarity of Tolovana Inn's saltwater indoor pool. It uses a Saline System rather than a chlorination process, eliminating burning eyes and caustic odor. You'll want to try our fitness center, relax in the Jacuzzi spa and saunas or truly pamper yourself with Tolovana Inn's on-site masseuse. Tolovana Inn offers pet-friendly units and is a member of the "Green" Hotel Association. 800-333-8890. 3400 S. Hemlock Street Cannon Beach, Oregon. www.TolovanaInn.com (Hotel oceanfront, upscale, luxury, balcony/deck, fireplace, Jacuzzi, indoor pool)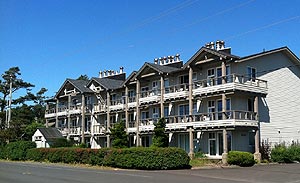 The Wayside Inn. An ocean view hotel located at the South end of Cannon Beach across from Tolovana Park. Enjoy a charming hotel with easy access to miles of sandy beach, and Haystack Rock. Guest's will enjoy ocean view rooms and suites, gas fireplaces, small kitchens (many with ovens), flat screen TVs, complimentary Wi-fi, and decks. After a day at the beach you can take a swim in the heated indoor pool, or soak in the spa (pool and spa are under renovation, reopening Fall 2011). The inn has many dog friendly rooms, and each dog receives a special dog basket to use during their stay. The Wayside Inn has an ideal location at the quiet end of Cannon Beach only a mile from downtown. There are wonderful restaurants, and a great coffee shop/bakery within walking distance of the inn. All rooms are non-smoking. 3339 S. Hemlock Street, Cannon Beach, Oregon, 888-659-6397. www.thewayside-inn.com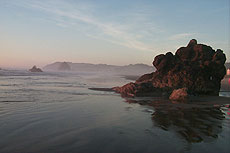 BeachcombersNW.com. Find vacation rentals on the Oregon and Washington coasts, including Cannon Beach, Seaside, Manzanita, etc. All sorts of homes and getaways: for romantic retreats, families, pet friendly, large groups, oceanfront and ocean view, and hot tubs. The most comprehensive website and search engine for vacation rentals, including rental locator map, annual events calendar, seasonal specials listings, newsetter sign up, availability request forms, quick & easy rental search results, and much more. BeachcombersNW.com
Mention BeachConnection.net when inquiring.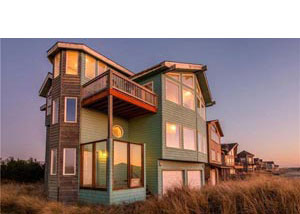 Oregon Beach Vacations. Now with an office in Cannon Beach. Well over 100 homes – all quite distinctive and carefully selected to be special. All over north coast: including Seaside, Manzanita, Rockaway and more. Also in Yachats, Waldport, Newport, Nye Beach, Otter Rock, Depoe Bay, Gleneden Beach, Lincoln Beach, Lincoln City, Neskowin, Pacific City, Tierra Del Mar. Full kitchens, laundry facilities, oceanfront, ocean view, garden view and homes that are studios to elaborate mansions with eight bedrooms are part of their massive catalog. Some stand on secretive, grandiose bluffs in exclusive developments; some are condos or sophisticated homes practically on the beach. Some have hot tubs, and some are pet friendly. Perfect for families – or romantic getaways and special occasions. Large reunions, corporate or group retreats are well catered to. Special guest services like gift baskets, deliveries, even groceries can be arranged. 1235 Hemlock, Cannon Beach, Oregon. 1-800-723-2383. www.oregonbeachvacations.com (Oceanfront vacation rentals, cottages, homes, Arch Cape, Cannon Beach, fireplace, outdoor tubs)
Mention BeachConnection.net when inquiring.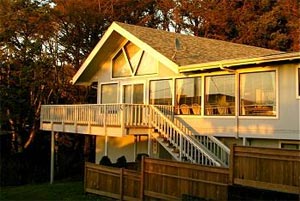 Kites Vacation Rental Home, Cannon Beach. Close walk to the beach in a forested setting. Deck views in front and back, beamed cathedral ceiling in the living room and a stellar 160-degree ocean view all along the west side. Kid friendly and pet friendly. Amenities: four bedrooms and three baths easily sleep six; parking for three cars and an easy access ramp. Detailed features include: a two-cook kitchen with an ocean view, WI-FI internet access, dish T.V., living room video tape or DVD player, I-Pod dock, large spa tub and walk-in shower in the master bath. coffee maker, cookware, dishwasher, full kitchen, microwave, refrigerator, toaster. There is also a barbeque on the back deck and a covered backyard area for wet weather days. Fenced backyard perfect for pets and kids. Quick drive to galleries, eateries, shops. Cannon Beach, Oregon. (503) 368-7969 . www.ssvr.com/Unit/Details/47946 (Rental office in Manzanita, via Sunset VR).
BeachcombersNW.com. It's the single biggest resource for vacation rentals along the coasts of Washington and Oregon, where you can hone in on a rental home that fits any criteria, such as romantic retreats, families, pet friendly houses, large groups, ocean front, ocean views and hot tubs.BeachcombersNW includes a rental locator map, annual events calendar, seasonal specials listings, newsetter sign up, availability request forms, quick & easy rental search results, and much more. Find vacation rentals in Astoria, Warrenton, Gearhart, Seaside, Cannon Beach, Arch Cape, Manzanita, Nehalem, Wheeler, Rockaway, Garibaldi, Oceanside, Netarts, Tillamook, Tierra Del Mar, Pacific City, Neskowin, Lincoln City, Gleneden Beach, Depoe Bay, Otter Rock, Newport, South Beach, Waldport, Yachats, Heceta Beach, Florence, Dunes City and rentals all the way down to Brookings.as well as Washington towns Moclips, Pacific Beach, Copalis, Ocean Shores, Westport, North Cove, Oysterville, Nahcotta, Ocean Park, Long Beach, Seaview and Ilwaco. Mention BeachConnection.net when inquiring
Lodging Near Cannon Beach (Seaside, Manzanita, Nehalem, Rockaway Beach)
Search over 5,000 Pages for Oregon coast subjects, articles or lodging...