Updated Weekly
Three Capes Lodging, Hotels - Oceanside, Tierra Del Mar, Pacific City, Bay City, Neskowin - Comprehensive Hotel, Motel, Vacation Rental List
Then there are the lodging surprises of Neskowin, Pacific City, Tierra Del Mar, Oceanside and Netarts, in the form of outstanding inns and vacation rentals. Some interesting secrets lie tucked away here as well. See lodging news from Pacific City, Oceanside and Netarts, including specials and updates. Also includes some exclusive lodging listings for the area not found on other sites.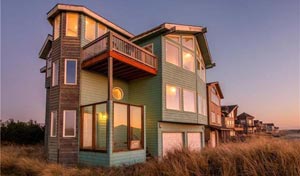 Kiwanda Coastal Properties. From extravagant to elemental, and most are just steps from the beach – you'll find over 50 vacation rentals around Pacific City and as far as Tierra Del Mar. Most have an ocean view of some kind, and even walking distance to soaring Cape Kiwanda. Depending on the home, you may discover barbecues, large decks, high ceilings, cozy fireplaces, a spiral staircase, a romantic beachside cottage, and many more possibilities. These rentals sleep from two to 16 people. All homes have fully equipped kitchens, Wi-Fi, including microwaves. Most have dishwashers, televisions, DVD/VCR players, stereos, wood or gas fireplaces (or woodstoves) and laundry facilities. All your linens and towels are provided. Some allow pets while all non-smoking. Plenty of tempting weekday specials; some homes are clustered together, making them perfect for family reunions or weddings. Pacific City, Oregon. 503-965-7212. Website here.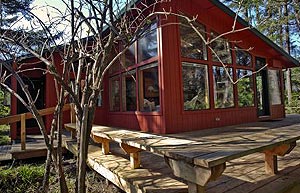 Idyllic Beach Houses. Off the beaten track - due west of Portland - in Tierra del Mar. Two lovely pet friendly vacation rental homes with quick, easy access to long, quiet, sandy beaches. Both offer free WiFi, DVD, and eclectic libraries of books, DVDs, and board games. Guardenia Street House: Quiet and secluded, nestled at the edge of forest. One block from beach. Extensively remodeled: Hardwood interiors, skylights, vaulted ceilings. Stunning view into native hemlock and Sitka spruce woods through floor-to-ceiling picture windows and enormous wrap-around juniper deck. Kids' Bunkhouse, newly built with skylight and decorated with kids in mind, adjoins kitchen patio. Spacious, fully equipped kitchen. Fireplace; BBQ. Sleeps 9. Pier Street House: Only half-block  to beach and just 1-1/2 blocks from  Guardenia House. Vaulted ceilings, open-floor plan, second-story balcony, natural wood. DVD/Blu-Ray. Wood stove, BBQ. Well-equipped full kitchen. Deck, fenced backyard, doggy door. Sleeps 10. Tierra Del Mar, Oregon (5 miles north of Pacific City). 503-662-5420. Details at www.IdyllicBeachHouse.com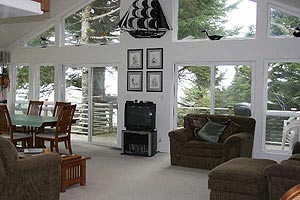 Rental Homes in Cape Meares - Tillamook Bay.Two vacation rental homes in the extremely secluded village of Cape Meares, next to the headland (courtesy Beach Break Vacation Rentals). One has three levels, multiple decks and large picture windows to the ocean. Large enough for family reunions or business retreats, it has four bedrooms. Other amenities include a gas barbecue and mountain views, plus it's close to a wooden, two-mile hike to the Octopus Tree and the lighthouse. The other home is also large and luxurious with multiple levels and quite close to the ocean. Three bedrooms accommodate 10 people. It comes with a gas grill and barbecue, a hot tub/Jacuzzi, fireplace and some pets are ok. A five-minute walk gets you to the beach, while Tillamook Bay is just a few minutes walk the other direction. There is large, overstuffed furniture and a gathering table for eight. Wi-fi and cable TV. Cape Meares, Oregon. See Beach Break Vacation Rentals. Office in Nehalem, on 101. 503-368-3865. 877-655-0623.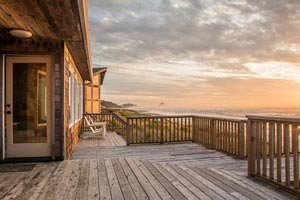 La Play Luna, Tierra Del Mar. Get ready for gargantuan beach fun just north of Pacific City. Stretching out before are miles of barely-touched sands. The grand home sleeps eight and is perfect for families. Four bedrooms and two levels, each with their own entryway, are part of a package that includes three full baths and an oceanfront living room, dining and kitchen. Remarkably soothing colors throughout, there's an enormous oceanfront deck, a TV / DVD player, wi-fi, a double garage, wood fireplace and much more. Plus, you can take two dogs along (for a fee). There's easy access to these unbelievably unpopulated beaches. Tierra Del Mar, just north of Pacific City. 503-965-7212. La Playa Luna website.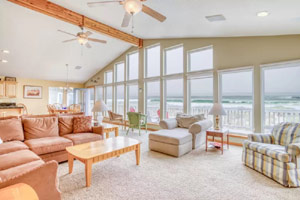 Wave Catchers – Vacation Rental. Panoramic views and a true wall of windows are the headliner at this Pacific City oceanfront vacation rental, and there's its own private path to the beach. Two stories of relaxation and endless views of the waves, where you may get lucky and see some whales. A fireplace lets you kick back in cozy comfort to this mesmerizing display. Enjoy miles of beach walking on the quiet sandy beach located between the Nestucca River and the edge of Bob Straub State Park. Wave Catchers beach house comfortably sleeps eight and comes complete with four spacious bedrooms (including a queen suite) and three bathrooms. All linens are included, there's a stove and full kitchen, and even a tub for soaking along with a shower. Plenty of internet access and a game room, plus an outdoor barbecue to soak in those last rays of the day while dining. See Wave Catchers contact and booking information.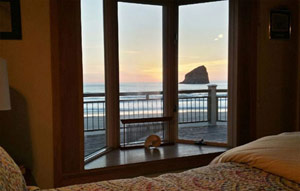 A Front Row To The Pacific, Vacation Rental in Pacific City. An oceanfront vacation rental that's right on the beach in Pacific City, named "A Front Row to the Pacific" for a good reason. There's more than 2000 sq ft of luxury and coziness here, accepting up to seven people and large windows providing exceptional views of Cape Kiwanda and Haystack Rock. This warm, inviting home is a close walk to Pacific City's restaurants, shopping and even the Nestucca River, with a quick drive to wowing attractions like Neskowin, Cape Lookout or Oceanside. Here, you'll find two fireplaces and a massive upper viewing deck to check out whales and even more of the Pacific. Amenities include a two-car oversized garage, washer / dryer, satellite TV on a 47' HD screen, DSL and wireless, full linens and a complete kitchen. You'll also find a stereo, a CD player, a game room with foosball and other forms of fun, videos, DVDs, and much more. See contact and booking information.
Just North Of Pacific City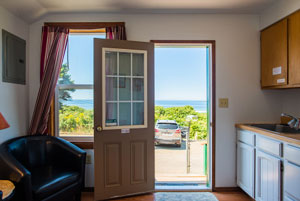 Ocean Front Cabins, Oceanside. In every room there's the Pacific Ocean stretched out in front of you, with expansive views of the horizon, any whales that may wander past, and of course famed Three Arch Rocks. An historic inn with a stunning, cozy vibe, taking you back to a simpler time with all that finished wood and fun little architectural details. Amenities in each room: pet friendly, free parking, free Wi-fi, microwave, fridge, flat-screen TV, kitchenettes or large kitchens. Bring a pair of binoculars and see whales more easily and you'll spot where all those sea lions live on the rocks. You're a mere 200 feet from the beach and the legendary tunnel. There's a restaurant onsite, which has been a tourist favorite for ages. From here, it's a quick drive to Cape Meares and its lighthouse, the Octopus Tree, or try your hand at clamming or fishing at Netarts. 1610 Pacific Avenue NW, Oceanside. (503) 842-6081. Ocean Front Cabins Website.
Neskowin Lodging, Vacation Rentals - Bay City Lodging - Tillamook Lodging
Sheltered Nook on Tillamook Bay. A very unique set of vacation rentals that is not only extremely eco-friendly but does so with tiny homes (each 385 sq ft). Set in a secluded woodsy area near Tillamook Bay, it's a bit of a natural playground as well, with its own Disc Golf course, other lawn games, fire pit and even a dog bath. Features a complimentary breakfast each morning. Pet friendly. Each home is individually decorated with flair, with vaulted ceilings and plenty of natural light. Amenities include: flat screen TV, DVD player, locally-made furniture, cooking utensils, full-sized shower, private wi-fi, private deck that includes a barbecue, outdoor seating, ceiling fan and more. They come with three queen beds and lots of closet space. The park-like setting has its own private garden. The emphasis is on stopping to smell the roses. 7860 Warren Street. Bay City, Oregon. (503) 805-5526. http://shelterednook.com
SPECIALS IN THREE CAPES, PACIFIC CITY, NESKOWIN
Lodgings Nearby Three Capes Loop and Oceanside, Pacific City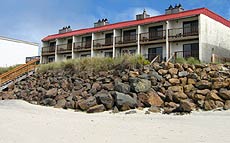 Tradewinds Motel, Rockaway Beach. Expansive ocean views. For families, couples or large groups. Some pet friendly. All rooms immaculate: TV's, VCR's and in-room phones. Wi-fi. Oceanfronts all have queen bed, a double hide-a-bed, kitchen, cozy firelog fireplace and a private deck. Some oceanfront units come w/out kitchens. Lavish rooms, yet some still perfect for those on a budget. Has an elaborate oceanfront Jacuzzi suite w/ two bedrooms. Some rooms connect to create two-room and three-room suites. 523 N. Pacific St., Rockaway Beach, 25 mins from Oceanside). (503) 355-2112 - 1-800-824-0938. www.tradewinds-motel.com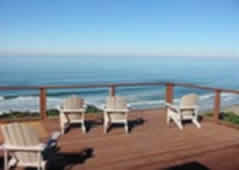 A1 Beach Rentals, Lincoln City. With over 25 vacation rental homes to choose from, They work just grand for large family vacations all the way down to a getaway lodging for two. This one breathtaking collection of craftsman or traditional beachfront homes. There are ocean view houses – from one to seven bedrooms. Almost all are in various areas of Lincoln City and overlooking the beach, with some in Depoe Bay. All kinds of amenities are available, like hot tubs, decks, BBQ, rock fireplaces, beamed ceilings and more. Some are new, some are historic charmers. Lincoln City, Oregon. (30 mins from Pacific City). 1-(503)-232-5984. www.a1beachrentals.com.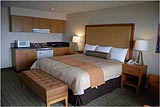 Coho Oceanfront Lodge. 20 mins drive to Pacific City, 45 mins to Oceanside. Overlooking the Pacific; upscale, luxury hotel w/ some pet friendly. Jacuzzi, sauna, indoor heated pool, in-room massage, wifi, fitness room. Studios w/ balcony, deluxe suites for small families, couples. Suites designed for kids; big suites for larger families up to eight; fireplace suites too. Luxury suites available. Free continental breakfast. 1635 Northwest Harbor Ave. Lincoln City (30 mins from Pacific City). 800 848 7006. www.thecoholodge.com.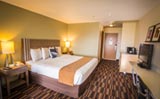 Inn at Wecoma. 20 mins drive to Pacific City, 45 mins to Oceanside. Formerly Farmer's Daughter Hotel. Sleek, modern design w some partial ocean views, balconies and fireplaces. Spacious guestrooms w/ microwave, refrigerator, coffeemaker, free continental breakfast.  Indoor pool and a hot tub. W-fi, fitness room, business center, and located within walking distance to finest restaurants. 867-sq-foot conference room for business meetings or large social events. Some pet friendly. 945 NW Hwy 101. Lincoln City, Oregon. 800-452-8981. www.innatwecoma.com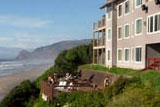 Surlfand Hotel. (Half hour from Pacific City) Every room a view – every view is oceanfront. Private beach access, each room a balcony. Large sundeck. Amenities: large oceanview pool, spa and two saunas, Jacuzzi, kitchen and fireplace suites available. Free continental breakfast, refrigerator, microwave, coffeemaker, hairdryer, DVD player in every room. A nice library of DVDs and free wi-wi, and some rooms allow pets. 2133 NW Inlet Ave. Lincoln City, Oregon. 541-994-8145. Website here.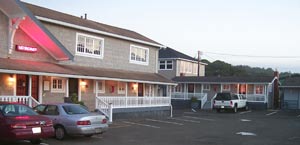 Whistling Winds Motel, Lincoln City. 20 mins drive to Pacific City, 45 mins to Oceanside. Nestled quietly in a Lincoln City residential neighborhood, The Whistling Winds is a restored 1930's Motor Coach Motel with a hefty dose of historic charm and a sense woodsy yet modern chic. These romantic fifteen units are located just a half block from one of Lincoln City's most secretive low beach accesses and six blocks to the casino. A spectacular weekend with that special someone or the whole family can be had here, surrounded by this undeniable atmosphere. Some rooms are pet friendly. Indulge in the fireplace suite, or rooms featuring vaulted ceilings, warm rich wood and walls, Jacuzzis, hand built river rock fireplace or a fully equipped kitchen. It's vintage at its best and most enduring. 866-384-9346 3264 NW Jetty Ave, Lincoln City, Oregon. (30 mins from Pacific City). www.whistlingwindsmotel.com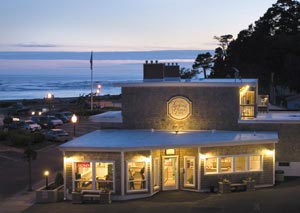 Looking Glass Inn. Cape Cod-style inn, in Taft District, across from Siletz Bay; close to shopping, bay and famous restaurants. Whirlpool suites, one bedroom deluxe suites, two-bedroom fireplace suites or a suite w/ living area and two bedrooms. Many w/ beautiful bay and ocean views and spacious layouts. Whirlpool tubs, gas fireplaces, kitchens and some rooms with decks. Complimentary continental breakfast, wi-fi. Some pet friendly. 861 SW 51st Ave. Lincoln City, Oregon. (30 mins from Pacific City, 45 mins to Oceanside). 800-843-4940. www.lookingglass-inn.com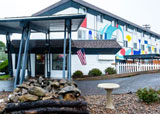 Coastal Inn. A remodeled inn that is affordable on any budget, among Lincoln City's most colorful accommodations. Exceptionally clean with excellent service, it's like a boutique hotel. Each room offers a 32-inch flat screen TV, coffee maker, microwave, air conditioning and free high speed wi-fi. 24 hour front desk. Rooms w/ one queen bed, king bed room, two queen beds, or each type of room with a balcony. Pet-friendly. 541-994-5281. 1713 NW 21st Street, Lincoln City, Oregon. Coastal Inn Website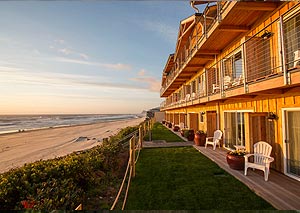 Pelican Shores Inn. 25 mins drive to Pacific City, 45 mins to Oceanside. Every room has a fabulous view. Newly renovated suites - some w/ oceanfront patios or gas fireplaces - feature free Wi-Fi, DVD players, and kitchens. King studios w/ sliding glass doors to oceanfront patios at lawn level. One-bedroom oceanfront suites include a separate bedroom and kitchen. Other suites w/ two bedrooms, living area, two bathrooms and more. Stunning heated indoor pool, complimentary continental breakfast, DVD's for rent, guest laundry, and barbecues. 2645 NW Inlet Ave. Lincoln City, Oregon (30 mins from Pacific City). 800-705-5505. www.pelicanshores.com
Seagull Beachfront Motel. Near Pacific City. A beachy and historic vibe that is getting a modern new twist. You're completely oceanfront and on a bluff; budget price. Some large kitchen units, a cottage, rooms with private hot tubs, lovely view of the surf. Large viewing deck. Amenities: Keurig coffeemaker, refrigerator, microwaves, color TV. Rooms sleep between 2 to 6 people. 100% smoke free and pet-friendly. 1511 NW Harbor Ave. Lincoln City, Oregon. 541-994-2948. Seagull Beachfront Motel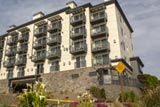 The Shearwater Inn, Hotel - Lodging near Pacific City. Upscale hotel, wonderful ocean views. Spacious rooms and suites, gas fireplaces, decks, easy beach access, outdoor hot tub, many dog friendly rooms. Many w/ panoramic ocean views. Flat Screen TVs, DVD Players, wireless, and some suites have full kitchens. Some have king beds, hide-a-beds. All w/ coffee maker, refrigerator, microwave and a hair dryer, Complimentary continental breakfast, hosted wine social. Just blocks from the Outlet Center, Cultural Center, and a short five-minute drive to the casino. About three miles from Taft and Siletz Bay. 120 NW Inlet Court. Lincoln City, Oregon.(541) 994-4121. 800-869-8069. www.theshearwaterinn.com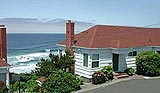 Ester Lee Motel - close to Pacific City. Spectacular oceanfront views, all unique rooms or cottages. Motel units sleep from two to four people; some full kitchens. All motel units w/ gas fireplaces. Some cottages w. full kitchen, or one or two bedrooms. Some cottages pet friendly. Most units free wi-fi, fireplaces; coffee, TV and DVD. Large library of over 300 DVDs, plus books in the lobby. One Jacuzzi cottage. Paved path to beach. 3803 S.W. Hwy. 101, Lincoln City (20 mins from Pacific City, Oregon, 35 mins from Oceanside). 541-996-3606. www.esterlee.com/
Back to top of Three Capes Lodging

Search over 6,500 Pages for Oregon coast subjects, articles or lodging...