Lincoln City Lodging, Oregon Coast - Photos, Hotels, Motels, Rentals, Places to Stay the Night
(Lincoln City, Oregon) – Sometimes, it's the Lincoln City lodgings, hotels, motels, inns and B&B's that really shine here. From tiny charmers to grand, upscale hotels, to vacation rentals for a myriad of tastes and desires, Lincoln City is actually quite the hub of overnight options. In fact, the town boasts some 400 places to stay – more than most spots on the west coast.
Check back here frequently for deals, specials, lodging updates. You'll also find some exclusive lodging listings for the area not found on other sites.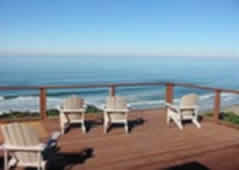 A1 Beach Rentals - Vacation Rentals in Lincoln City. Description: From big groups and families all the way down to room for a couple's getaway – there are dozens of choices at this renowned rental house management company. Many homes with ocean views or beachfront, plus numerous examples of fine craftsmanship or traditional beach rentals. Many are located in the laidback, uncrowded Road's End district of Lincoln City, but plenty are found in other areas of this Oregon coast hotspot, often right over the beach. Lots of them come with private beach accesses, while others are close to the casino. Views of D Lake and even some in Depoe Bay are offered. Amenities (depending on property): All have kitchens, full appliances, TV's, etc. Homes with interesting and varied features like a rock fireplace, outdoor hot tub, a secret loft for kids, beamed ceilings, gazebo, oceanview decks, a detached cigar house, BBQ and game room, among many others. A-1 Beach Rentals, Lincoln City, Oregon (office in Portland). (503) 232-5984. www.a1beachrentals.com (Lincoln City vacation rental, home, upscale, historic cottages, oceanfront, barbecue, oceanview, decks, fireplace)
Mention BeachConnection.net when inquiring. A1 Beach Rentals Fun Fact: one home was once a WW2 lookout.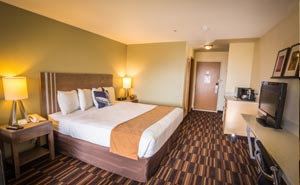 Inn at Wecoma - Lincoln City lodging, hotel. Just completed a full hotel renovation to all 63 hotel rooms. Inspired by the property's surroundings, each suite has a natural palette, modern furnishings, and a completely refreshed interior as well as exterior. Highlights of this award-winning hotel includes an indoor recreation area including pool, Jacuzzi, sauna, and fitness room. Free wi-fi. Daily hot breakfast including biscuits & gravy, potato's, sausage, pancakes, hot cereal, more. Spacious guestrooms come with microwave, refrigerator, coffeemaker, and select rooms feature partial ocean views, balconies and fireplaces. Large grand suite over 800 sq ft with a full kitchen perfect for extended stay travelers. Shuffleboard area, in-room power ports, business center in the lobby. 867-sq-foot conference room perfect for business meetings or hosting large social events. Pet friendly. 2945 NW Hwy 101, Lincoln City, Oregon. 541-994-2984. www.innatwecoma.com (Hotel, inexpensive, near ocean, fireplace, balcony, pool, hot tub)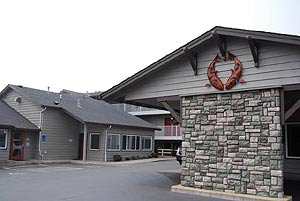 Coho Oceanfront Lodge, Places to Stay in Lincoln City. Description: On the oceanfront. The Coho exudes all the warm comforts of a home away from home, while also offering the understated luxuries of a distinguished boutique hotel. An engaging mix of upscale yet homespun charms, its décor is a modern sense of retro that brings alive the beach flavors and tingles your beach palette. Amenities: There are different room categories, including studios, family suites, and fireplace suites - all with breathtaking panoramic ocean views. All rooms come with large LCD HDTV's, iHome iPod docking station, HD/DVD players, free wi-fi, in-room massages, eco-friendly bath amenities by Archive, 300-thread count linens, and Sealy Posturpedic Plush Supreme Beds. The Coho also features a sauna, hot tub, a heated indoor pool, a fitness center and free continental breakfast with waffle bar. 1635 Northwest Harbor Ave. Lincoln City, Oregon. 800 848 7006. www.thecoholodge.com. (Hotel, upscale, inexpensive, oceanfront, decks, fireplace, luxury, pool, sauna, hot tub)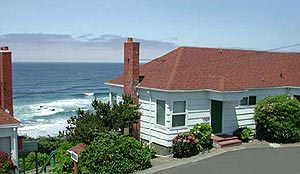 Ester Lee Motel, Lodging in Lincoln City. Spectacular oceanfront views are just the beginning. All of these unique rooms or cottage overlook the ocean, perched on a soaring cliff creating panoramic vistas. Motel units sleep from two to four people in studios; some have full kitchens or are corner suites. All motel units have gas fireplaces. Some cottages come complete with a full kitchen, gas or wood burning fireplace, or one or two bedrooms. Some cottages are pet friendly. In most units you will find free wi-fi, wood or gas fireplaces (along with free firewood); coffee, TV and DVD players in every room – along with a large library of over 300 DVDs, plus books in the lobby. One Jacuzzi cottage. There is a paved access down to this particularly pristine stretch of beach. All units are non-smoking. Short drive to Culinary Center, museums, and casino. 3803 S.W. Hwy. 101, Lincoln City, Oregon. 541-996-3606. www.esterlee.com/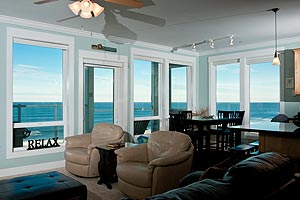 Keystone Vacation Rentals. Lincoln City Vacation Rentals - Luxurious gems on the oceanfront with expansive ocean view: spacious condos in Depoe Bay and Lincoln City, including well known resorts as Village at North Pointe and Pacific Winds. One or two-bedroom units sit up against the sands or up high at whale watching vantage points, and often come with features like private hot tubs, wi-fi, access to indoor pools and even a theater. Most sleep as many as four. Depending on the condo, other highlights sometimes found include gourmet kitchens, river rock fireplace, plasma TV, washers and dryers, fitness center, pool table, beach patio, BBQ, I-Pod docking station, books, games and puzzles, covered parking, cable TV, DVD library, massage chair, granite counters, and stainless steel appliances. Some have access to a conference room. Depoe Bay and Lincoln City. (503) 443-1414. Lincoln City Vacation Rentals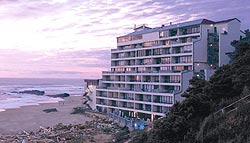 Inn At Spanish Head. Lodging in Lincoln City. It is one of Lincoln City's most recognizable landmarks, and for good reason. It is actually the only resort hotel built right on the beach - with all oceanfront rooms, nestled against a rugged cliff overlooking a soft, sandy beach.
Accommodations range from bedrooms to studios to one-bedroom suites with microwaves and refrigerators to full kitchens. You'll find amenities such as a year-round heated swimming pool, spa, saunas, exercise room and wi-fi. Kids will love the game room and easy beach access. Perfect for the inspirational retreat, with full-service conference and meeting rooms. Imagine this ocean view with your wedding: they have an on-site planner, and a variety of packages on the website (or call for info). There's also the pleasures dining in the penthouse restaurant and bar - whether you're in the mood for a casual meal or a candlelight dinner. They offer an array of seafood specialties, juicy steaks and other Northwest favorites. Indulge yourself in the scrumptious Sunday Brunch buffet, renowned for its decadent bounty. Near the south end of Lincoln City at 4009 SW Highway 101. 1-800-452-8127 or 541-996-2161. www.spanishhead.com
Mention BeachConnection.net when inquiring. (Hotel, inexpensive, oceanfront, decks, fireplace, luxury, pool, spa, hot tub). Inn at Spanish Head Fun Fact: it's the only hotel on the coast built into the side of a cliff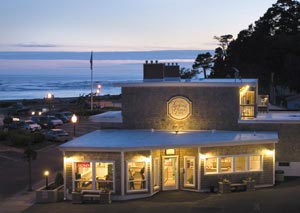 Looking Glass Inn.- Lincoln City Lodging, Places to Stay. In the historic Taft District of Lincoln City, right across from Siletz Bay. Enjoy a Cape Cod-style inn, just steps away from a wonderful beach perfect for walking, exploring, building sand castles, and playing in the water. Choose from a variety of rooms: whirlpool tub suites, one bedroom deluxe suites, two-bedroom fireplace suites or a suite that comes with two queen beds, a living area and two bedrooms. Many have beautiful bay and ocean views and spacious layouts. You'll find such amenities as whirlpools, gas fireplaces, kitchens and some rooms with decks. Complimentary continental breakfast and wireless Internet access in all rooms. All units are non-smoking, and some of them allow dogs / pet friendly, letting Fido in on the beachy fun. The Looking Glass Inn is close walking distance to a variety of shops and famous restaurants, with many less than a block away. 861 SW 51st Ave. Lincoln City, Oregon. 800-843-4940. www.lookingglass-inn.com (Hotel, upscale, oceanfront, decks, fireplace, luxury, kitchens, hot tub)
Mention BeachConnection.net when inquiring.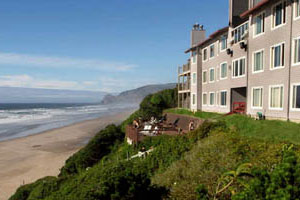 Nordic Oceanfront Inn (CURRENTLY UNDER REMODEL – STAY TUNED FOR NEW LOOK, NAME). Every room a view – every view is oceanfront. You're right up against the action, be it wild waves of winter or the calming seas of summer. Below is a long stretch of sand that holds many treasures, including glass floats or maybe a good run of agate hunting. There's even your own beach access from the hotel. Each room has a balcony from which to take it all in, or just hang out on the large sundeck. At night, enjoy the lighted surf from your room. There is a large oceanview pool, and the Nordic hosts a spa and two saunas. Jacuzzi, kitchen and fireplace suites available. Free continental breakfast, plus refrigerator, microwave, coffeemaker, hairdryer, DVD player in every room. A nice library of DVDs and free wi-wi, and some rooms allow pets. 2133 NW Inlet Ave. Lincoln City, Oregon. 541-994-8145. Website here.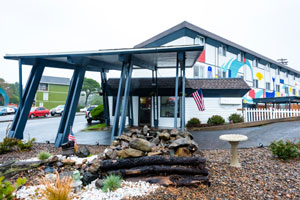 Coastal Inn. A remodeled inn that is comfortable and affordable on any budget, it is now among Lincoln City's most colorful accommodations. Spry, bright colors adorn each unit, with an eye-popping sea life mural on the exterior. Exceptionally clean with excellent service, it's like a boutique hotel but for much less. Each room offers a 32-inch flat screen TV, coffee maker, microwave, air conditioning and free high speed wi-fi. Plenty of free parking and 24 hour front desk. Take your pick of one queen bed, king bed room, two queen beds, or each type of room with a balcony. Upper levels have balconies where you can take in the salt air. Perfect for groups as well, it's 100% smoke-free and pet-friendly. It's a quick drive or walk to beaches, or to many of the town's foodie or amusement amenities such as the casino, nightlife. 541-994-5281. 1713 NW 21st Street, Lincoln City, Oregon. www.coastalinnoregon.com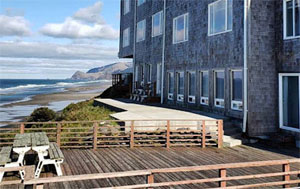 Seagull Beachfront Motel. A beachy and historic vibe that is getting a modern new twist. You're completely oceanfront and on a bluff overlooking one of Lincoln City's most interesting accesses. A longtime favorite for generations. You'll find some rooms with large kitchen units, a cottage, a couple rooms with private hot tubs, and a lovely view of the surf. Or hang out on the large viewing deck and check out whales going by. Cozy accommodations on a budget price. Each room comes with a Keurig coffeemaker, refrigerator, microwaves, color TV, and plenty of ocean views. Rooms sleep between 2 to 6 people. All rooms are 100% smoke free and pet-friendly. A quick drive to the outlet mall, casino, or simply hang out on the beach below which hosts one of Lincoln City's few tidepool areas. 1511 NW Harbor Ave. Lincoln City, Oregon. 541-994-2948. Seagull Beachfront Motel www.seagullinnoregon.com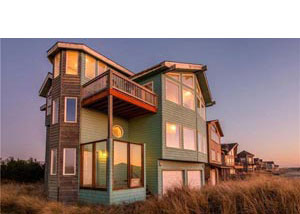 Oregon Beach Vacations. Lincoln City lodging, vacation rentals. Offices in Cannon Beach and Lincoln City. Well over 100 homes - in Yachats, Waldport, Newport, Nye Beach, Otter Rock, Depoe Bay, Gleneden Beach, Lincoln Beach, Lincoln City, Neskowin, Pacific City, Tierra Del Mar, Rockaway Beach, Manzanita, Seaside and more on the north coast. All quite distinctive and carefully selected to be special. Full kitchens, laundry facilities, oceanfront, ocean view, garden view and homes that are studios to elaborate mansions with eight bedrooms are part of their massive catalog. Some stand on secretive, grandiose bluffs in exclusive developments; some are condos or sophisticated homes practically on the beach. Some have hot tubs, and some are pet friendly. Perfect for families – or romantic getaways and special occasions. Large reunions, corporate or group retreats are well catered to. Special guest services like gift baskets, deliveries, even groceries can be arranged. 690 SE 39th Street, Lincoln City, Oregon. 1-800-723-2383. www.oregonbeachvacations.com (Vacation rentals, oceanfront homes, decks, barbecue, kitchens, fireplace, luxury, pool, spa, hot tub)
Mention BeachConnection.net when inquiring. Oregon Beach Vacations Fun Fact: one home was used in the making of the 1970 movie Sometimes a Great Notion, which starred Paul Newman.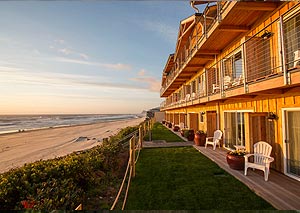 Pelican Shores Inn. Lincoln City Hotel, Lodging. At the northern end of Lincoln City, every room has a fabulous view of the rolling surf, and just steps away from one of the more hidden beaches of Lincoln City. The surf is lighted at night for your viewing pleasure. Newly renovated suites - some with oceanfront patios or gas fireplaces - feature free Wi-Fi, DVD players, and kitchens. King studios have sliding glass doors to oceanfront patios at the lawn level. One-bedroom oceanfront suites include a separate bedroom and kitchen. The oceanfront "Fireplace Suite" has a living area with a gas fireplace. The "Two-Bedroom" suite is perfect for families with its kitchen, living area and two bedrooms. Quite popular is the "One-Bedroom King Suite," with two bathrooms, two double beds, and an oceanfront room with a king bed. A stunning heated indoor pool, complimentary continental breakfast, large selection for DVD's for rent, guest laundry, and barbecues assure a lasting impression. 2645 NW Inlet Ave. 800-705-5505. www.pelicanshores.com (Hotel, upscale, suites, oceanfront, decks, fireplace, luxury, kitchens, hot tub)
Mention BeachConnection.net when inquiring.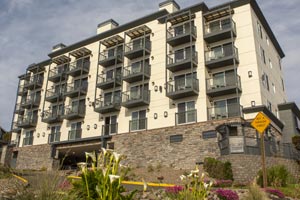 The Shearwater Inn, Lincoln City Lodging, Hotel. An upscale hotel with wonderful ocean views in the heart of downtown Lincoln City. Guests will enjoy spacious rooms and suites, gas fireplaces, decks, easy beach access, outdoor hot tub, and many dog friendly rooms. Many rooms have panoramic ocean views. Close to a low beach access and next to the famed D River access. Rooms also come with flat Screen TVs, DVD Players, wireless, and some suites have full kitchens. Some have king beds, hide-a-beds. All have coffee maker, refrigerator, microwave and a hair dryer, A complimentary continental breakfast is delivered to your room each morning, and in the evening relax at the hosted wine social. Just blocks from the Outlet Center, Cultural Center, and a short five-minute drive to the casino. About three miles from Taft and Siletz Bay. 120 NW Inlet Court. Lincoln City, Oregon.(541) 994-4121. 800-869-8069. www.theshearwaterinn.com (Hotel, upscale, oceanfront decks, kitchens, fireplace, pets)
Mention BeachConnection.net when inquiring.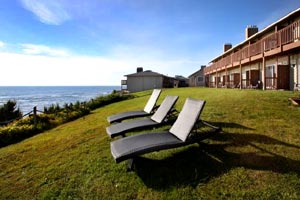 Surfrider Resort. (Just ten mins south of Lincoln City). A combo of restaurant, luxury resort and oceanfront boutique, the Surfrider sits in that gloriously, slightly hidden section between Depoe Bay and Lincoln City. Overlooking Fogarty Beach and with direct beach access, it's where some of the most interesting features on the coast await. You're a quick few minutes from some of the best secret spots of the area. Whales are often abundant here year-round and you have a front row seat. There's an indoor pool and sauna, a game room, business center, and outdoor corridors to take in that coastal air. Great meeting facilities and event catering. Amenities: flat panel TV, free wi-fi, microwave, guest laundry, ironing board, in-room hairdryer, 100 percent smoke-free, DVD player. Some rooms have decks or balconies, some pet friendly, kitchens available, handicapped parking, and plenty of entertainment devices. 3115 NW Highway 101, Depoe Bay, Oregon. (541) 764-2311. Surfrider website here.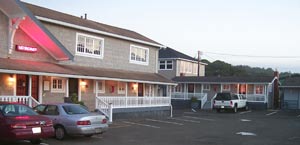 Whistling Winds Motel. - Lincoln City Motel. This sweet bit of Americana is a restored 1930's Motor Coach Motel that sits nestled in a quiet and pristine residential neighborhood of Lincoln City. There's a hefty dose of historic charm as well as a sense of modern, slightly woodsy chic here. These unforgettably romantic fifteen units are located just a half block from one of Lincoln City's most secretive low beach accesses, making you feel like you've stumbled upon something exclusive. It's only six blocks to the casino and on a shuttle route.
Whistling Winds works well on a variety of levels: perfect for the private getaway, spending an intimate weekend with that someone special or bringing the whole family. Even a well-behaved dog can get in on the fun (in select rooms with extra charge, 20 lbs or less). Enjoy the sound of the ocean waves in our fireplace suite, while vaulted ceilings, warm rich wood and walls, the hand built river rock fireplace and a fully equipped kitchen complete the tingling effect at this beautifully restored cottage.
There are four Jacuzzi rooms, four full kitchen units, three family units and vintage studio cottages with that delicious touch of the past. 866-384-9346 3264 NW Jetty Ave, Lincoln City, Oregon. www.whistlingwindsmotel.com (Motel, near ocean, inexpensive, kitchens, fireplace, luxury, hot tub)
Mention BeachConnection.net when inquiring.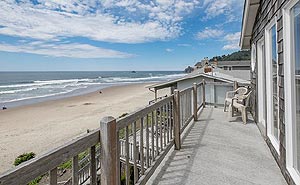 Moonbreaker Vacation Rental, Lincoln City. Essentially on the beach at Lincoln City's peaceful yet dramatic Roads End area, Moonbreaker is a romantic Cape Cod-style home of two-storied splendor and its own private stairs to the sand. Large windows and decks allow full immersion in spectacular sunsets and maybe even whales. It begins with a slated entryway opening to marble floors, featuring high ceilings and luxurious, comfortable furnishings. Sleeps four people. There's a big screen TV, four-post bed, jetted tub for two, a master bedroom and second roomy queen bedroom. Full baths. Completely furnished with linens and towels, as well as a starter kit of paper products. Other amenities: living gas fireplace, ironing board, washer / dryer, wi-fi, linens, coffee maker, cookware, dishwasher, full kitchen, microwave, refrigerator, stove. Entertainment systems include cable TV, CD player, DVD player – plus very close to casino and the golf course. At northern end of Lincoln City, Oregon. See website here. Call (503) 232-5984.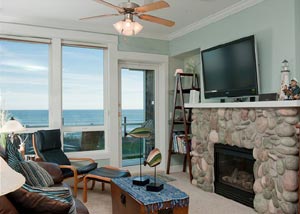 Seascape Vacation Rental Condo, Lincoln City. An oceanfront condo on the first floor, you have an outstanding view of the ocean, which you can also enjoy from your own private tub. It's also a decent vantage point for whale watching. Seascape perfectly accommodates couples or families, sleeping up to four people. Two bedrooms with king beds, where you can hear the sounds of the surf at night. There's a full equipped kitchen with a wide range of stainless steel appliances, and a massive selection of entertainment amenities that include games, books, a DVD library, and plasma TV's in a few rooms. It also comes with free wi-fi, and access to the exercise room, heated pool and a game room at the Pacific Winds in Lincoln City. There's also an onsite conference room for business needs. Other amenities: cookware, utensils, full kitchen, ice maker, toaster, river rock fireplace, hair dryer, ceiling fans. Lincoln City, Oregon, near the NW 15th St. ramp and access. (800) 708-5880. Seascape Website here.
Shoreline Chateau Vacation Home, Lincoln City. In the sheltered and cloistered Road's End area, this sprawling vintage home from the '30s jumps out at you. There's a hot tub overlooking the ocean, and your own private walkway (literally just a few steps) down to the beach. Incredible views of sunsets and maybe even whales. A short distance to the casino and north Lincoln City's numerous features, restaurants and attractions. Sleeps as many as ten people; parking for three mid-size cars. Amenities: Cozy fireplace, fully equipped kitchen and kitchenette, flat screen TV's, movies, games, music, books, Wi-Fi, luxury linens, down blankets. Sprawling deck and a private yard. Bonus living room with flat screen TV and DVD. There's free long-distance calling, washer and dryer, cookware, blender, coffee maker, more than one fridge, microwave, toaster and so much more. Huge, full-length windows allow better viewing of the Pacific Ocean. On Logan Road, Lincoln City, Oregon. (503) 232-5984. Shoreline Chateau Vacation Home website here.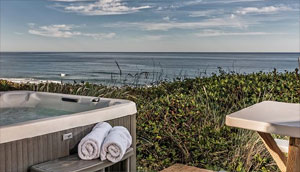 Starry Night – Vacation Rental in Lincoln City. An elegant oceanfront home that is spacious and filled with high quality furnishings and the finest amenities. All of this a close walk to the Road's End State Recreation Site and its numerous beach accesses. There's a main living area with open floor plan, augmented by a gourmet kitchen with a dining area that seats 11. Four beautifully decorated bedroom suites include a master with jetted tub. Four full baths and a half bath. There's an oceanfront hot tub. Other amenities: TV's, WiFi, HDTV, DVD player and a gas fireplace; game room, pool table, air hockey, ping pong and foosball. Kick back on the large oceanfront deck that comes complete with chairs, picnic table and charcoal BBQ grill. Garage takes two cars. Laundry room with washer/dryer. At the northern edge of Lincoln City, Oregon. See the Starry Night website. Call (503) 232-5984.
What Lincoln City Vacation Rental Home Used to be Submarine Lookout During World War II? Find out here. You can stay at this fabulous bit of Oregon coast history and revel in the vibes of those who helped save the world. It's oceanfront, has a hot tub - and it's sprawling and gorgeous.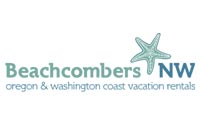 BeachcombersNW.com. Find vacation rental homes in Newport. The most comprehensive website and search engine for vacation rentals on the Oregon coast and Washington coast: rental locator map, annual events calendar, seasonal specials listings, newsetter sign up, availability request forms, quick & easy rental search results, and much more. Romantic retreats, families, pet friendly, large groups, ocean front and ocean view and hot tubs. Also, find them in Astoria, Warrenton, Gearhart, Seaside, Cannon Beach, Arch Cape, Manzanita, Nehalem, Wheeler, Rockaway, Garibaldi, Oceanside, Netarts, Tillamook, Tierra Del Mar, Pacific City, Neskowin, Lincoln City, Gleneden Beach, Depoe Bay, Otter Rock, Newport, South Beach, Waldport, Yachats, Heceta Beach, Florence, Dunes City and rentals all the way down to Brookings….as well as Washington towns . www.beachcombersnw.com
Lincoln City Lodging Specials, Availability, Bulletins

Whistling Winds Motel - Lincoln City Motel
Room specials change each month: $70 - $99 per night
Inn At Spanish Head - Oceanfront, Lincoln City
Click on web specials link. Special packages where you can get gift baskets, roses, wine.
Nordic Oceanfront Inn, Lincoln City
Winter deals coming: under remodel w/ new name soon
Coho Oceanfront Lodge, Lincoln City
Winter deals - call for upcoming or last minute specials
Coastal Inn, Lincoln City
Extremely low rates now
Seagull Beachfront Motel, Lincoln City
Low, low prices this season
Oregon Beach Vacations - Vacation Rentals in Lincoln City, Yachats, Newport, ...
Receive a 10 perc discount off rent by booking your stay within 7 days of arrival
A1 Beach Rentals - in Lincoln City and Depoe Bay
Substantial rate reduction some rentals - click on site.
Inn At Wecoma - Lincoln City Hotel
Call for Winter deals which change often
The Shearwater Inn, Lincoln City Hotel
Various specials in winter. Click to see
Lodgings Near Lincoln City - Neskowin, Depoe Bay, Newport, Pacific City and Oceanside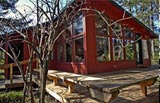 Idyllic Beach Houses. Two lovely pet friendly vacation rental homes, close to beach. Both w/ free WiFi, DVD, eclectic libraries, DVDs, games. Guardenia Street House: nestled at edge of forest. Hardwood interiors, skylights, vaulted ceilings. Enormous wrap-around deck. Kids' Bunkhouse. Spacious, fully equipped kitchen. Fireplace; BBQ. Sleeps 9. Pier Street House: Vaulted ceilings, second-story balcony, natural wood. DVD/Blu-Ray. Wood stove, BBQ. Deck, fenced backyard. Sleeps 10. Tierra Del Mar, Oregon (5 miles north of Pacific City). 503-662-5420. Details at www.IdyllicBeachHouse.com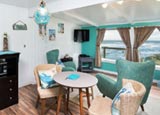 Moolack Shores Inn. Just off Highway 101 and a tad bit north of Newport, you not only have a private access to all the wonders of Moolack Beach but your room overlooks the ocean vistas. Each room smoke-free, whale watching reigns. Spacious decks for lounging. Amenities: coffee in the lobby, free Wi-Fi, DVDs; microwave, refrigerator, flat screen TV, hair dryer, alarm clock, fireplaces in some rooms. Each unit is individually decorated with whimsical to rustic. 8835 North Coast Highway, Newport, Oregon. (541) 265-2326. Moolack Shores Website here.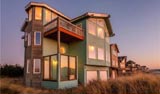 Kiwanda Coastal Properties - about 20 minutes from Lincoln City. From extravagant to elemental, and most are just steps from the beach – you'll find over 50 vacation rentals around Pacific City and as far as Tierra Del Mar. Ocean views, even walking distance to Kiwanda. Barbecues, large decks, high ceilings, cozy fireplaces, spiral staircase, more.. From two to 16 people. All homes kitchens, Wi-Fi, including microwaves. Most have dishwashers, televisions, DVD/VCR players, stereos, wood or gas fireplaces (or woodstoves) and laundry facilities. Some pets Pacific City, Oregon. 503-965-7212. Website here.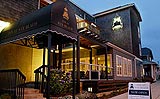 Inn at Nye Beach
.
30 minutes drive from Lincoln City. Stunning views of Nye Beach, ocean. Breakfast room service, direct beach access, full balconies, an elevator (and wheelchair accessible) and complimentary on-site parking. Sundeck, fireplaces and Earth-friendly products. Each room gourmet teas and coffee, DVD (and rentals), microwave and mini-fridge, high thread count lux linens, and oversized showerheads. Fitness room. Jacuzzi suite, various other room options from large to small. Weekly wine social. 729 NW Coast St. Newport, Oregon. 541.265.2477. 800.480.2477. www.innatnyebeach.com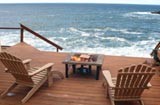 An Ocean Paradise Whales Rendezvous, Depoe Bay. Two oceanfront suites for a romantic getaway: Vacation Rental package or a Bed and Breakfast Package, you get to choose. Private deck, private outdoor entrance. Large outdoor deck / garden area, wood fire pit, Adirondack chairs. Suites come with elegant antiques, gas fireplace, fridge, microwave, toaster, coffee maker, WiFi, cozy robes, satellite TV, DVD, and binoculars to watch the whales. 147 N. Highway 101. Depoe Bay (10 mins from Lincoln City, Oregon). 541-765-3455. Website here.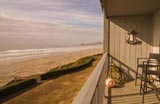 Nye Beach Condos & Cottages. 25 minutes from Yachats. Adorable cottages with a somewhat historic vibe to sleek, modern units – all with ocean views or at least a quick beach access. Variety of rentals, ranging from studio condos with one king bed or two queen beds, while cottages vary in size and configuration. All include kitchen or kitchenettes, flat screen TVs, and full ocean views. Free wi-fi is available in select rentals. Amenities: fully equipped kitchen, flat screen TV, and a full patio with unobstructed ocean views. In Newport's diverse Nye Beach area and all with 24-hour access to staff at their sister hotel. 729 NW Coast St. Newport, Oregon. 541.265.2477. Website here.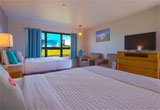 The Waves Hotel. A long-time favorite for generations in Newport's historic Nye Beach. There are full or partial ocean views, so you can catch the best of storm season. An indoor heated swimming pool, and pet friendly. Complimentary breakfasts; a sauna. Rooms feature free wi-fi, a coffee maker, snack-size fridge, hot tubs (select rooms), indoor games and puzzles, microwave, hair dryer, TV's, outdoor games and an alarm clock. 820 NW Coast Street, Newport Oregon 97365, 541-265-4661 thewaveshotel.com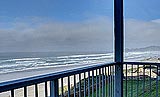 Various Newport Vacation Rentals. Huge variety of homes, condos and townhouses around Newport, including oceanfront, some pet friendly and some in coveted Nye Beach. Large homes to medium-sized homes; many are luxury properties with a huge array of amenities. Some oceanfront decks. You may find: granite counters, fine quality cabinetry, stainless steel appliances, game rooms, wood burning or gas fireplace, sliding glass door to the deck, and many more surprises. Around Newport, Oregon. Website here. (800)723-2383.
Back to top of Lincoln City Lodging
Book Coastal Lodging Now


-
Search over 7,500 Pages for Oregon coast subjects, articles or lodging........