Curious Near Cannon Beach: What Causes This Odd Wave Action on N. Oregon Coast?
Published 04/15/2018 at 7:26 PM PDT
By Oregon Coast Beach Connection Staff
(Cannon Beach, Oregon) – Just south of Cannon Beach, at the famed viewpoints of Silver Point, there may be a sea monster below the waves of this iconic north Oregon coast spot. Or at least there's something weird going on with the waves that makes it look that way, and it seems it's an oddity and attraction few know about yet.
Given the right conditions – and it helps to be a little rough – the waves at Silver Point do something unusual. You'll periodically see a wave dart out from behind the big sea stack here and go moving north – instead of the usual eastward that waves normally travel. Even stranger: if conditions are unruly enough you'll see a wave darting back and forth, from north to south and back again, as if something is racing beneath the waves.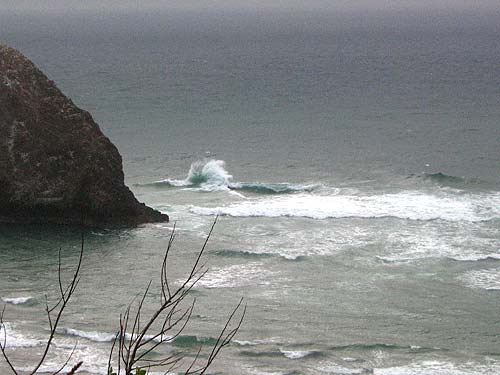 It doesn't happen every day, but it's more common than you might imagine. Oregon Coast Beach Connection put together the video above that shows this unique action of the breakers, and near the end you see a series of still shots that show how these watery waifs behave when darting back and forth. The stills, admittedly, don't show this in full glory, so you have to use your imagination a little. But you get a sense of what it looks like.
When these conditions arrive it's a wondrous and surreal sight – even mesmerizing. One wave starts to fire off in a strange direction, heading parallel to the shore, then appears to zip back again the other direction. This happens just as another begins its darting action northward again. It really looks like something is moving under there.
Even if it doesn't make the big spectacle of darting back and forth, just seeing a little wave come out from behind the rock and head a different direction than the rest is wild enough. It's head-scratching, but also impressive as that wave knocks into others and creates random explosions of ocean water in its path.
What causes this? Is there something in the reef below that makes this happen?
No, say geologists. In fact, it's fairly simple. The waves are coming in from the west and bouncing off the rock at Silver Point, reflecting them.
Peter Ruggiero, a geologist with OSU's Hatfield Marine Science Center in Newport, explained the phenomenon.
"Looks to me like the incoming waves are hitting the stack and reflecting backwards," Ruggiero said. "Waves can sometimes do this with little loss of energy so the resultant wave pattern is two waves propagating against each other. Since the incoming waves are all of slightly different sizes, more than likely only occasionally are conditions ripe for such a cool reflected wave to propagate back out to sea."
Tom Horning, a geologist from Seaside who specializes in this area of the Oregon coast, agreed.
"The waves moving parallel to the shore probably are reflecting off of the sea stack," Horning said. "If there is a hard vertical surface, the wave will simply reflect depending on the orientation of the hard surface. My guess is the face of the rock is oriented at 45 degrees to the incoming wave, which causes it to reflect at 90 degrees and turn north."
Some have suggested it's the reef below that's creating this action, but Horning didn't think so.
"Depending on the shape of underwater landforms they can trigger a wave to go a certain direction," he said. "I'll bet that if you get onto Google Earth and can get a peek at the west side of the rock you'll see a protrusion reflecting a wave so that it turns and goes north."
Yet what about that mysterious dancing back and forth action?
It's a kind of optical illusion. Those northbound waves are simply hitting other incoming waves and making it look like it's going back to where it came from.
"Waves don't turn direction in water," Horning said. "Unless it's going around something or bouncing off something they don't change direction. You're seeing the coincidence of two waves sets, one heading west and one heading to north coinciding, creating a big extra splash."
It's interesting to note no one else seems to have noticed this, but Oregon Coast Beach Connection has been looking at it for years. The video above was taken in 2017. The still shots were from around 2009.
This whimsical sight, one that's sure to fire up the imagination, may become an interesting tourist attraction all its own. It deserves to be. More on this area below. Cannon Beach Hotels / Lodging for this - Where to eat - Map and Virtual Tour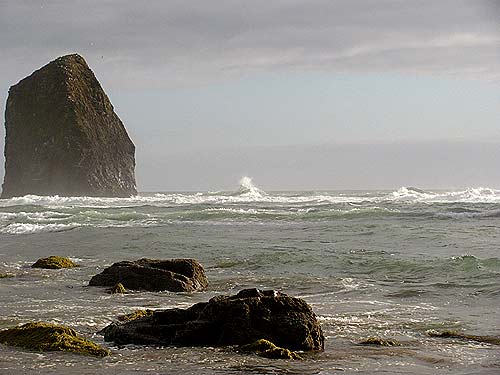 Silver Point below the viewpoint: you can even see this action from the beach.
More About Oregon Coast hotels, lodging.....
More About Oregon Coast Restaurants, Dining.....
LATEST Related Oregon Coast Articles
Back to Oregon Coast
Contact Advertise on BeachConnection.net
All Content, unless otherwise attributed, copyright BeachConnection.net Unauthorized use or publication is not permitted