Covering 180 miles of Oregon coast travel: Astoria, Seaside, Cannon Beach, Manzanita, Nehalem, Wheeler, Rockaway, Garibaldi, Tillamook, Oceanside, Pacific City, Lincoln City, Depoe Bay, Newport, Waldport, Yachats & Florence.
07/03/07
The Esoteric Oregon Coast: Odd Places, Spirit Spots and Wild Beaches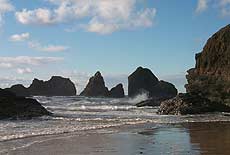 Oceanside: also considered another "spirit spot," as well as a peaceful hidden spot
(Oregon Coast) – There's always some sense of mystery and the mystic about Oregon's coastline. You just have to be in a personal space to see it sometimes, or simply be one of those people who are "attuned" to such things. It may not necessarily mean something spiritual or new age: it could simply require an ability to notice certain kinds of details around you. You can see it in the mists that begin to hover over headlands and blur far away beaches late in the day. You can hear it in the lull of the waves, on extremely calm, windless days where the sun cuts through the marine air and warms gracefully; or even in the massive fury and grandeur of a big winter's storm.
The coast is always talked about as "renewing your spirit," or refreshing in some way. And for good reason. Sure, it's like any beautiful natural feature out there. It will do that to you.
DIVE INTO LUXURY, HISTORY AT THE TIDES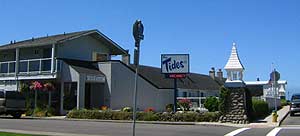 THE TIDES BY THE SEA, Seaside. For over 80 years a favorite of Seaside visitors. 51 oceanfront condos, individually owned and decorated. Suites for couples, small apartments with fireplaces and kitchenettes, one or two bed family units with fireplaces, kitchens and dining rooms. Oceanview cottages sleep anywhere from two to eight, w/ two bedrooms, some with lofts, fireplaces and kitchens. Heated outdoor pool, enormous grounds w/ picnic tables - all at quiet southern end of Seaside. 2316 Beach Drive. 800-548-2846. www.thetidesbythesea.com.
Yet there are other layers to the Oregon coast – be they mystical, odd or simply so far off the beaten path they are unusual in some way. There are places on these beaches that defy the normal conventional thought about this oh-so-delicious bit of scenic eye candy that lines the western edge of this already-stunning state. Sometimes it's an indefinable feeling or weird, slightly paranormal legend about a place. Other times it's something so unusual it stands out among the already-outstanding spots of this coastline.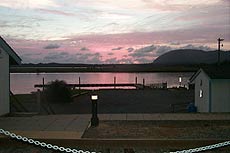 Wheeler
This tiny town on the edge of the Nehalem Bay is a few miles inland from the sea, but boasts one of the stranger legends of the whole coast. It's called the "Wheeler Moment," and it essentially means serendipity and odd coincidences rule the day here far more frequently than perhaps any place on Earth. Everyone has this happen: you're sitting around, thinking over a problem that needs to be solved or wishing for something. Then, all of a sudden, out of the blue, the answer falls in your lap in this rather strange way, by means of coincidence.
Here, it happens with startling regularity, at what locals call an "accelerated rate."
The town is also known for just plain wacky coincidences, such as running into people you haven't seen in a long time.
It's been described as a bit like the show "Lost" – that weird island where strange things just seem to happen.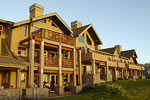 The Ocean Lodge. There will not be another property built like this in Cannon Beach in our lifetimes. Rare, premiere ocean front location; handsome, dramatic architecture and tasteful, fun (nostalgic) beach interiors. Overlooks Haystack Rock. 100 percent smoke free. Imaginative special occasion packages. Massive wood burning lobby fireplace. Library w/ fireplace, stocked with impressive book collection. Pet and family friendly. Lavish continental buffet breakfast. In-room fireplaces, mini-kitchens. Jacuzzi tubs in select rooms. DVD players, complimentary movies. Morning paper. Warm cookies. 888-777-4047. 503-436-2241. 2864 Pacific Street. Cannon Beach, Oregon. www.theoceanlodge.com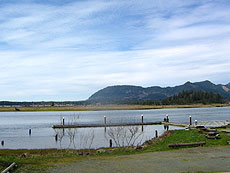 "I'd say that the 'Wheeler Moment' is the result of some sort of spiritual vortex that apparently exists in this little corner of the Oregon coast," said Old Wheeler Hotel owner Winston Laszlo. "It seems that the vortex - or whatever it is – causes wishes and visions to become manifest at a higher than normal frequency here.
"I believe 'funky coincidences' occur all the time. It's just that apparently that property of nature is stronger around here. The phenomenon occurs here at a much higher frequency - and at a higher speed - than elsewhere. Whether it has to do with the geography of the area, or the meteorology, or maybe even the human history, it is something that you have to experience for yourself."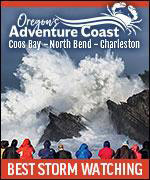 Peg Miller, owner of Ekahni Books in Manzanita, used to own a hotel in Wheeler. She had one of these "Wheeler Moments" with the plumbing.

"I had just discovered a leak," Miller said. "And I was wondering what I was going to do. Then I was interrupted by the doorbell of the B&B, and there was a guest at the door. During registration, I mentioned I had this leak to deal with, and it turned out he was a plumber."
The man helped her repair it and became her regular plumber after that.
Miller and Laszlo have dozens upon dozens of these kinds of stories. It's no big deal, really, until you experience it for yourself and realize how it happens here with such regularity.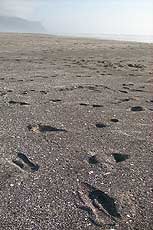 Oddly coarse sands at the north end of Neskowin are also one of the more interesting features of this beach
Neskowin
About 20 miles north of Lincoln City sits one of those indefinable places on the coast that some say has a serious "spiritual" vibe. Some describe it as an unusual sense of calmness and peace that washes over you in this place that already has some very different qualities, geographically and geologically.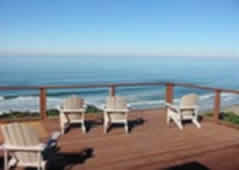 A1 Beach Rentals, Lincoln City. Perfect for large family vacations all the way down to a getaway lodging for two - with over 25 vacation rental homes to choose from. A breathtaking collection of craftsman or traditional beachfront homes, or oceanview houses – from one to seven bedrooms. In various areas of Lincoln City and overlooking the beach, with some in Depoe Bay. All kinds of amenities are available, like hot tubs, decks, BBQ, rock fireplaces, beamed ceilings and more. Some are new, some are historic charmers. Lincoln City, Oregon. 1-(503)-232-5984. www.a1beachrentals.com.
It's something Cindy Hanson, public relations officer for the Oregon Coast Aquarium, has been keenly aware of for a long time. "Neskowin is not just a pretty spot, it is a mystical place," she said. "The 'vibe' is the experience of unity, when time and space disappear and there is a sense of sacredness. For me, this occurs in nature when a deeper level of 'knowing,' emerges. Certain places are conducive to allowing the mind to step aside and allow the preconscious into awareness. This surreal quality about a place is not felt by 'normal' people, but is very palpable to intuitive, creative people. I think that is why serendipitous events happen more often in these places. The receiver (intuitive) tunes in to the mystic (the universe), which is always transmitting – but perhaps more intensely in the spots."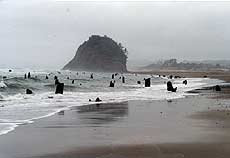 Ghost forest of Neskowin
Hanson isn't the only person to talk about this unusual feeling at Neskowin. It's a legend among many regular beachgoers; you just have to talk to a few to find them.
Neskowin has plenty of other unusual aspects, including the "ghost forest" which has emerged from its ancient burial grounds beneath the sand in recent decades. It's the remnants of a forest some 2000 – 4000 years old (depending on which geologist you talk to), and the result of the area becoming immersed rather quickly by sand, sea water and sediment, thus preserving the trees after swiftly killing them. The main theory these days has a process that took at least a few years, if not decades, of changing geography that allowed the water in. Another theory more popular with the masses has a sudden, horrendous earthquake suddenly dropping a chunk of land some 20 feet or more.
Winema Beach
This is an intriguing mixture of a clandestine beach spot, a rock climber's paradise and a playground of endless sand. On Highway 101, between MP 94 and Oretown, Winema Road sits inconspicuously on the west side. It's just a few miles from Neskowin, actually.
Once there, you'll find all sorts of oddities in the cliffs – most notably the giant rock structure plopped in the middle of the tideline. It too is perfect for climbing, with a tiny patch of grass welcoming you at its top.
Head another mile or so north along this beach and you'll reach some very secretive areas of the Nestucca Bay.
In between, various craggy cliff faces, indentations and cracks give plenty of opportunity for climbing, as well as other boulders and interesting structures. It's such a hidden spot it's unusual to find anyone else there, although it has seen some growth in popularity in recent years, as the entire coast becomes a little more popular and well explored.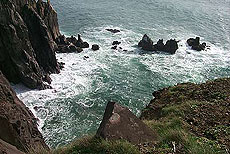 Forbidden Cliffs of Neahkahnie
If you're looking for a place that's really unusual, one to really jumpstart the imagination, this is it.
They sit just a tad north of the main, paved overlooks that provide incredible views of Manzanita, just below the mystical Neahkahnie Mountain (a native holy place which some say powers the "Wheeler Moment" phenomenon).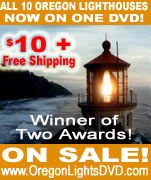 At first descent towards these wild, weird places, it looks like the green slopes of someplace in Ireland or something. It even begins intensely unreal.
Then, you find yourself at a precarious, scary cliff edge (you should not EVER take children here or go when it's wet). There is nothing between you and the broiling abyss below.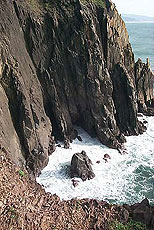 This freaky little cove features jagged, black spires of basalt that stretch downward and disappear into the ocean, looking a bit like a cathedral blasted away by a nuclear explosion some several hundred years ago. It is dark, foreboding and yet so magnificent and beautiful in a most unusual way. Below, small basalt structures get battered by ferocious wave action, no matter how calm the waters and the wind.
Nearby, along the trail towards Short Sands Beach, a massive rock pillar juts up from the ocean – a sort of weathered, ancient surprise in geographic terms.
Walking around here, it's not hard to imagine post-apocalyptic scenes from the "Planet of the Apes" films or perhaps the remnants of Atlantis lurking around here. There's nothing like it anywhere else on the coast.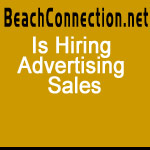 Cape Perpetua
High above, on Cape Perpetua
This is one jaw-dropping spot on the Oregon coast, just south of Yachats. And while it has no spooky, new age legends, it is simply so amazing it feels dreamlike.
The sign is clearly marked here: take the road on the east side of the highway to get to the Interpretive Center, to go to the top of Cape Perpetua and its trails or to take the 19-mile, 45-minute tour around the mountain and back to Yachats.
The top of Cape Perpetua is natural wonder not to be missed. There are also numerous trails and an auto tour circling around this mini-mountain, but it's the tiny, twisting ride to the top that provides the biggest reward.
Here, you've risen 803 feet above the sea and the panoramic view is awe-inspiring - augmented by an atmospheric stone wall encircling the viewpoint.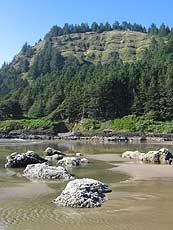 The grooves on top of Cape Perpetua, as seen from below
From atop the cape, you can also see the visitors center, and miles of miles of rolling ocean.
Along one of the trails, you'll also find a shelter made of stone, which was built during World War II as a lookout for enemies that never arrived. A short trail from the main overlook's parking lot leads to the shelter.
The St. Perpetua Trail meanders downward from here some 1.5 miles until it reaches the visitor center.
There's a wild little beach below the mini-mountain, where you can catch unusual glimpses of the top of Cape Perpetua from this angle. It's here where you see interesting grooves going around the structure, giving it a slight vineyard or screw cap look. This beach also features a delightful labyrinth of rocky structures to explore – although this can mostly be done at lower tides.
Nye Beach and Beverly Beach
"Still spot" in the waves, Beverly Beach, during one especially warm "second summer" day in September of 2006.
Newport's Nye Beach too has its equivalent of the "Wheeler Moment," although it's nicknamed the "Nye Beach Moment." It's not as pronounced or as regular as the esoteric tale in the northern coast town of Wheeler, but some locals – especially those that have moved here from elsewhere in recent years - do talk about a rather startling series of odd coincidences and wish-granting that seems to happen here more than their former places of residence.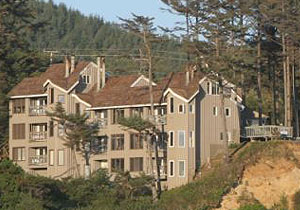 STARFISH POINT Newport - Offers only the finest in luxury condominium lodging. Every unit is focused on the beauty of the sea and the beach.
All units boast two bedrooms, two bathrooms, designer kitchens, wireless broadband Internet, fireplaces, Jacuzzi's and private decks. Friendly staff dedicated to high quality and superb customer service. 140 NW 48th Street, Newport. (541) 265-3751. (800) 870-7795. www.starfishpoint.com
Beverly Beach sits at the north end of town, and some have talked about a Neskowin-like sense of peace and calm there as well.
Hanson is one of its main proponents.
"I first noticed the vibe in Neskowin the first time I went there and I feel it every time I go," Hanson said. "Before I moved here from Portland, I used to drive along the coast looking for property. I wound up at Beverly Beach, a lovely spot which is surrounded by the woods on one side, a deep forested ravine and a view of Otter Rock on the other. It also has a mystical feel.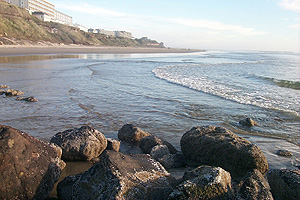 Newport's Nye Beach
"When I first moved there I walked around my property whispering that I did not 'own' it, but simply would watch over it and be its steward in this lifetime."
Hanson says other such mystical places in Oregon and along the coast include Nehalem, Manzanita, Oceanside, Gold Beach, the Oregon high desert and various places along the Columbia River.
"I feel privileged to be able to live in one," she said. "I have read that some psychologists put people who have mystical experiences in the same boat with psychotics. My thought is they're probably more fun – certainly more interesting, anyway."
Geographically and geologically, there may be something else going on as well. Another ghost forest pops up around here periodically, the result of lower and lower sand levels each winter.
There are some spots that seem to defy the regular incoming motion of the waves during extremely calm conditions. One area along this beach must have a slightly higher slope to it, as during such windless and cozy days, there will be a chunk of beach where the waves lap shyly, with almost no visible wave at all, more like a lake than the usual ocean. This greatly augments the strange, surreal feel of the place.

D Sands Condominium Motel, Lincoln City. Free, fresh baked cookie upon check-in is just the start. All rooms beachfront and up against Lincoln City's most famous stretch of beach: the D River. Each room comes as a suite or mini-suite, and has a kitchen and balcony or patio. Some w/ gas fireplaces, while all have a DVD Players; movies to rent come with free popcorn. Heated indoor pool, a spa, and this fabulous beach is lit at night. Rooms sleep from two, four to six - including a deluxe fireplace suite. Gift certificates orspecial occasion packages. www.dsandsmotel.com. 171 S.W. Highway 101. 800-527-3925.
Weiss' Paradise Suites & Vacation Rentals - Seaside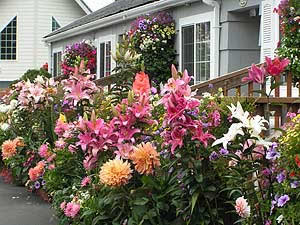 Unique Luxury Accommodations in Seaside. 1BR Suites, 1BR & 2BR Duplex Units and 3BR Houses, units for 2-8 people. Rent entire property for 20-26. Close to beach, river and Broadway St.
Suites are designed for two adults; vacation rental units for families. All units have kitchen and many have fireplace, deck and jetted tub. Comfy robes, slippers, luxury bath amenities, quality linens and more. 741 S. Downing St., Seaside. 800-738-6691. www.SeasideSuites.com

Tradewinds Motel, Rockaway Beach. All rooms are immaculate and have TV's, VCR's and in-room phones w/ data ports. Oceanfronts have queen bed, a double hide-a-bed, kitchen, cozy firelog fireplace and private deck. Both types sleep up to four people. Others are appointed for a two-person romantic getaway, yet still perfect for those on a budget. Elaborate oceanfront Jacuzzi suite has two bedrooms, kitchen, double hide-a-bed, fireplace and private deck, sleeping as many as six. For family reunions or large gatherings such as weddings, some rooms can connect to create two-room and three-room suites. Some rooms pet friendly. 523 N. Pacific St., Rockaway Beach. (503) 355-2112 - 1-800-824-0938. www.tradewinds-motel.com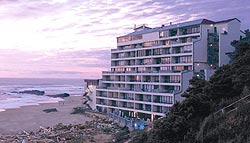 Inn At Spanish Head, Lincoln City. Lincoln City's only resort hotel built right on the beach with all oceanfront rooms - nestled against a rugged cliffside overlooking a soft, sandy beach. Dine in penthouse restaurant and bar, for casual meal or candlelight dinner. An array of seafood specialties, juicy steaks and other Northwest favorites, including decadent Sunday buffet. Rooms range from bedrooms to studios to 1-bedroom suites with microwaves and refrigerators to full kitchens. Also, wi-fi, spa, saunas, exercise room and year-round heated swimming pool. Kids will love the game room and easy beach access. Full-service conference/meeting rooms for that inspirational retreat; extensive wedding possibilities. 4009 SW Highway 101, Lincoln City. 1-800-452-8127 or 541-996-2161. www.spanishhead.com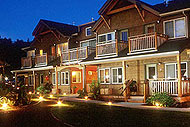 Inn at Cannon Beach. Beautifully wooded natural setting at quiet south end of Cannon Beach. Great during winter storms with a new book by the fireplace – or when the sun is out for family fun and beach strolling. Handsome beach cottage-style architecture. Lush flowering gardens and naturalized courtyard pond. Warm, inviting guest rooms. Continental buffet breakfast. Warm Cookies. Family and Pet Friendly. Welcome gifts. Smoke-free. Complimentary Wireless Connectivity. Wine and book signing events. 800-321-6304 or 503-436-9085. Hemlock At Surfcrest, Cannon Beach, Oregon. www.atcannonbeach.com.
RELATED STORIES
OREGON COAST VIRTUAL TOURS
Explore Every Beach Spot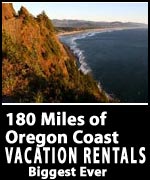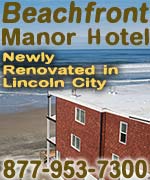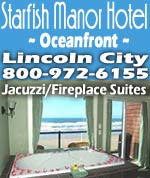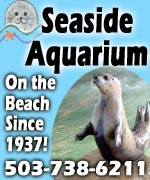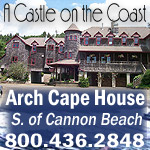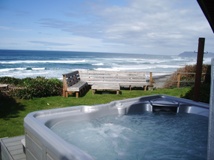 Arch Cape Property Services. Dozens of homes in that dreamy, rugged stretch between Cannon Beach and Manzanita known as Arch Cape. Oceanfront and ocean view , or just a short walk from the sea.
All homes are immaculate and smoke free; some pet friendly (with a fee). Some with broadband, indoor or outdoor hot tubs, fireplaces, decks, and fire pits or barbecues. Call about tempting winter specials that go until March (not valid holidays, however). www.archcaperentals.com 866-436-1607.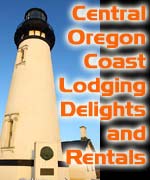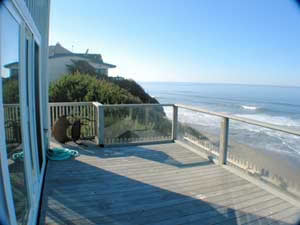 Lincoln City Vacation Homes Something for everyone: smaller homes with a view to a large house that sleeps 15. All are either oceanfront or just a few steps away – all with a low bank access and fantastic views. Most are in the Nelscott area; one is close to the casino. You'll find a variety of goodies: fireplaces, multiple bedrooms, dishwashers, Jacuzzis, washer/dryers, hot tubs, cable TV, VCR, barbecues; there's a loft in one, and another sprawling home has two apartments. Pets allowed in some homes – ask first. Each comes with complete kitchens. Most have seventh night free. Prices range from winter $85 to summer $230 per night. www.getaway2thecoast.com. 541-994-8778.