Oregon Coast Real Estate Watch: Finding Oceanfront Property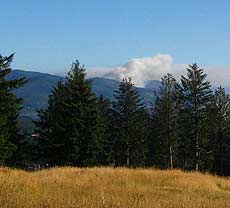 Prime property above the ocean with mountain and sea views, Manzanita
By David Timme, BeachConnection.net Real Estate Columnist
Oceanfront properties for sale, while limited, are still available on the Central Oregon Coast. A number of properties meeting the beachfront criteria are still available for well under the magic million-dollar price tag.
One way to initially find these rare properties is on the Internet at www.realtor.com. While, the designation "Oceanfront" does not exist on the Realtor.com search engine, there is a search listing for "Waterfront" property. This is a broader listing for all properties with water frontage - stream, river, lake, bay, or ocean. A Realtor.com search in Northern California coastal communities returns only a handful of oceanfront properties, (waterfront), almost all of them over the million dollar mark. They are scarce and pricey. Generally the Oregon properties are more plentiful and much less expensive.
Is Oregon in an Oceanfront property market that is still generally undervalued and disappearing?
Are You Looking For Coastal Property?
Let me help you find property in Lincoln County - beach, city or country
David Timme, Owner/Broker, GRI, e-PRO, RECS cell 541-961-8025
Coastal Oregon Real Estate Sales
www.CoastalOregonRealEstateSales.com
836 SW Bay Boulevard Newport, Oregon
Office Phone 541 574 0096 x 11
Office FAX 541 574 0402
Email David@DavidCTimme.com
Realtor.com is the official site of the National Association of Realtors. On this one site appear abbreviated listings taken periodically from all the Multiple Listing Services across the entire United States. A search can be performed on this one site and properties of interest can be located and can then be inquired about by a phone call to the Real Estate office referenced in the listing and the Realtor that has listed the property. Once the Realtor is contacted, much more detail is available and can be e-mailed or snail-mailed to you for your information.
The price put on a property is the result of what the Seller feels the property is worth in its current condition and what is believed a willing buyer will pay to have ownership of that property. The price will reflect all the things the owner knows needs to be done to make the property ready to sell. Maybe a new roof is needed, maybe a new coat of paint inside and out, or a property survey. These things all have dollar value price tags and will have been adjusted for in the offering price.
A prospective buyer comes along and immediately starts taking the cost of fixing the roof, re-painting insides and out, or surveying the property, off of the list price that has already been reduced to allow for these expenses. This starts the negotiating process and either a mutually agreeable price will be arrived at or the sale falls through and the Buyer goes on to look at different properties while the Seller continues to wait for a Buyer that will meet his price.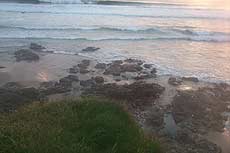 Available negotiating tools, once the Sale Agreement is offered, are Addendums to add to the Sale Agreement and Counter Offers, from both the Seller and the Buyer in turn, to change the Sale Agreement. These may be required once the results of a professional inspection or report are known, or other considerations necessary to reach a mutual agreement.
The risks associated with selling or buying a suitable piece of property is the Seller may undervalue or overvalue the property, especially if they are acting as an un-represented seller. Unless knowledge of the market is considered, a property may be undervalued - or overvalued - in price when compared with similar active and sold properties on the market. Or, a buyer may not know everything to look for when making an offer on a property or may offer too little to interest the Seller and be rejected, or too much and overpay for the property.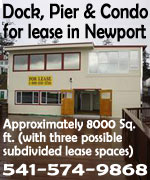 An oceanfront property may be 2 to 3 times, or more, the price of a similar property without the oceanfront location. This is justified by having the beach, or rocks, out your doorway and the uninterruptible ocean view that goes with the oceanfront location.
Finally, the market value for any property is the cash price a willing Buyer and a willing Seller will agree upon, given reasonable exposure of the property to the market place, full information as to the potential uses of the property, and no undue compulsion to act.
David Timme is a real estate agent at Coastal Oregon Real Estate Sales in Newport. He can be reached at www.CoastalOregonRealEstateSales.com or 541 574 0096 x 11.
Back to Oregon Coast Real Estate page and listings
DIVE INTO LUXURY, HISTORY AT THE TIDES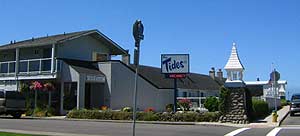 THE TIDES BY THE SEA, Seaside. For over 80 years, The Tides has been a favorite of Seaside visitors. History meets modern luxury here. 51 oceanfront condos, individually owned and decorated. Find suites for couples, small apartments with fireplaces and kitchenettes, one or two bedroom family units with fireplaces, kitchens and dining rooms. There are wonderful oceanview cottages that sleep anywhere from two to eight people, with two bedrooms, some with lofts, fireplaces and kitchens.
Meanwhile, the heated outdoor pool, enormous grounds with picnic tables and location at the quiet southern end of Seaside make for some memorable means of play and repose. 2316 Beach Drive. 800-548-2846. www.thetidesbythesea.com.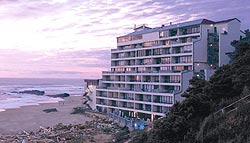 Inn At Spanish Head, Lincoln City. It's Lincoln City's only resort hotel built right on the beach with all oceanfront rooms - nestled against a rugged cliffside overlooking a soft, sandy beach. Enjoy dining in the penthouse restaurant and bar - whether you're in the mood for a casual meal or a candlelight dinner. They offer an array of seafood specialties, juicy steaks and other Northwest favorites, including a decadent Sunday buffet. Rooms range from bedrooms to studios to one-bedroom suites with microwaves and refrigerators to full kitchens. Hotel amenities include wi-fi, spa, saunas, exercise room and a year-round heated swimming pool. Kids will love the game room and easy beach access. Full-service conference and meeting rooms for that inspirational retreat; extensive, gorgeous wedding possibilities. Near the south end of Lincoln City at 4009 SW Highway 101. 1-800-452-8127 or 541-996-2161. www.spanishhead.com
BREATHTAKING CLIFFTOP IN NEWPORT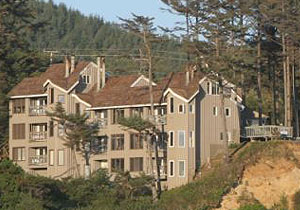 STARFISH POINT is located on the Central Oregon Coast - in Newport - and offers only the finest in luxury condominium lodging. At Starfish Point, every unit is focused on the beauty of the sea and the beach.
All of the units boast two bedrooms, two bathrooms, designer kitchens, wireless broadband Internet, fireplaces, Jacuzzi's and private decks - surrounding you in soothing relaxation. We have a friendly staff dedicated to high quality and superb customer service. 140 NW 48th Street, Newport. (541) 265-3751. (800) 870-7795. www.starfishpoint.com
Weiss' Paradise Suites & Vacation Rentals - Seaside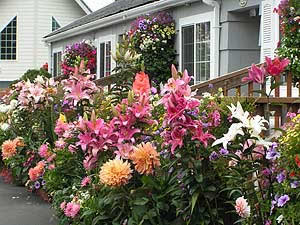 Unique Luxury Accommodations in Seaside. 1BR Suites, 1BR & 2BR Duplex Units and 3BR Houses, units for 2-8 people. Rent our entire property for 20-26. All units close to beach, river and Broadway St.
Suites are designed for two adults; vacation rental units for families. All units have kitchen and many have fireplace, deck and jetted tub. Enjoy comfy robes & slippers, luxury bath amenities, quality linens and more. See us on The Travel Channel's "Great Escapes" show in August 2006. 741 S. Downing St., Seaside. 800-738-6691. www.SeasideSuites.com

D Sands Condominium Motel, Lincoln City. Getting a free, fresh baked cookie upon check-in is just the beginning. Every room is beachfront, and it's all right up against Lincoln City's most famous stretch of beach, next to the D River. Each room, comes as a suite or mini-suite, and has a kitchen and balcony or patio. Some have gas fireplaces, while all have a DVD Players with movies available for renting (and movie rentals come with free popcorn). There's a heated indoor pool, a spa, and this fabulous beach is lit at night. Rooms sleep anywhere from two, four to six - including a deluxe fireplace suite. Gift certificates are available, and they offer special occasion packages as well. To make a reservation and see a virtual tour of the rooms, visit our website at www.dsandsmotel.com. 171 S.W. Highway 101. 800-527-3925.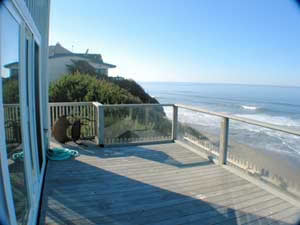 Lincoln City Vacation Homes There's something for everyone among this selection of wondrous homes: smaller homes with a view to a large house that sleeps 15. All the homes are either oceanfront or just a few steps away from the sand – all with a low bank access and fantastic views. Most are in the Nelscott area; one is close to the casino. You'll find a variety of goodies, depending on the home: fireplaces, multiple bedrooms, dishwashers, Jacuzzis, washer/dryers, hot tubs, cable TV, VCR, barbecues; there's a loft in one, and another sprawling home has two apartments. Pets are allowed in some homes – ask ahead. Each comes with complete kitchens so you'll have a home away from home. Most have the seventh night free. Prices range from winter $85 to summer $230 per night. www.getaway2thecoast.com. 541-994-8778.
RELATED STORIES
Strange, Freaky and Funny: Ghosts of Oregon Coast's Past Truth is stranger than fiction, especially when it comes to the odd history and science on these shores
Stunning Storm Watch Spots on Oregon's Coast Tips for some stunning viewing of the wild waves of the season
Coast to Coast: Comparing Oregon Beaches to Other Shores There's a lot of interesting stuff to be learned and observed from the beaches of elsewhere.
Day or Night Mysteries and Merriment on Oregon Coast It's more than just nightlife that comes to life, but the beaches offer major opportunities
Sampling Wines and Wine Bars on the Oregon Coast Wine shops and wine bars are a growing part of coastal tourism
OREGON COAST VIRTUAL TOURS
Explore Every Beach Spot