Five Goofiest Legends of the Oregon Coast
Published 07/23/2015 at 5:04 AM PDT
By Oregon Coast Beach Connection staff
(Oregon Coast) – Oh, sure there are tons of paranormal ghost stories about the Oregon coast: talk of pirates, disputes over whether Sir Francis Drake landed here, unfounded legends about Lewis and Clark and more. But some rumors and legends are just downright goofy. Even hilarious at times. (Above: Cannon Beach's Haystack was NOT constructed by Man).
The truly comedic legends of the Oregon coast really head into some wild territory. Some are so obscure they are forgotten over the decades or you have to get someone really drunk at a local bar to confess what they've done or what they've heard.
Get ready for an amusing ride through Oregon history.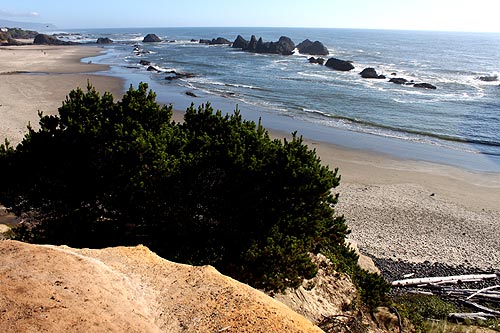 The Seal Rock Sea Monster. This one has been lost to time, and no one seems to talk about it anymore on the central Oregon coast. However, back in the mid-30's, even a local newspaper was in on this one, according to the Lincoln County Historical Society in Newport.
About that time, there started to appear talk of one or more sea monsters flopping around near Seal Rocks (as the collection of basalt structures is called in plural). A small newspaper called the Yaquina Bay News ran with the headline "Sea Monster Reported Seen at Seal Rocks" on June 15, 1935. Described as great, slithering serpents just offshore, the first was seen when locals heard some unusual bellowing from the sea lions and went out to investigate.
The paper described them as 40 to 60 feet long and dark brown, with a head about three feet wide. It played in the surf for about a half hour and then wandered south. The newspaper claims a second ambled by much more quietly.
The Historical Society believes the tale was invented to create a stir for tourism, as the claimants were all vacationers living there temporarily. More on the Seal Rock monsters.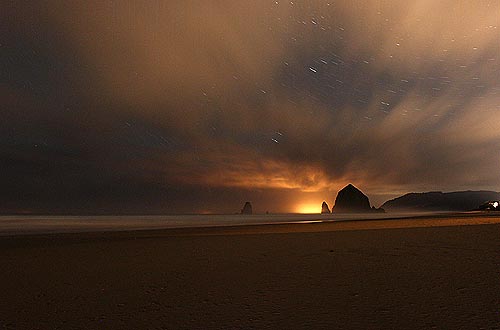 Cannon Beach's Haystack Rock is Manmade. Sometimes, if you're a tourist in town and you're drunk enough in one of the bars, you may get to hear some tall tales from locals. The one that went around back about 2000 was particularly hilarious, with some trying to convince newcomers and visitors that the famed Haystack Rock was, in fact, a manmade construction.
There are actually some whimsical drawings you can find in books from local artists that show a wooden scaffolding in the vague shape of the rock, and parts of the outer "rock" layer over that.
It's amusing, but obviously it's not true. Yet it had at least two different new residents to Cannon Beach wondering about the validity of this tale, after someone at what is believed to be the Warren House was messing with people's heads for a time. It seems this is a joke that's been played on visitors since the 70's, according to one former resident.
The reality of how Haystack Rock came to be is a bit frightening, and it goes all the way back about 60 million years or so. It was the product of a lava flow so huge and powerful that it spread across hundreds of miles to the west, and at one point burrowed into the ground and came back in a kind of re-eruption. That re-eruption is Cannon Beach's Haystack Rock.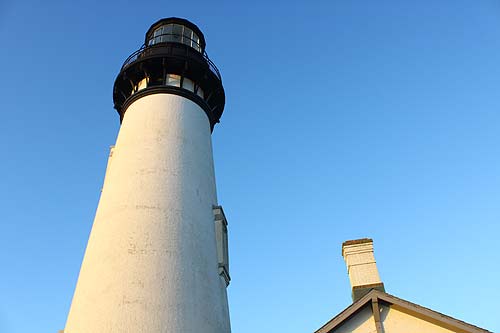 Yaquina Head Lighthouse Ghost. For decades, there was a sordid tale of drunken irresponsibility and an accident where a very ill lighthouse keeper fell to his death, rolling down the spiral staircase of the lighthouse at Yaquina Head in Newport. This resulted in rumors of the man's ghost – a keeper by the name of Higgins – haunting the upper area.
This all began with Higgins getting especially ill one night and unable to perform his duties. Meanwhile, however, his partner had gotten thoroughly hammered and was passed out cold. When a beacon emergency happened, Higgins – who was barely able to move – was forced to climb those 100 or so steps and check on the lamp. Higgins was so out of it he fell and was killed.
After that, the guilt literally ate up the other lighthouse keeper, who refused to go up there without his dog, for fear of running into the otherworldly Higgins. That ghost tale lasted for decades.
Interestingly enough, that story was debunked in the late 90's, when the Bureau of Land Management – which runs the lighthouse – received a letter from a relative of Higgins saying he left the lighthouse to go work on the docks in Portland. He died of natural causes in the 30's.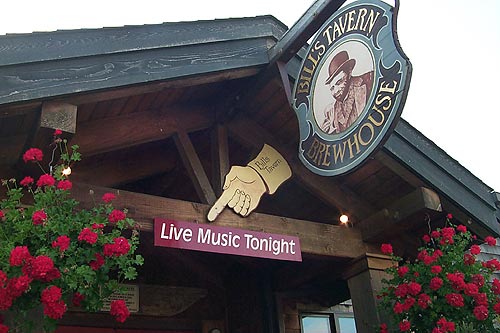 Bandage Man. He's like a particularly low-budget version of the mummy for the Cannon Beach area. The legend supposedly goes all the way back to the 40's or earlier and includes the old Bill's Tavern, but there is sizable evidence it was secretly created by a group of mischievous teens in the 50's.
It all starts with an ambulance carrying a man completely bandaged up, and then a rockslide covers the emergency vehicle. The driver is killed but the bandaged man has disappeared, and then suddenly starts showing up to terrorize cabins in the woods and the tavern – only on nights with lightning, of course.
One tale has the Bandage Man actually hopping on a truck going down the highway and nearly killing the driver with fright.
This is where truth starts to meld with fiction, however. Bandage Man was apparently better known in the 60's, and numerous locals remember one awful but hilarious prank that involved the wrapped-up legend. A group of teens were sitting in the back of a pickup truck being driven by a friend, and they convinced him to suddenly stop. They got out and had another friend hop back on who was dressed up in mummy-like attire. They began screaming "Bandage Man!" and it didn't take long for the driver to notice the famed apparition in the bed of his pickup. It took even less time for him to peel out, speeding around the area and trying his best to knock the Bandage Man wannabe out of the back.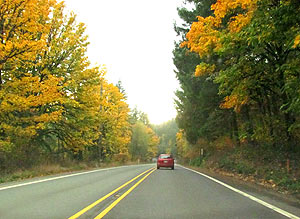 Secret Government Facility in Coast Range. Since the 70's, the Vanduzer Corridor – right outside of Lincoln City – has been the source of odd paranormal rumors about UFO's, people driving while controlled by some other entity, sightings of Ninja hordes in the middle of the night and a secret facility akin to Area 51 in the woods.
When Oregon Coast Beach Connection staff started researching this in the late 90's (this was before OCBC, actually), a really startling array of wacky stories popped up. Some Lincoln City locals talked about friends saying they felt controlled by an unseen force while driving through there. Other reported strange lights or people appearing and then disappearing along that stretch of tight, winding curves.
One Salem girl even said she stopped at the rest stop in the middle of the night and encountered a group of middle-aged men dressed as – well, ninjas – who were also using the rest top.
A pair of hikers from Seattle claimed to have bumped into a secret government facility, which actually jives with some rumors from Lincoln City locals.
All this led to rumors of a kind of X Files-esque black site and strange experiments with physics for a time. But many believe the talk of the government facility comes from some kind of testing complex belongning to state authorities that sits near Cascade Head, probably used in the biological and wildlife sciences. It's closed off to the public and kind of hidden, so it's a bit of a mystery.
There is a tiny ghost town lurking along one of the trails near Rose Lodge – really a collection of few buildings. This, along with an actual secret government radar base that existed for a while on Mt. Hebo, could have also fueled the Area 51 legends.
More About Oregon Coast hotels, lodging.....
More About Oregon Coast Restaurants, Dining.....
LATEST Related Oregon Coast Articles
Oregon / Washington Coast Alerts: Flood Watch, First Big Waves of Season
Floods, lots of rain, high winds and some rather good storm watching, beach safety
Sea Lions Sick with Leptospirosis on Oregon Coast: Keep Pets, Yourselves Away
Stay clear of sick or dead sea lions. Marine sciences, beach safety
Yachats Oktoberfest Takes German Culture on Oregon Coast to New Levels with L...
A kind of accordian-palooza, there's beer, brats, wine and waves, Sept 29 - Oct 1. Yachats events
At Seal Rock's NW Curtis St.: Funky Little Oregon Coast Access with No Name
NW Curtis St., not far from Newport, Yachats or Waldport
Seaside Event Digs Into Mysterious Bayocean, the Oregon Coast Ghost Town
September 28 at 6 p.m. at Seaside Brewing. History, Seasode events, Tillamook
Central Oregon Coast Artist Shows at Florence Visitor Center
Regina 'Reggie' Oflock of Sea Gypsy Cottage Gallery. Florence events
Small Vessel Strands on Central Oregon Coast's South Beach, Cause Unknown
Fishing vessel Judy stuck on a Newport beach. Florence events, Newport events, Lincoln City events, Yachats
SOLVE Cleanup Finds on Oregon Coast Include a Whale
This carcass had been in the news before, victim of orcas. At Otter Rock near Newport. Marine sciences

Back to Oregon Coast
Contact Advertise on BeachConnection.net
All Content, unless otherwise attributed, copyright BeachConnection.net Unauthorized use or publication is not permitted