Ghostly Tourism on Oregon Coast
Published May 2006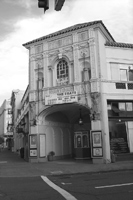 Liberty Theater, Astoria
(Oregon Coast) - There are a lot of reasons to visit Oregon's coastline. Most of these center around the beaches, the natural attractions, eating loads of clam chowder until you roll out of the restaurant Monty Python-style, etc. There's a lot that's obvious.
But there's a whole other side to the Oregon coast: one that's shadowy, elusive and full of paranormal mystery. Ghosts on Oregon's coast – and other paranormal rumors – are a growing segment of tourism that's a ways below the surface. You've got to look a bit beyond the beautiful beaches and touristy shops to find this. But it's there. And interestingly enough, it's not always lurking where you think it might be.
To start your otherworldly tour of the Oregon coast, Astoria is perhaps the best place to begin. Purportedly, the Liberty Theater is seriously haunted by at least one ghost. The main attraction (after hours, anyway) is apparently an apparition named "Handsome Paul," who shows up dressed to the nines. There are other spooks inhabiting the famous theater, including some who like to unscrew knobs and create other small, but annoying havoc.
Also in Astoria, one of the firehouses supposedly has a ghost, or two or three.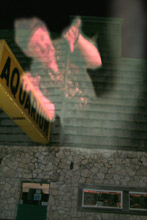 Seaside Aquarium: ghost or no ghost?
Head down 101 to Seaside, and you've got a plethora ofchilling tales, laying quite a ways underneath the surface. The historic Gilbert district is rumored to have a few specters floating around, and a restaurant called Girtle's has numerous tales of flying coffee pots, shadowy figures and spirits inherited from another ancient building nearby that was leveled in the 80's. The Seaside Aquarium also has rumors of something ectoplasmic lurking in the top floor over the years.
Lighthouses are, of course, the natural point of attention for rumors of ghosts – and, apparently, for real ghosts. The two lighthouses in Newport have various spirit tales surrounding them, but all have been proven to be rumor and pure silliness. But the Heceta Head Lighthouse, near Florence, has a lingering history of such paranormal experience, and there are quite a few witnesses to this visitation. In fact, the family that runs the lighthouse B&B considers this spirit to be one of the family.
Lincoln City has a number of haunted tales – from the ghost ship that periodically shows up in Siletz Bay to souls who linger at restaurants and a fire station. More here.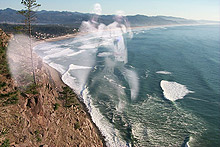 Above Nehalem Bay: good spirits, or just bad Photoshop technique?
Other tales defy category, such as the "good spirits of Wheeler" and the serendipitous "Wheeler Moment." The north coast town of Wheeler, on the Nehalem Bay, runs amok with such oddball tales of interesting, yet pleasant coincidences that oft times happen there – a little like an Oregon coast version of the mysterious island on ABC's "Lost" series, where odd things just seem to happen for a reason.
The Old Wheeler Hotel has acquired a bit of a cult following in the last couple of years with its rumors of hauntings. Several ghost investigator groups and ghostbuster-types have trod through there trying to decipher what's really going on there. www.oldwheelerhotel.com. 877-653-4683.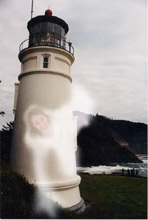 Hecteca Head Lightouse
It's more than a little ironic that last year's remake of "The Fog" was set in a fictional north coast town, which resembled Manzanita in more ways than one, especially with its creepy rumors of buried treasure lurking in the murky, forested hills somewhere. And then there's the recent filming of "Cthulhu" in Astoria, with all its magnificent atmosphere, and rumors that it was actually the inspiration behind the H.P. Lovecraft story the film is based on.
In the final analysis, there's much more to the Oregon coast than meets the eye. You don't need to be some sort ghost whisperer or "medium" to enjoy all these new and different aspects to a coastal jaunt. But it is a fun, distinctive and new way to look at a favorite Oregon tourist attraction.
More Oregon coast ghost pics....
More About Oregon Coast hotels, lodging.....
More About Oregon Coast restaurants, dining, places to eat.....
| | | |
| --- | --- | --- |
| | | |
More OREGON COAST PARANORMAL NEWS STORIES
Nov 6, 2006
... Research Conjures More Paranormal Tales at Oregon Coast Lighthouses - Digging into the ghostly legends can have its own spooky consequences.
Back to Oregon Coast
Contact Advertise on BeachConnection.net