Photos of Newport Chamber, Visitors Center, Central. Oregon Coast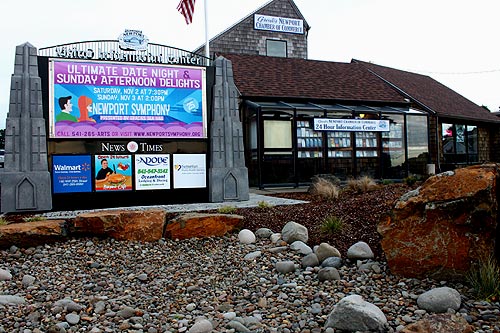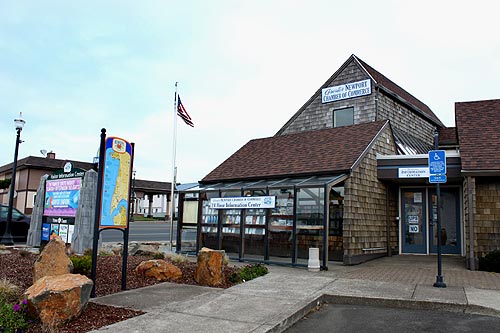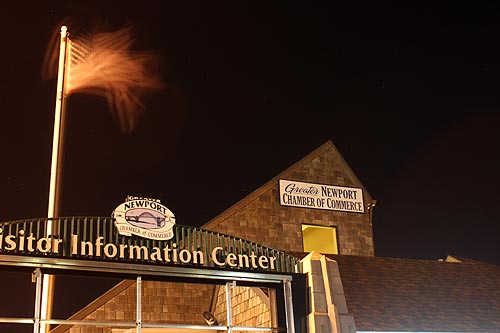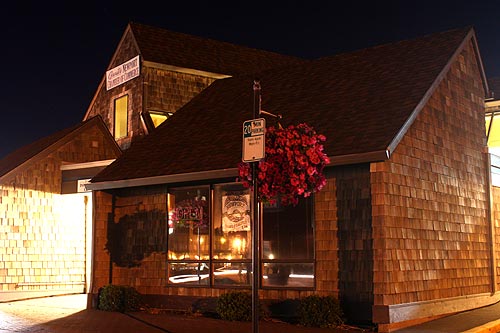 Newport Chamber, Visitors Center, Central. Oregon Coast - visitor news, events, updates from the Chamber.
At the Newport, Oregon Chamber and Visitors Center, you'll find 24-hour visitor information in a covered kiosk/lobby. During businesses hours, peruse a much larger array of brochures about Newport lodging and Newport restaurants, dining. Ask questions about Newport and its many attractions in person, as well as activities about hiking, clamming, ocean tours, whale watching and more.
The chamber also spearheads numerous events throughout the year, such as the massive Newport Seafood and Wine Festival, the Amazing Race and other high-profile happenings.
Look for full Greater Newport Chamber of Commerce info at newportchamber.org. 541-265-8801 or 1-800-COAST44. 555 SW Coast Highway. Newport, Oregon (about halfway through Newport on Highway 101).
News from and about Greater Newport, Oregon Chamber of Commerce, Visitors Center
Waiting to exhale: Though legal, Oregon?s pot industry still struggles for ac...
3 Nov 2018 at 11:18pm
?Oregon is poised to be America?s breadbasket for cannabis ... the state have begun to admit marijuana-based ventures into their ranks. ?At the Newport Chamber of Commerce, any legitimate business ope...
Two women, two men named finalists for president of Weber State University in...
30 Nov 2018 at 2:27am
Previously, she served as dean of arts and sciences at Northern Kentucky University in Newport, where she led the university ... Mortensen has chaired the Ogden-Weber Chamber of Commerce and United Wa...
Race preview: Newport Coast Festival 5k
14 Feb 2010 at 3:14pm
T-shirts guaranteed only to pre-registered entrants. Pick up an entry form at one the following locations: Newport Chamber of Commerce, Newport Recreation Center, ME Fitness Center (Newport), Gallaghe...
This Week's Calendar of Events
27 Jul 2017 at 1:15am
Oregon Employment Dept.; Julie Miller, South Coast Regional Tourism Network; Sam Baugh, South Coast Developmental Council. Advance ticket required. Cost is $35 to chamber members and $40 to non ...
Around Town: Blessing of the Waves in Huntington Beach will be Sunday
6 Sep 2017 at 10:52am
?Green? lifestyle and disaster preparedness are focus of Newport event The Newport Beach Chamber of Commerce and the city of ... She most recently worked for the city of San Clemente. The Oregon State ...
Field reports: Paddlers take gamble on Pend Oreille event
1 Aug 2015 at 5:00pm
The event is sponsored by the Greater Newport Chamber of Commerce. The event starts at Rotary ... HIKING ? The Forest Service is implementing permits for campers at a popular Oregon backpacking destin...
Southern Exposure: Outside the path of totality
8 May 2017 at 5:41pm
On the morning of Aug. 21, parts of Oregon will witness a ... Cannon Beach Chamber of Commerce Executive Director Court Carrier says purists will find it ?really tough? to get down to Newport, Depoe B...

More Updates from the Newport, Oregon Chamber via FB

[CaRP] Can't open remote newsfeed [404].
Have you reserved your tickets yet for the Banquet & Balloon Auction? They a...
by Greater Newport Chamber of Commerce
25 Mar 2015 at 12:00pm
Have you reserved your tickets yet for the Banquet & Balloon Auction? They are going fast! Call 541-265-8801 to attend ?Masquerade on Bourbon Street? April 4th at the Best Western. Thank you to our Presenting Sponsor, the News-Times and to our Table Sponsors: Howard Adams-CPA, Salishan Spa & Golf Resort, Western Title & Escrow, Samaritan Pacific Communities Hospital, Columbia Bank, Rogue Ales, Bigfoot Beverages, Walmart, Chinook Winds Casino Resort, Newport News-Times, US Bank, Holiday Inn Express, The Storage Place, Mariner Enterprises, Thompson Sanitary Service, TCB Management/BBSI, City of Newport, Earthbound Beauty Day Spa and Aquarium Village.



The Greater Newport Chamber of Commerce Ambassadors were there for the ribbon...
by Greater Newport Chamber of Commerce
25 Mar 2015 at 10:15am
The Greater Newport Chamber of Commerce Ambassadors were there for the ribbon cutting at the Big 5 Grand Opening!


Ribbon Cutting at the Big 5 Grand Opening


More Newport, Oregon Visitor Information at the Newport, Oregon Virtual Tour, Map
See Newport, Oregon News Updates: Local Newport, Oregon News, Travel News