What They Don't Tell You About Oregon Coast's Spring; Video
Published 03/10/2018 at 4:35 PM PDT
By Oregon Coast Beach Connection Staff
(Oregon Coast) – The biggest secret on the Oregon coast? Spring. That's right, spring is the best kept secret.
Just after spring break, April and May create a jumble of amazing sights you can't see any other time of year, and to top it all off no one else is out there. In fact it's nicknamed the "secret spring." Here's just a few aspects that will awe.
Lowest Tides of the Year. April, May and sometimes June are when the lowest tides of the year happen, sometimes dipping into minus one foot or even minus three feet. Agate beds really pop up in many places, thanks to all the tidal melee that still remains with some storms. They also disappear quickly, however.
Spring's Surreal Finds. With some amount of wintry storm still pummeling on occasion, the funky beach finds continue beyond winter. By this time, it's not impossible to find the real glass floats from Japan, which were so treasured for generations.
Other fun creatures include the velella velella, which really start hitting the sands in April or May. Or more of the pyrosomes that have so startled scientists in the last two years.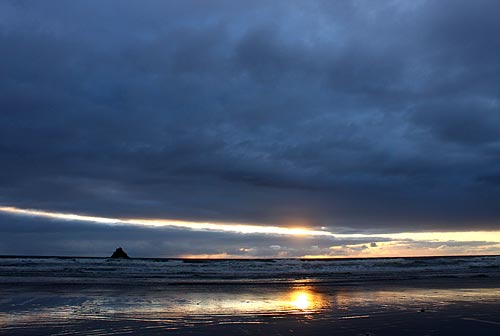 Skies at Their Most Photogenic. (Above: Arch Cape in spring). Clouds along the ocean shores become their most interesting and dramatic from March through May, creating more amazing sunset colors and arguably making it the most photogenic time of year. You'll notice lots of puffy clouds on the horizon, and these cause some amazing things to happen, with the light bouncing between them, glowing through the varying layers and creating incredible pastels. Thanks to the manic mood swings of the weather on the coast, abruptly shifting from rainy to sunny, these conditions make for more vibrant and varied hues at dusk than at any other time of the year. (See The Science Behind Spring's Stunning Clouds).
Summer and winter sunsets both have their own particularly inviting features and high points, such as winter dusks can have the most intense colors. But both tend to lean towards one color, while spring sunsets produce the widest array of shades.
More wild spring skies in video below:
Especially towards May, in full sunlight, you get large and often darkened clouds. But there are frequently breaks breaks them, creating photo opps where you get looming, moody clouds in the background and objects in the foreground lit up brightly. The contrasts can be jaw-dropping and easily make for the most remarkable beach shots you'll get all year.
Meteorologists say it can come down to increased humidity and the cleaner air (although summer's pollution does create some outstanding sights as well).
Orcas and Gray Whales. Everybody knows the big gray whale migration takes place in March, but what isn't so well known is their journey continues well into April and it's almost always followed by some great runs of Orcas.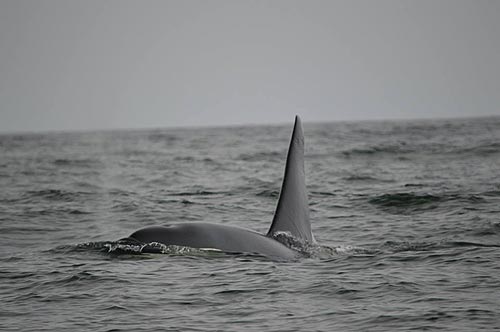 Killer whales come up the Oregon coast tracking the young gray whales for food. This is an unusual pod of killer whales, which scientists don't know much about. It results in awe-inspiring sightings throughout April, sometimes lasting well into May or early June. They've even been seen chasing seals through Newport's Yaquina Bay and up the river a couple of miles.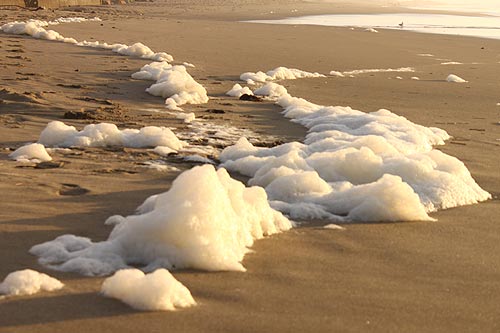 Crazed Sea Foam and Glowing Sand. You're in for a wild, surreal treat.
Thanks to that nutty, indecisive weather of spring – where squalls and storms intermix with glorious bouts of sun – the oceans get seriously churned up. Spring is also the time of many phytoplankton blooms, when their population rises greatly. Since they are primarily what makes up sea foam, and storms create even more sudsy bubbles with its oxygen-infusing churning, you can get foam going wild.
Occasionally it shows up as giant globs of foam that looks like snow. It's been known to cause massive amounts that resemble snow banks to fly across Highway 101. At the Devil's Churn near Yachats, the formation there can create an unusual sight where blobs of the stuff can get sent flying upwards, looking like snow going the wrong direction.
If there's a lot of phytoplankton blooming in the area, it can also mean another type of these little creatures called dinoflagellates, and these glow like fireflies. They cause a unique and startling effect nicknamed "glowing sand," where you'll see tiny, bluish / green flashes beneath your feet on a dark beach at night. You need a beach free of light sources, and then you have to scoot your feet backwards in the wet sand near the tide line. If they're present, you'll see the tiny twinkles.
Low Lodging Rates – Empty Beaches. If all that fun and wild nature stuff isn't enough, just after spring break means some incredible lodging deals and empty beaches. Even though April and May probably provides more interesting stuff than any other time of year, there are less people out on the Oregon coast then, sometimes less than winter. Lodging rates again sink considerably because of this, with the best specials of the year going until just before the end of May. On top of this, you've got the beaches to yourselves. More killer whales, glass floats, agates and other finds for you.
And traffic? What traffic? Oregon Coast Hotels for this - Where to eat - Maps - Virtual Tours
More About Oregon Coast hotels, lodging.....
More About Oregon Coast Restaurants, Dining.....
LATEST Related Oregon Coast Articles
Back to Oregon Coast
Contact Advertise on BeachConnection.net
All Content, unless otherwise attributed, copyright BeachConnection.net Unauthorized use or publication is not permitted