Pet Friendly Lodging on Oregon Coast is Ultra Cute
Published 2006
By Andre' Hagestedt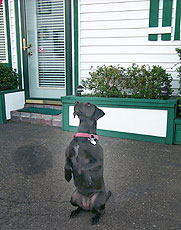 Samantha clowns and poses
(Oregon Coast) - For a fairly small motel, there's a lot going on here in tiny Depoe Bay. Trollers Lodge is one of those Oregon coast discoveries that give reason for pause and the occasional sense of wonder – and even a chuckle here and there.
It's one of those rare tourist spots that actually feel more like home.
Trollers Lodge sits on a bluff above Highway 101, and a little ways behind the cliffs that drop abruptly into the wild and wooly sea here. There are wondrous views of the ocean, and the rooms and suites in the motel section are impeccably maintained, with a personal touch in the décor (partially through some whimsical handmade items created by owner Rick Leoni). You'll find a lovely garden area, porch with a wonderful view, gas grills with a picnic spot, phones, cable TV and some rooms with incredible ocean views.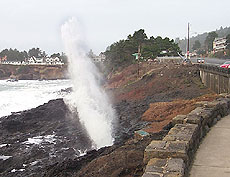 Depoe Bay's spouting horn
It's also very dog friendly, and this green-themed charmer has its own ambassadorial lab: a kooky, energetic canine nutball named Samantha. Rick's wife, Peg, and I have had numerous silly moments with that pup. Once, when our publication did a little blurb on Sam (who looks a bit like a seal), I brought the issue by to show Peg. As she read it, Sam jumped up on the counter to check things out herself – as if she were reading it as well. She actually looked over the newspaper.
It's early January – and storm season is in full swing. I check in around 7 p.m. in the pitch black and ferocious winds. It's spectacular, albeit a little spooky. This makes it all that much more enthralling.
I snag dinner at a Chinese spot in town called Wing Wa, where the wind continues to batter the restaurant, making all kinds of rattling noises as I'm waiting for the grub. Once I get it, it's really quite difficult to make it back into my car, as the winds seem intent on either pushing me around the parking lot or preventing me from closing my car door.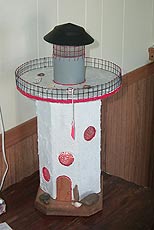 Decor items by Leoni (which are for sale)
Back at the motel, I'm not finished grabbing my belongings, and still somewhat wrapped up in work on my computer. I zip outside in a hurry to get the rest. All of a sudden I'm possessed by this need to stand and pause in reverence at my surroundings. The winds are flailing at everything around me. The sea is a distant, black blur, but an impressive display of foamy madness nonetheless. I can't help but stop and check it all out. My type-A personality of work-work-work only gets me so far on the coast.
I sit the rest of the night at my laptop, writing. The winds shyly slam against this beautiful oceanfront room I have (although it's nighttime, and I can't see anything). Some people spend such times just reading. I need to create the stuff other people read, occasionally peeking out to spy on the waves and wind going bonkers.
About 1 a.m., I start to get really sleepy, and decide I need exercise. This endeavor becomes a trip to the basalt walls of Depoe Bay's downtown, where I encounter incredible winds, a freaky spouting horn that's shooting high into the air, and absolutely frightening waves slamming into the basalt rocky ledges of this area. Meanwhile, the wind is insane, nearly knocking me over several times. I dart back into my car after two minutes, fully awake, and zip back to my computer and my ever-growing nerdy TV habits.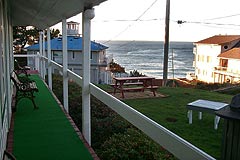 Strangely enough, as I stand on the porch of my room, staring out into the black/blue and faded whitecaps, I notice it's much warmer and humid here, with sizably less wind. Yet this place is barely a quarter mile from the center of Depoe Bay. Why the difference in conditions?
It hits me like a brick at some point: There are several buildings in front of Trollers, shielding it from the wind. The result was quite a difference in conditions between where I was staying and the rest of town. Very interesting – and that much more inviting.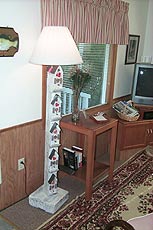 Lamps by Leoni
In the morning, I tour some of those buildings – vacation rentals that are also managed by Trollers. These are truly remarkable and stunningly decorated, starting at $150 a night. The Gardner House is right above the ocean and has two apartments – one with two bedrooms and the other with one. There's a stairway to the tide pools just below. The Pelican Cottage boasts panoramic ocean views from each room, a full kitchen, large living room and dining room, plus a patio on the first floor and a stunning deck on the second. The Cummings House has a fantastic view of the waves, one bedroom, full kitchen, living room and all the amenities.
At one point, I'm loading my things back in my car, and Samantha appears out of nowhere, running at full speed, then disappearing behind some building. She does not respond to my calls I can't keep my hands off this lovable dog). She's on her own frenetic doggie agenda, and leaves me far behind. I never did get a chance to give her a goodbye pat.
Conference rooms are available and Trollers Lodge is within close walking distance to all of Depoe Bay's many attractions and eateries. 355 SW Hwy 101 * (800) 472-9335 or (541) 765-2287. www.trollerslodge.com.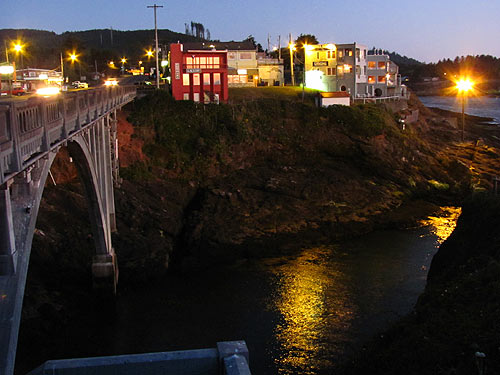 More About Oregon Coast hotels, lodging.....
More About Oregon Coast Restaurants, Dining.....
LATEST OREGON COAST NEWS STORIES
Back to Oregon Coast
Contact Advertise on BeachConnection.net
All Content, unless otherwise attributed, copyright BeachConnection.net Unauthorized use or publication is not permitted