Oregon Coast History: Newport's Yaquina Bay Lighthouse and Trying Times
Published 06/18/2017 at 7:44 PM PDT
By Oregon Coast Beach Connection staff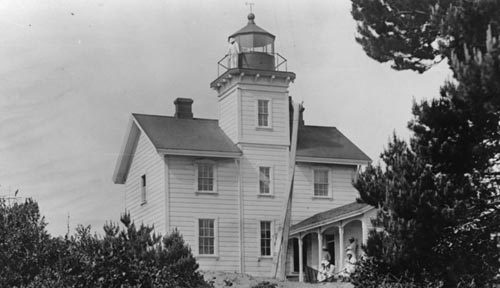 (Newport, Oregon) – Easily missed if you're not looking, Newport's Yaquina Bay Lighthouse is a stately if not tiny tidbit of Oregon coast history. Having only been in operation for three years, its history is one of hard luck and trying times. While now it's a tourist hotspot, this beacon was once slated for demolition and was very nearly not to ever be the attraction it's become. (Historical photos courtesy Lincoln County Historical Society. Above, the back of the ligthouse about 100 years ago).
There's a lot that happened to the lighthouse over the decades, and luckily there's still more going on today as it allows you to explore not just its place in history but also the surrounding landscape.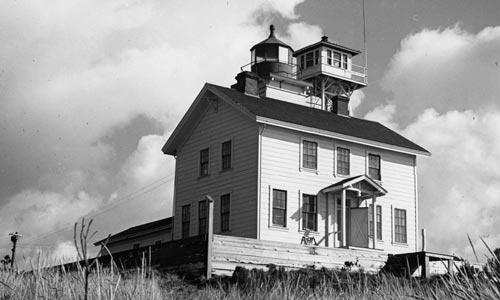 Construction on the Yaquina Bay Lighthouse began in 1870 and it was lit up and in business in 1871. This was at a time when fishing and lumber were of enormous importance to early Oregon, all of which greatly depended on the shipping industry. Safely getting them into and out of the port of Yaquina Bay was of the highest priority.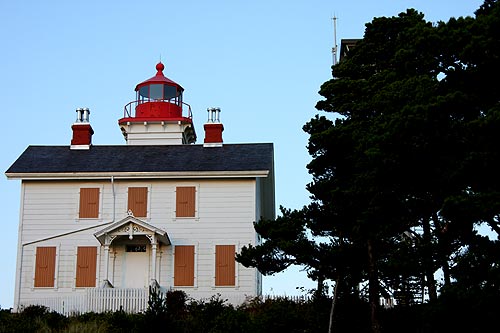 Back then, as you can see from older photographs, that bluff was a bare one, with no trees blocking the view of the lantern.
However, engineering and technology quickly changed and it didn't take long for construction of the Yaquina Head Lighthouse to begin, which gave mariners a much better vantage point from which to see this guiding light. So when the big lighthouse came online, there was no longer a need and the Yaquina Bay Lighthouse was decommissioned in 1874. Some personnel still occupied the place on and off over the years, but not for long. In 1877, the U.S. government offered it up for sale.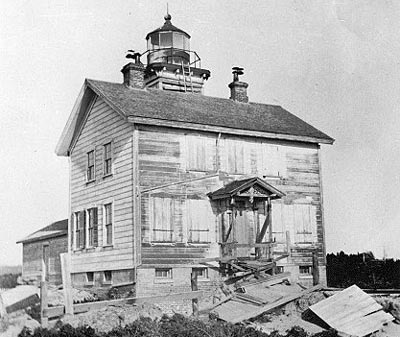 Then the slow decline of this Oregon coast treasure began. According to historical documentation from the Lincoln County Historical Society and the Friends of Yaquina Ligthouses, the building was vacant for about a year, until in 1888 when Army Corps of Engineers workers lived there while construction of the south jetty was happening.
It was at this point it became vacant again and really started falling into disrepair. The turn of the century did not treat it well. That now-famous short story was written by a local girl in 1899, about the ghost of a girl named Muriel who haunted the place, coming complete with secret passageways and a cave beneath the lighthouse that may or may not have contained pirates – and other imaginative stuff that seemed a prequel to the Goonies movie.
That story stuck in local lore, but the source forgotten for decades. The tale took on a life of its own and locals simply assumed for years and years that the old place was haunted by Muriel. Paranormal books were even written that included the girl ghost. In the '80s, it was discovered where the story came from, but it wasn't until the '90s that outside media sources finally started ghost-busting the saga.
With the advent of the Internet, some paranormal aficionados still cling to the haunting, however, and the tale gets occasional reinforcement from those who would rather believe in phantoms than fact checking.
In 1906, some new life was breathed into the spot when the U.S. Lifesaving Service moved in, leaving its South Beach location in order to use this building as quarters for their crews and as a lookout tower. It's unclear how much refurbishing was done to the place, if any, but this kept the place occupied until 1933.
Another year of being a zombie home and the property was bought up by Oregon State Parks in 1934, but again it sat unoccupied and disintegrating for decades. In 1946, it was scheduled for demolition by the then-named Oregon State Highway Commission (the pre-cursor to ODOT, under which Oregon State Parks operated as well). Those plans were delayed over and over as locals rallied to save it, but meanwhile it continued to become ever more dilapidated.
Finally, in 1955, money was allotted by the highway commission to restore it, but that took another two decades to really complete. In the meantime, the Lincoln County Historical Society acquired a lease to use it as a museum in 1956, with some work being done to allow it to be open. But any real restoration didn't take place until the '70s.
In 1972, the lighthouse was closed for two years for its full remodel, which took 9,304 man-hours and $89,000, according to the Lincoln County Historical Society.
In April of 1975, it was open a few days a week to visitors and only for a few hours. By this time, Oregon State Parks operated it.
Exactly one hundred years after the jetty construction workers occupied it – 1988 – there was a new historical milestone for Newport's Yaquina Bay Lighthouse. The Friends of Yaquina Lighthouses organization, along with what was now called the Oregon Parks and Recreation Department (OPRD), joined together to keep the lighthouse open daily in the summer. It was about then that volunteer guides were implemented, who dressed in period garb and who would talk about the Victorian surroundings and ways of life that were in place during the lighthouse's short career.
There was no light in operation atop this lighthouse during all these years, of course. In 1995, a lens was loaned to the lighthouse from James Gibbs (who owned Cleft of the Rock lighthouse in Yachats, and who was a former light keeper on the Tillamook Rock Lighthouse near Seaside in the mid-20th century). That year, the lighthouse was officially listed as a Private Aid to Navigation.
Standing at 161 feet, the lighthouse shines from dusk through dawn, using a sensor to tell if it's dark or not (which occasionally starts it up on really dark days). Unlike its flashing neighbor to the north, this one is a steady white beam. It's not really needed now, due to electronics being used in navigation. There is an electronic beacon tower next to it that is in full operation.
That tower, owned by the U.S. Coast Guard, underwent some refurbishing of its on in 2016.
The Yaquina Bay Lighthouse is believed to the be the oldest structure in Newport, and it is on the National Register of Historic Places. It's the only historic wooden lighthouse on the Oregon coast, and it's the only one in this region where the keepers quarters are still attached. (While the Tillamook Rock Lighthouse on the north coast still has its quarters, it is not accessible.)
You can tour the lighthouse most days of the week, especially in summer. Guides still dress in Victorian gear and show you around the place, and their store features many interesting items. Parts of it are handicap accessible. Entrance is free by donation. See yaquinalights.org for the latest hours.
Sources: Lincoln County Historical Society and Friends of Yaquina Lighthouses. Newport Oregon Hotels in this area - Where to eat - Maps and Virtual Tours (Below: the beacon tower next to the lighthouse undergoes repairs in 2016 and is covered by weather-resistant material).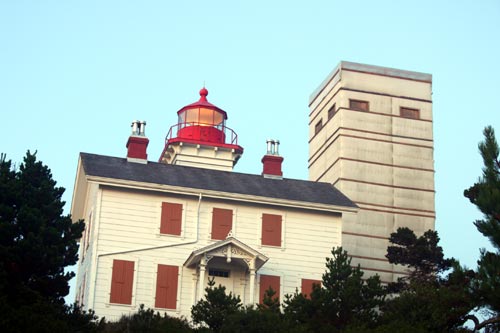 More About Newport Lodging.....
More About Oregon Coast Restaurants, Dining.....
LATEST Related Oregon Coast Articles
Back to Oregon Coast
Contact Advertise on BeachConnection.net
All Content, unless otherwise attributed, copyright BeachConnection.net Unauthorized use or publication is not permitted