Cannon Beach's Sandcastle Festival

Virtual Tour of Cannon Beach, Oregon Coast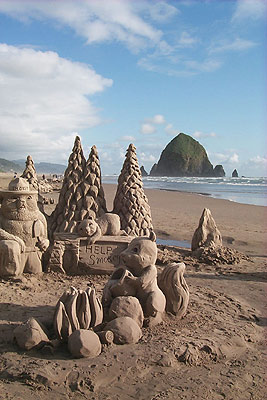 Every year, Cannon Beach hosts the enormous Sandcastle Day, with a world-famous contest.
In the summer of 2004, Beach Connection editor Andre' Hagestedt wrote about his experiences in Cannon Beach on the day of the festival:
The next day, Cannon Beach is bonkers with traffic from the Sandcastle madness. I sneak over to the chamber to chat with the gals in charge, including that adorable ambassadorial black lab, Emma. Someone there calls me "Emma's boyfriend." Too cute.
Some hot chick there gave me her phone number too.
Seaside is flooded with people and large, noisy vehicles with its Muscle Car Cruz In. One particular boisterous monstrosity is showing off by rumbling through town with the deafening roar of a jet engine, and people are eating it up. I'm not so thrilled, and I approach the Aquarium's Keith Chandler and ask, "Who does that guy think he is - Batman?" He responds by telling me that's his nephew.
Oops. Insert foot in mouth. I slink away and down homemade ice cream at Zinger's. This tastes much better than any foot of mine.
Around 7 p.m., I finally make it to the beach to see nothing but a graveyard of disfigured former wonder Cannon Beach's Sandcastle Festivals, save for one masterpiece of Smokey the Bear that everyone was gathered around - and I mean everyone.
Next Sandcastle Day - June 2016 - - More Cannon Beach Events