Covering 180 miles of Oregon coast travel: Astoria, Seaside, Cannon Beach, Manzanita, Nehalem, Wheeler, Rockaway, Garibaldi, Tillamook, Oceanside, Pacific City, Lincoln City, Depoe Bay, Newport, Waldport, Yachats & Florence.
10/15/07
Large Predator - Probably Shark - Roaming Off Oregon Coast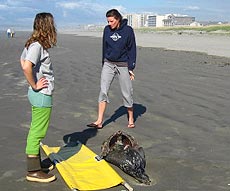 Staff ready the harbor seal to be picked up off the beach
(Seaside, Oregon) – With hints of the movie "Jaws," there is apparently a run of shark attacks on sea mammals on Oregon beaches, causing officials to say there seems to be a "large predator working the north Oregon coast."
This last weekend was a busy one for staff at the Seaside Aquarium, who comprise the Marine Mammal Stranding Network for the north coast. Two mammals washed up with appear to be major shark bites.
Friday, a dead harbor seal drifted onto the beach at Seaside, with a two-foot chunk taken out of its back. And since Saturday, an extremely unhappy California Sea Lion has been resting on a beach with a sizable wound.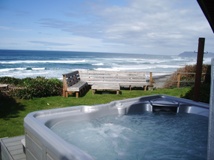 Arch Cape Property Services. Dozens of homes in that dreamy, rugged stretch between Cannon Beach and Manzanita known as Arch Cape. Oceanfront and ocean view , or just a short walk from the sea.
All homes are immaculate and smoke free; some pet friendly (with a fee). Some with broadband, indoor or outdoor hot tubs, fireplaces, decks, and fire pits or barbecues. Call about tempting winter specials that go until March (not valid holidays, however). www.archcaperentals.com 866-436-1607.
In both cases, officials believe it was a shark – likely a great white shark.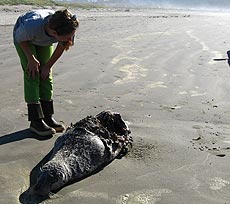 Boothe stands over the dead seal and its enormous wound
Early on Friday morning, a dead harbor seal washed ashore in Seaside with a gaping hole in its back. Members of the network retrieved it late that afternoon. This time, an enormous, two-foot hole in the body set this deceased seal apart from the numerous others that wash up periodically throughout the year.
The seal was about four and a half feet long, and a full-grown adult, probably around six years old.
"It could have been an orca," said Keith Chandler, with the Seaside Aquarium. "But it's more likely a shark. A killer whale would likely mess the thing up a lot more, or eat the whole thing."
A necropsy done later on the seal revealed the bite hole to be 25 inches in length – more than two feet.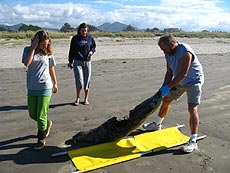 Chandler and Boothe putting the seal on a stretcher
Weiss' Paradise Suites & Vacation Rentals - Seaside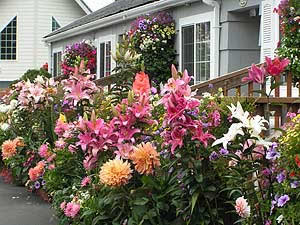 Unique Luxury Accommodations in Seaside. 1BR Suites, 1BR & 2BR Duplex Units and 3BR Houses, units for 2-8 people. Rent entire property for 20-26. Close to beach, river and Broadway St.
Suites are designed for two adults; vacation rental units for families. All units have kitchen and many have fireplace, deck and jetted tub. Comfy robes, slippers, luxury bath amenities, quality linens and more. 741 S. Downing St., Seaside. 800-738-6691. www.SeasideSuites.com
Chandler said by looking at the size of the bite it had to be something about the size of a great white. Although salmon sharks are not known for eating mammals, and that aspect of their existence is somewhat debated, he said he believed it still could be a salmon shark that chomped on the seal. "Just because a lot of people don't think it's likely they eat mammals, doesn't mean it's true," Chandler said.
Chandler said he thinks it's possible the culprit was a salmon shark because there are more of them out there. But because of the size of the wound, he believes it more likely to be a great white.
Also, the gap in the body had a somewhat unusual placement. "They often swim upside down, so they probably weren't paying attention when the shark came down on it," Chandler said. "I've never seen a hole that big in a seal."
"The entire backbone is gone," said Tiffany Boothe, with the aquarium and the Marine Mammal Stranding Network. "This was a fresh kill. It probably didn't happen far from shore."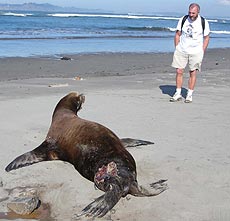 Chandler approaches the disgruntled sea lion (photo Tiffany Boothe)
Meanwhile, a full-grown sea lion has been nursing itself on a beach with a shark bite in lower back area. Chandler would not identify the beach where it's resting to keep the public away.
"It's one disgruntled sea lion," Chandler said. "I couldn't get too close to look at the wound 'cause it threatened to bite me."
The tear is mostly in the fur of the sea lion, about one foot across, with some of the flesh torn. It is, however, very infected and obviously causing the creature considerable pain.
"It's oozing a lot of green infection," Chandler said. "It's clearly been dealing with that wound for some time. It's definitely a shark bite."
Some great whites do wander around the waters off Oregon, but not too many, said Boothe. These attacks are likely by a single shark, and fairly close to shore. Sharks are loners and simply go where the food is, and it doesn't take him long to swim long distances up and down the coast, covering a lot of territory.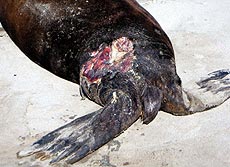 The sea lion's wound (photo Tiffany Boothe)
"We had a lot of southeastern winds this summer, which brought the warm water currents," Boothe said. "They usually reside off of the coast and were brought closer to shore. This brought the baitfish in closer, which brought bigger prey in closer as well.
"I don't believe anything unusual is going on. I think that because of the warmer waters this summer, the White Sharks just moved in a little closer.
"And because the sharks are closer in shore we are seeing their activities. Usually when a shark attacks, the victim sinks to the bottom of the ocean, or may wash in much later too decomposed to tell what had happened to it."
Boothe said great whites are anywhere from 20-23 feet long. The size of the bite correlates with the size of the shark.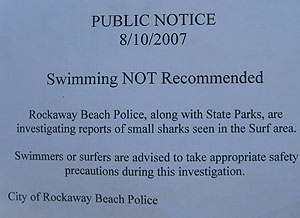 Sightings of possible sharks in Rockaway this summer caused officials to warn swimmers and surfers for a time
"Larger whites can tolerate water temperatures down to about 50 degrees," she said. "These sharks may have initially come in closer due to the warmer temperatures, and then hung around once they discovered that the feeding was good."
This time of year always brings in bigger waves, which in turn attracts a large contingent of surfers to the coast.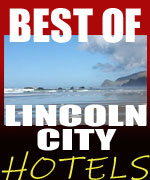 So, is this cause for alarm?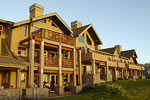 The Ocean Lodge. There will not be another property built like this in Cannon Beach in our lifetimes. Rare, premiere ocean front location; handsome, dramatic architecture and tasteful, fun (nostalgic) beach interiors. Overlooks Haystack Rock. 100 percent smoke free. Imaginative special occasion packages. Massive wood burning lobby fireplace. Library w/ fireplace, stocked with impressive book collection. Pet and family friendly. Lavish continental buffet breakfast. In-room fireplaces, mini-kitchens. Jacuzzi tubs in select rooms. DVD players, complimentary movies. Morning paper. Warm cookies. 888-777-4047. 503-436-2241. 2864 Pacific Street. Cannon Beach, Oregon. www.theoceanlodge.com
No, say Boothe and Chandler.
"This amount of activity seems a bit unusual," Chandler said. "But you're still 100 times more likely to be in a car wreck on the way to the coast. If you're a surfer, just be aware. There does seem to be a large predator working the north Oregon coast. But sharks always have been living around us. I know if I were a surfer, it wouldn't stop me. That's just one of the risks they know they take."
Boothe said surfers should be on their guard a little more than usual, but she added a little surreal humor.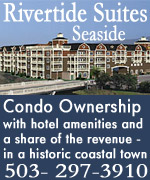 "Sharks have always lived in the ocean - and I assume that is where they are going to stay," she said. "But remember there are no sharks out there with a vendetta toward surfers. It is a case of mistaken identity. To a shark a surfer and a seal look identical."
Boothe said great white off the north Oregon coast is anywhere from 20-23 feet long. The size of the bite correlates with the size of the shark.
"Larger white sharks can tolerate water temperatures down to about 50 degrees," she said. "These sharks may have initially come in closer due to the warmer temperatures, and then hung around once they discovered that the feeding was good."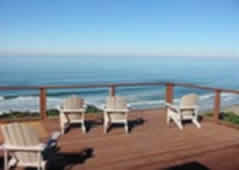 A1 Beach Rentals, Lincoln City. Perfect for large family vacations all the way down to a getaway lodging for two - with over 25 vacation rental homes to choose from. A breathtaking collection of craftsman or traditional beachfront homes, or oceanview houses – from one to seven bedrooms. In various areas of Lincoln City and overlooking the beach, with some in Depoe Bay. All kinds of amenities are available, like hot tubs, decks, BBQ, rock fireplaces, beamed ceilings and more. Some are new, some are historic charmers. Lincoln City, Oregon. 1-(503)-232-5984. www.a1beachrentals.com.

D Sands Condominium Motel, Lincoln City. Free, fresh baked cookie upon check-in is just the start. All rooms beachfront and up against Lincoln City's most famous stretch of beach: the D River. Each room comes as a suite or mini-suite, and has a kitchen and balcony or patio. Some w/ gas fireplaces, while all have a DVD Players; movies to rent come with free popcorn. Heated indoor pool, a spa, and this fabulous beach is lit at night. Rooms sleep from two, four to six - including a deluxe fireplace suite. Gift certificates orspecial occasion packages. www.dsandsmotel.com. 171 S.W. Highway 101. 800-527-3925.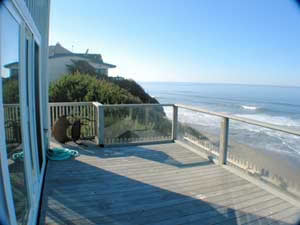 Lincoln City Vacation Homes Something for everyone: smaller homes with a view to a large house that sleeps 15. All are either oceanfront or just a few steps away – all with a low bank access and fantastic views. Most are in the Nelscott area; one is close to the casino. You'll find a variety of goodies: fireplaces, multiple bedrooms, dishwashers, Jacuzzis, washer/dryers, hot tubs, cable TV, VCR, barbecues; there's a loft in one, and another sprawling home has two apartments. Pets allowed in some homes – ask first. Each comes with complete kitchens. Most have seventh night free. Prices range from winter $85 to summer $230 per night. www.getaway2thecoast.com. 541-994-8778.

Tradewinds Motel, Rockaway Beach. All rooms are immaculate and have TV's, VCR's and in-room phones w/ data ports. Oceanfronts have queen bed, a double hide-a-bed, kitchen, cozy firelog fireplace and private deck. Both types sleep up to four people. Others are appointed for a two-person romantic getaway, yet still perfect for those on a budget. Elaborate oceanfront Jacuzzi suite has two bedrooms, kitchen, double hide-a-bed, fireplace and private deck, sleeping as many as six. For family reunions or large gatherings such as weddings, some rooms can connect to create two-room and three-room suites. Some rooms pet friendly. 523 N. Pacific St., Rockaway Beach. (503) 355-2112 - 1-800-824-0938. www.tradewinds-motel.com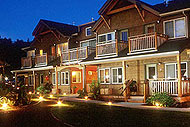 Inn at Cannon Beach. Beautifully wooded natural setting at quiet south end of Cannon Beach. Great during winter storms with a new book by the fireplace – or when the sun is out for family fun and beach strolling. Handsome beach cottage-style architecture. Lush flowering gardens and naturalized courtyard pond. Warm, inviting guest rooms. Continental buffet breakfast. Warm Cookies. Family and Pet Friendly. Welcome gifts. Smoke-free. Complimentary Wireless Connectivity. Wine and book signing events. 800-321-6304 or 503-436-9085. Hemlock At Surfcrest, Cannon Beach, Oregon. www.atcannonbeach.com.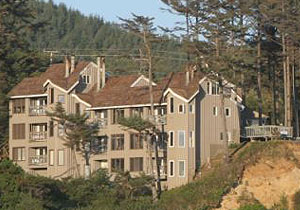 STARFISH POINT Newport - Offers only the finest in luxury condominium lodging. Every unit is focused on the beauty of the sea and the beach.
All units boast two bedrooms, two bathrooms, designer kitchens, wireless broadband Internet, fireplaces, Jacuzzi's and private decks. Friendly staff dedicated to high quality and superb customer service. 140 NW 48th Street, Newport. (541) 265-3751. (800) 870-7795. www.starfishpoint.com
RELATED STORIES
OREGON COAST VIRTUAL TOURS
Explore Every Beach Spot