Too Much Fun at One Oregon Coast Inn
for more Oregon Coast Lodging Reviews
Published 2007
By Andre' Hagestedt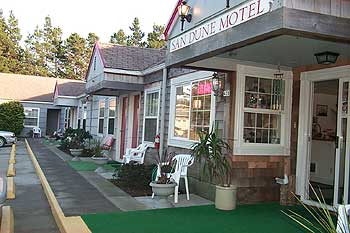 Front of the San Dune Inn, on the north Oregon coast
(Manzanita, Oregon) – It has been, hands down, my favorite place to stay on the north coast (before our home office in Manzanita existed, anyway). Manzanita's San Dune Inn (not to be confused with the fabulous San Dune Pub just down the road) is one fun-filled little bit of lodging on the Oregon coast. Set in the middle of Manzanita's engaging forested atmosphere, the looming presence of mysterious yet benevolent Neahkahnie Mountain, and the up against the unbelievably gorgeous beaches of the town, the San Dune Inn is an oasis of pleasures in the midst of a tiny town that is already a roller coaster ride of pure amusement in numerous, often clandestine ways.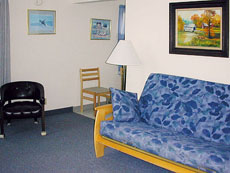 This cute motel is an unassuming charmer, tucked away behind some trees just a block over from the main road of Manzanita. Inside, the weary traveler will find a host of unusually interesting amenities, like a load of bikes to borrow for your beach jaunt, beach chairs, beach game equipment, beach blankets, indoor board games, an impressive library of free movies and dozens of other small touches that make the place even more endearing.
There's a guest barbecue area with a covered tent, and each room comes with coffee, tea, TV, microwave and hairdryers.
The list of good stuff goes on. Plus, the place is very dog friendly.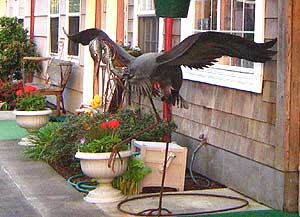 It's the bikes I've had particular fun with. The San Dune is very kid friendly as well. But since I have no kids, and in fact consider myself one big, nutty, kid, this serves me well. I've lived in the area part time on and off for the last few years, and thus I've got a load of friends in the area. I'm often out with them until quite late. So, more than a few times, I come home in the middle of the night and decided to zip around the streets of Manzanita and even the beach. This is truly a blast. Although, it's not easy to ride on the beach for very long, with the soft, dry sand stranding you after a mere half second.
Greeting you out front is the kooky statue of a heron nicknamed "Ethel," which is made from found stuff in a junkyard. Inside, the rooms range from one- to two-bed units, some with kitchenettes - all cute as a button and immaculately kept. Some have separate bedrooms and living areas.
The San Dune Inn is owned by the ever-jovial and sharp-witted Brian Hines, and his wife Billie. It's Brian who usually greets you at the counter and is ready with one sort of joke or another. I've known him for a few years now, and we always end up in long conversations about all sorts of local and regional gossip in the coastal business world, and the periodic chuckle over some goofy local character or another (and there are plenty in every coastal town).
This is the kind of place where humor and a sense of fun rules, putting a lighter side to coastal tourism. Being a regular here, I've gotten to know the other staff as well, including Valerie, the red-haired jokester who likes to occasionally play pranks on me. Like the time I showed up way after hours, retrieved my key from the pre-designated spot, and found a giant note on my door with "Only Two Chickens Per Room, Please" scrawled on it. Part of that is a long inside joke, but the end result is it's hilarious, causing numerous puzzled looks from passersby.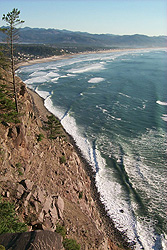 Above Manzanita
I left it up all night and the next morning, to purposefully freak out the other guests.
The dog friendly aspect has been another one of my favorite sides to the San Dune Inn. Since I have no dog of my own (I'm on the road way too much, unfortunately), I regularly live vicariously through the pups of others'. I spend considerable time playing with the dogs of other guests. Especially as some families come piling out of the car with the canine member of the clan, they sometimes come scrambling after family members and into the front office, where the dogs occasionally gleefully greet me as well.
This area is one where memories are made, and the San Dune provides a perfect launching pad and home base for exploring the Nehalem Bay and its plentiful pleasures. I certainly have made dozens of memories here, either living here or shacking up at the San Dune while in between second homes (my first is in Portland).
Discovery of secret cliffs near Manzanita
Wandering the beach at night is one seriously favorite pastime, and that has yielded some remarkable discoveries (click here for more on that). While staying here I encountered something I rarely find on the coast these days: a new hidden spot. I've pretty much thoroughly explored every single beach spot between Astoria and Florence. But one summer day, I chanced down a rolling hill just north of the Neahkahnie overlooks above Manzanita and happened across a set of rugged, jagged cliffs I'd never seen before. As Lewis & Clark put it: "O the Joy!"
The beach at Manzanita is one endless wonder, stretching from the bottom of Neahkahnie Mountain all the way to the end of the Nehalem Bay's spit, some two miles worth of carousing. Near the tip, you can often spot seals hanging around. At Nehalem Bay State Park, which hugs the spit, you can go horseriding during the summer months.
Along the bay, you'll find the entrancing tiny towns of Nehalem and Wheeler. Wheeler is the real treasure, with several adorable little antique shops dotting its six block-long length, and the incredible culinary feats of Treasure Café (which can give those Iron Chefs and other TV cooking pros a serious run for their money).
San Dune is a non-smoking lodging. 428 Dorcas Lane, Manzanita. Look for the big sign on Laneda Ave. pointing to the San Dune. (888) 368-5163. www.sanduneinn.com.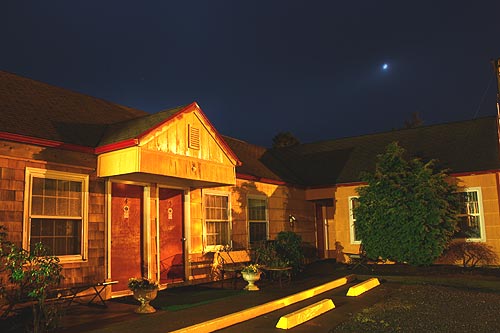 More About Manzanita, Rockaway, Wheeler Lodging.....
More About Manzanita, Rockaway, Wheeler Dining.....
For more Oregon Coast Lodging Reviews
| | | |
| --- | --- | --- |
| | | |
Back to Oregon Coast
Contact Advertise on BeachConnection.net