BEACH NEWS YOU CAN USE
Covering 160 miles of Oregon coast travel: Seaside, Cannon Beach, Manzanita, Nehalem, Wheeler, Rockaway, Garibaldi, Tillamook, Oceanside, Pacific City, Lincoln City, Depoe Bay, Newport, Wadport, Yachats & Florence.
Summer Cometh: Are you ready?
Rampant Surrealism on a Nocturnal Oregon Beach
By Andre' Hagestedt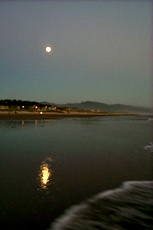 Twilight at Manzanita on another night, this one with a full moon brewing
(Manzanita, Oregon) – When the night comes, Oregon's coast becomes an entirely different creature. This is often my favorite time to hit the beaches, as they are deserted of travelers and tourists, and somehow a little more unnerving and filled with a sense of slight danger – increasing the adrenaline of this experience, adding some new, indefinable element. Somehow, the waves looking more ominous and threatening at night, as if one of those big ones 100 feet from the tide line may be a tsunami.
Other wonders seem to occur at night on the Oregon coast as well, which aren't always seen during the day. In some moments, natural occurrences can happen during daylight as well, but at night they take on new dimensions when seen at night.
Like one particular and peculiar evening in January of 2006, where I wandered onto the beaches of Manzanita around 1 a.m. The stars are bright and resplendent, with Orion standing out, his figure looming larger and more brightly than that of ancient, all-knowing Neahkahnie Mountain in this dead of night. In fact, Neahkahnie is dwarfed not only in size, but by the fact it's a mere shadow figure in the distance.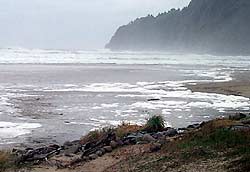 Manzanita, with Neahkahnie Mt. looming in the distance and foamy waves near the bluffs
I park the car on the road above the beach, and quickly notice something odd in the dark. A long line of mysterious foam stretches along the beach, standing by itself, close to the vegetation line, yet hard to see in the opaque of night. Like the dim horizon in the distance, it's another great but fuzzy line extending along the length of the beach.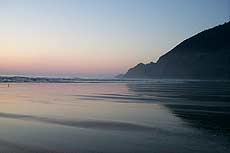 As I approach, I'm startled to notice that it's moving. It turns out there are TWO such lines across the beach's length. One is a line of foam left there by the crazed tide, perhaps only minutes before, perhaps longer. The other line of foam IS the tide itself: a totally surreal sight of moving white bubbles – almost appearing then disappearing again and again
I feel like I'm on that wacky island in the TV series "Lost." I know Manzanita, its "Wheeler Moments" legend and strange, serendipitous sides very well. It's notorious for things you can't really put your finger on. But this is weirder than usual. I fully expect to see a horse traipsing past me, or a vision of some lost loved one. (You gotta be watching "Lost" to understand what I'm talking about).
DIVE INTO LUXURY, HISTORY AT THE TIDES
THE TIDES BY THE SEA, Seaside. For over 80 years, The Tides has been a favorite of Seaside visitors. History meets modern luxury here. 51 oceanfront condos, individually owned and decorated. Find suites for couples, small apartments with fireplaces and kitchenettes, one or two bedroom family units with fireplaces, kitchens and dining rooms. There are wonderful oceanview cottages that sleep anywhere from two to eight people, with two bedrooms, some with lofts, fireplaces and kitchens.
Meanwhile, the heated outdoor pool, enormous grounds with picnic tables and location at the quiet southern end of Seaside make for some memorable means of play and repose. 2316 Beach Drive. 800-548-2846. www.thetidesbythesea.com.
This night is a weird mix of low, low minus tide and stormy waves. So what you get is a surf that tends to lurk farther out there than you're used to, yet can pull some awful, tidal gymnastic surprises and abruptly jump up close to the bluffs connecting the road with the beaches.
As I tread in the dark, I see the tide is far away, and things get weirder the closer I get. Huge chunks of foam are breaking up like ice islands of the arctic North Pole. Abruptly they change direction, coalesce together and create giant walls of suds that approach me, sometimes even chasing me. Beautiful. Extremely strange. Certainly surreal.
In the midst of running and observing all this, the stars continue to shine brighter than they ever have in my former life in the Willamette Valley. I think to myself about Beach Connection readers and the greater population of this state: why the hell aren't you people out here more often??? I mean, I'm here all the time and I still encounter freaky, amazing stuff I've never seen before.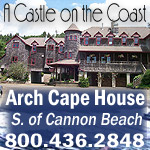 I again walk towards the tide, but never make it there because the tide and its wall of furious, freaky foam comes zipping back towards me again, collecting all the suds to chase me. This is perhaps the freakiest tide I've ever seen. This happens over and over again, and each time I start laughing loudly with glee. I'm like a little toddler getting chased and teased by a family member, and loving every second of it.

I come back to my car, only to see the tide shoving the foam up close to the vegetation line again, where I had just been. It jostled its way up some 50 to 100 feet farther than I was down on that beach.
I had left just in time to miss one nasty, foamy sneaker wave.