Oregon Coast Blogs: Travel Adventures, Shopping on the Oregon Coast, Nature, Beach Whimsy and Oregon Coast Real Estate Advice
Oregon Coast Adventures -
by staff
Vote for Your Favorite Oregon Coast Lodging - Or Favorite Lodging Photo Here Yachats lodging, Newport lodging, Lincoln City lodging, Seaside lodging, Cannon Beach lodging, Oceanside lodging, Pacific City lodging, Manzanita lodging, Rockaway Beach lodging, Wheeler lodging, Depoe Bay lodging
Lincoln City, Oregon Coast Lodging, Hotel, Motel, Rental News
Now with news updates for Lincoln City lodging, on the central Oregon coast. Lincoln City vacation rentals news, kids, Lincoln City attractions
Latest Manzanita, Oregon News - Updates, Local and Travel News
Latest local and travel news from Manzanita, Oregon coast: Manzanita, Wheeler, Nehalem, Nehalem Bay. Updates, alerts, weather, travel info
Cannon Beach, N. Oregon Coast - Latest Local News, Updates
The latest local news out of Cannon Beach on the north Oregon coast, including travel news as well
Lincoln City, Central Oregon Coast - Latest Local News, Updates
Lincoln City, Central Oregon Coast - Latest Local News, Updates, Lincoln City Travel news, various news from around the Lincoln City area
See the Latest Cannon Beach Lodging Deals, Specials, Discounts
The latest discounts and deals out of Cannon Beach, on the N. Oregon coast. Check back frequently
A Guide to Manzanita, Oregon Vacation Rentals, N. Coast
Manzanita vacation rentals and those in the Nehalem Bay area reflect a vibrant sense of the beachy and retro. Manzanita lodging. Rockaway lodging
Oregon Coast Lodging Availability Report, Week Beginning July 7
Photos of Lunar Eclipse on Oregon Coast Monday night's lunar event was more frustration than astronomy
New: Oregon Coast Road, Traffic Conditions Up to minute conditions, alerts for coast range highways, 101
Warnings Issued for Oregon Coast About Sick Sea Lions Officials warn to keep humans and pets away from all sea lions
A Different Side of Common Oregon Coast Landmarks Familiar places on the Oregon can take on a whole new look if you move around
Secret Beach Near Arch Cape Tunnel, North Oregon Coast It's nicknamed "Magic Rocks Beach" because of layers of large cobblestones that make interesting noises
Oregon Coast Cleanup Finds Plenty of Wacky and Disturbing Oddities and plenty of plastics were picked up from the beaches
Oregon Coast Restaurant Moment: Stunning Views at Tidal Raves, Depoe Bay You may see whales cavorting with their young
Oregon Coast Virtual Tour, Cannon Beach - Mushroom-like Blob at Hug Point Tour Hug Point and its myriad of details
Surreal Science of the Oregon Coast: a Look Back at Spring's Strange News Mother Nature can be a real crazy person on the beach
Glowing Sand, Extreme Low Tides Hit Oregon Coast; Ethereal Shot of Astoria More to come on these wild conditions later today
Mystical Spot Along Yachats Bay - Oregon Coast Virtual Tour A bit of Lord of the Rings in Yachats, Oregon coast
Viewpoints of Ecola State Park: Tillamook Head Lighthouse New photo added to Cannon Beach, Oregon Coast Virtual Tour
UFO Spotted in Seaside, Oregon Coast Some visitors come farther than others to the Oregon coast
Oregon Coast Right Now: Depoe Bay at Dusk Dusk can make the town look a bit like a bunch of Christmas lights
Oregon Coast Summer Fun - Oregon Coast Summer Preview Much awaits on the Oregon coast for the summer months, with events, fun and nature at her most interesting
180 Miles of Oregon Coast in Four Minutes Video: Zip up the coast, south to north (from Florence to the very tip of NW Oregon), in just over four minutes.
Video: Newport Glimpses, Oregon Coast A brief guided tour of Nye Beach, mysterious Jump-Off Joe rock structure, Newport's beaches, the bayfront
Video Tour of Manzanita, North Oregon Coast - from BeachConnection.net A video tour of Manzanita, on the north Oregon coast
Sneaky Oregon Coast Restaurant Reviews: Pelican Pub & Brewery Three stars out of five: Perhaps stick with simpler dishes and keep the expectations down a bit, or be prepared to have an excellent meal with some disappointing aspects.
Oregon Coast Safety Tips: Spotting Dangerous Waves They are sneaker waves of the Oregon coast - the biggest possible curse to tourism officials in the state
Sneaky Oregon Coast Restaurant Reviews An ongoing series of clandestine visitations by two writers on the Oregon coast (who will remain anonymous) to various beachy places to munch.
Restaurants, Dining in Manzanita, Rockaway Beach, Wheeler, Nehalem It's here where you'll find long-standing gems that seem timeless and classic, yet often cutting-edge in the culinary fireworks.
Oregon Coast Tour: Florence, Oregon's Gazebo Park, Old Town This cozy little park is perfect for a romantic interlude along Florence's Bayfront, after dark, as the lights of Old Town glitter softly on the river
Neskowin's Mysteries: Oregon Coast Virtual Tour, Lincoln City / Inland 101. Secret spots of Neskowin, more mysteries and prolliferation of shells on this atmospheric beach.
Yaquina Head Lighthouse and its Lore - Newport, Oregon Coast Virtual Tour Ghost tales of the Newport, Oregon landmark busted, but other scary tales remain
Neskowin and Ghost Forest Stump on Oregon Coast Another highlight here is the freaky 2,000-year-old stumps - nicknamed the "ghost forest."
Bob Creek Wayside - the secret cave, on the Oregon coast, between Yachats and Florence
Forbidden Cliffs Virtual Tour - Oregon Coast, near Nehalem BayIt is one of the stranger and more startlingly beautiful places on all of Oregon's Coast.
Waldport & Seal Rock Virtual Tour - On the Oregon Coast Photos and details around Waldport, Alsea Bay, Seal Rock and surrounding beaches
Oregon Coast Virtual Tour: Mystical Spot Along Yachats Bay With a touch of Tolkien's Middle Earth, this little Oregon Coast spot classifies as a bonafide nook or cranny with an ethereal slant.
Neptune State Park, between Florence and Yachats - Oregon Coast Virtual Tour. It's lodged in the middle of forestland and rather easy to drive past if you're not looking carefully.
Odd Objects on Smelt Sands Beach: Yachats, Oregon Coast This oddly shaped structure resembles either a sea faring vessel or a space faring one - it's hard to distinguish at times.
Rocky Delights - Secret Views: Newport, Oregon Virtual Tour, Oregon Coast HIdden delights of Yaquina Head in Newport, on the Oregon Coast
Oregon Coast Lodging Reviews, Lodging Listings Oregon Coast Lodging in Yachats, Waldport, Newport, Nye Beach, Otter Rock, Depoe Bay, Gleneden Beach, Lincoln Beach, Lincoln City, Neskowin, Pacific City, Tierra Del Mar, Garibaldi, Rockaway Beach, Manzanita, Cannon Beach, Seaside, Florence and Astoria
Seaside, Oregon Complete Guide Every single beach access, attraction and detail of Seaside, on the Oregon Coast
Oregon Coast Travel: Legendary Lodgings of Waldport and Seal Rock South Beach, Waldport and Seal Rock cloister dozens of mesmerizing places to stay
Oregon Coast Summer Fun - Oregon Coast Summer Preview
Oregon Coast Science Has Its Creepy, Gooey Side Some outlandish creatures inhabit the beach environment around you, as well as some freaky facts
Southern End of Cannon Beach - Two Views, Oregon Coast Virtual Tour Explore the hidden southern end of this north Oregon coast hotspot
Yaquina Head, Newport - Looking down on the Oregon coast headland A look at hidden spots on the massive headland in Newport, Oregon
Oregon Coast Travel Tips: Hotels, Motels of Cannon Beach The hotels and motels of Cannon Beach - and the hotels and motels of towns nearby - reflect that atmospheric vibe, with intoxicating architecture and style.
A Different Look At Lincoln City, Oregon Lodging - Oregon Coast There are more lodgings in this town than any other along the entire Oregon coast, boasting something like 400.
Seaside, Oregon Unusual - Northern Beaches at Night Oregon Coast virtual tour, surreal night scene of the northern beaches of Seaside
Secret Beach Spot Near Neskowin - Oregon Coast, Lincoln City Virtual Tour This hidden Oregon coast wonder sits between Neskowin and Pacific City, just north of Lincoln City
USFinanceNews.com Economic, Wall Street, personal finance news, udpated constantly
Lincoln City's Road's End Oregon Coast Tours, Pictures Near a hidden cove in Lincoln City, Oregon coast
Oregon Coast Valentines and Romance - Romantic Winter on the Oregon Coast A guide to all things romantic for that cuddly holiday of Valentine's Day on the Oregon Coast
Oregon Coast Winery is Haunted, say Ghost Researchers A group of ghost hunters visited in the fall and believe the Oregon coast legend has more than wine spirits floating about
North Oregon Coast Town Recovers from Storm Drama Jenny Maxwell describes the palpable relief of people heading to their first Monday morning workday since the end of the north Oregon coast blackout
Memorable Novembers on the Oregon Coast When November rolls around, it always bring me back to some of the more eventful times I've had goofing around the coast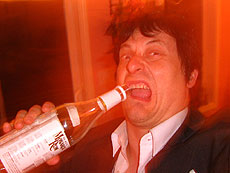 Another Crazed Romp Through a Myriad of Oregon Coast Bars More odd tales from up and down the coastline, a place where David Lynch had to have been inspired by - part 2 of the Bizarre Bar Tales of the Coast story
Bizarre Bar Tales of the Oregon Coast, Part 1 After the sun slides down below the horizon, it's when this region shows its true colors
VIDEO: Manic Tour Guide: Oregon Coast Zombies, Wacky Weather, Ghosts and Glowing Sand In search of zombie whales, ghosts on the coast, glowing sand, the green flash at sunset, and strange, alien bar life
Quaint Motel Gives Glimpse Into Oregon Coast Treasures, Past Whistling Winds in Lincoln City has quite a hilarious, even seedy history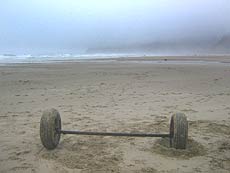 Oregon Coast Weekend of Weird Weather, the Muse and Meanderings Late July meant some unusual conditions, finds and wacky fun
Three Days, 130 Miles of Oregon Coast Fourth of July Shindigs From Newport to Seaside, various kinds of celebrations lit up the area - in plenty of pictures
Beating the Breakup Blues with the Oregon Coast A small guide for the broken-hearted, or whatever loss may ail your soul
Oregon Coast Travel Blog: Walking a Ghost Town Bayocean was once a thriving resort that eventually tumbled into the sea
An Oregon Adventure On 100 Miles of Wild Coast From TV crews, crazed drunks and big festivals to more discoveries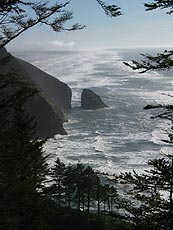 It's Balmy on the Oregon Coast, So Where the Hell Are All the Tourists A journey through the mistakes of weatherforecasters, geologic time, half the central coast and some serious drunken sojourns as well
Into the Mists and Mysteries of the Oregon Coast February means all kinds of weather, conditions and surprises on over 100 miles of coastline
Word Spreads About N. Oregon Coast Mystical Legend The slightly paranormal Wheeler Moment is getting around
Weird and Wild on the Oregon Coast: My Own Personal X-Files How does a person get started on chasing paranormal stories about the coast? Here's how.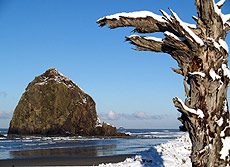 Rare Oregon Coast Snow Dazzles Tourists, Locals Many enjoyed a day off from school, at least as many complained about the cold – but mostly people were amazed
Oregon Attractions: Up and Away on a Coastal Copter Ride Seaside Helicopters is an upward rush of fun
A Research Expedition on Oregon Beaches One research trip turned into an intensive journey of discovery
Second Summer Rears Its Pretty Head on Oregon Coast The legend has arrived, bringing warm weather and some natural oddities
Oregon Coast Travel Blog: Beginnings of the Other Summer 2nd Summer is off to a slow start, but stunning surprises remain
Cushy Nights, Stunning Days at Oregon Coast Resort Newport's Embarcadero is pure eye candy and bundles of fun
Stranded on the Oregon Coast: Another Snow Storm Tale There's few pleasures like getting stuck on the coast when ice won't let you go home
A Stunning Oregon Coast Hotel, Ghosts and Talk Show Hosts Newport's Starfish Point is exquisite, romantic and the kind of place where tales come from
Digging Into Oregon Coast Sentinels Brings More Ghosts to Light Researching the ghost tales can conjure even more spirits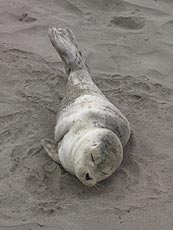 Baby Seal Lounging on North Oregon Coast The baby seal pup wandered up onto a Seaside beach on a Sunday - by far the cutest thing you'll ever see on BeachConnection.net
Quirky and Fun Discoveries on the Oregon Coast The San Dune Inn, in Manzanita, is a delightful find
Rampant Surrealism on a Nocturnal Oregon Beach Oregon's coast is an entirely different creature at night

Chasing Glowing Sands and Forest Fires on Oregon's Coast Wild moments and sights abound on the coast in July
Oregon Coast Shopping -
by Peg Miller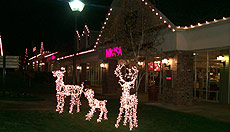 Oregon Coast Shopping and Antiques: Reelin' in The Big Ones The ultimate alternative to the mall: the factory outlets
Antiquing on the North Oregon Coast The tri-city of Wheeler - Nehalem - Manzanita is home to dozens of treasures
Oregon Coast Beach Whimsy -
by Guy DiTorrice
Guy DiTorrice is the former head of the Oregon Coast Visitors Association and formerly gave fossil tours of central coast beaches as "Oregon Fossil Guy"
Ocean Takes Out Chunk of Central Oregon Coast Cliff Waves damaged pavement in Newport, tossed up logs in Gearhart and have caused some erosion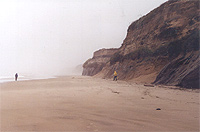 Shoreline Secrets, and Other Tidbits of Oregon's Coast Guy DiTorrice gives away the BIG secret every tourist wants to get his hands on
Post-Winter Wonders of Oregon Coast: More Agates Weather and surf push stuff onshore while they take off sand, revealing treasures in rock
Oregon Coast Real Estate Advice -
by David Timme
Oregon Coast Real Estate Watch: Finding Oceanfront Property A number of spots meeting the beachfront criteria are still available
Secrets to Buying a Home on the Oregon Coast There are a number of steps going through the realtor's office, the financial institutions and the escrow services