BEACH NEWS YOU CAN USE
Covering 160 miles of Oregon coast travel: Seaside, Cannon Beach, Manzanita, Nehalem, Wheeler, Rockaway, Garibaldi, Tillamook, Oceanside, Pacific City, Lincoln City, Depoe Bay, Newport, Wadport, Yachats & Florence.
Spring is here. Are you ready?
New Eatery Emerges from Oregon Landmark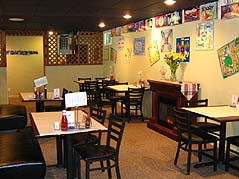 (Oregon Coast) – Ron's Family Restaurant is the new kid on the block in the Nehalem Bay (on the north Oregon coast), occupying the building where The Edgewood once stood, and most recently, the re-located Nina's Italian Restaurant. In addition to the new eatery, The Wateringhole now utilizes the bar area of the building – and there are some interesting plans in store for the bar.
Owners Ron and Rosan Alvey have put together an enormous menu – one that's as sprawling and as vast as the wooded building itself seems to be at times. There are sections in the six-page menu on burgers, seafood, sandwiches, steaks, salads, appetizers, a "home cookin" section that features things like meatloaf, and a section for seniors and kids. Also most notable is the connection to the old, famed Nina's restaurant, which Ron Alvey had part ownership in during its last incarnation in this building. Hence another section of the menu boasts pizzas and original pasta recipes from Nina's.
The Italian connection will be a surprise to those Nehalem Bay regulars who drift in here, if they were Nina's devotees in the past (and with a thirty year legacy, there were many). Alvey says he's remained in contact with the original owners' family, and has made serious efforts to keep those old recipes.
After having only been open three weeks, Alvey says he's been more than pleasantly surprised by the reception. "Most of our growth has been locals," Alvey said. "We've been buying stores out as we keep running out of food."
An accountant and timber exec by trade – and co-owner of Beach Break Vacation Rentals – Alvey has left most of the food creation to more experienced hands. He hired local names like Gary Wards and John Brandt for the kitchen area, who've helped Alvey and his wife come up with a variety of menu items. Tracy Knudson was brought on as manager, and helped with or created most of the recipes as well.
Little has changed in the décor of the building, except the walls are different colors and the restaurant section has a bundle of kids' games on the walls for decoration. A fireplace also graces the room.
One of Ron's Family Restaurant's more original features is their homemade potato chips, which are seasoned and cooked on the spot. They are flavorful little things, and rather addictive.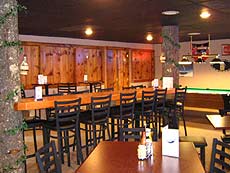 In the bar area, Alvey plans karaoke and live music soon. The middle section of the building, adjacent to the bar, will provide the dance floor and stage – just as the old Edgewood did in its heyday a few years ago.
The bar features an array of happy hour food items for $1.99.
In the seafood department, there are interesting items like Bourbon Shrimp, stuffed baked salmon, NW clam fritters and crab cakes, running around $12. There's also a small variety of fish 'n' chips, which is made with a special in-house batter, says Alvey.
The comfort food section boasts a generous helping of meatloaf, oven roasted chicken or chicken cordon bleu (around $12). Steaks are around $20, and for a few dollars more you can add seafood to create a "surf and turf" plate of your own. Burgers and sandwiches run in the $5 to $9 range, and include some innovative ideas like a chipotle reuben, a polish sausage or a meatloaf sandwich.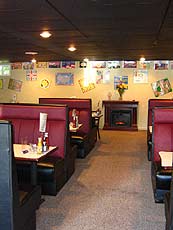 The pizza menu runs around $20 for a large, approximately $15 for a medium and $10 to $14 for smalls, depending on your selection. You can also create your own from a vast array of possibilities: salami, pesto sauce, artichoke hearts, salsa and roasted chicken are some of the highlights. "We really made an effort to be very fresh with the pizzas," Alvey said. "We're making our own crusts and really improved the quality."
One of the famous holdovers from the Nina's menu is their stromboli (mushrooms, sausage and fettuccine topped with meat sauce and cheese). Alvey maintains it is the original recipe that was a fixture on the north coast for years. Lasagna, manicotti and cannelloni are served on certain days of the week, while Nina's spaghetti dishes and meatballs are a mainstay.
The kids' menu includes hot dogs, PB&J sandwiches, grilled cheese and such.
Ron's Family Restaurant and The Wateringhole are open seven days a week. 36480 Hwy. 101 North, Nehalem (just south of Manzanita). (503) 368-4990.