BEACH NEWS YOU CAN USE
Covering 160 miles of Oregon Coast: Seaside, Cannon Beach, Manzanita, Nehalem, Wheeler, Rockaway, Garibaldi, Tillamook, Oceanside, Pacific City, Lincoln City, Depoe Bay, Newport, Wadport, Yachats & Florence.
Deep Inside Seaside's Aquarium
(Oregon Coast) - On Oregon's north coast, the historic landmark Seaside Aquarium still provides fun in an aquatic way after 70 years.
Sea cucumbers. Sea lemons. Sea lettuce. These are the words I hear from Seaside Aquarium staff recently. What is this??? Some kooky seafood salad recipe?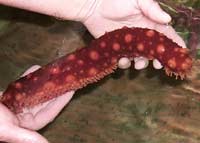 Manager Keith Chandler says this is among his bounty for the day, after having gone down to Netarts Bay - on the Oregon Coast - and grabbed a few species for the aquarium. He holds up a sea cucumber to my face and makes motions like it's moving to attack me - in a parody of an old horror flick or something. This purplish, bumpy freaky thing, it turns out, is related to starfish and sand dollars (pictured here).
All this takes me back to my first tour of the historical landmark - the Seaside Aquarium, in the northern Oregon coast resort town of Seaside. It's early summer 2004, and the aquarium was just the recipient of five brand new seal pups born in recent months. I, and a couple others from the local paper, receive a little tour of the facility, getting a chance to look at the nearly 70-year-old aquarium.
The seal pups splash and cavort, their adorable little faces wowing the three of us press-types and causing us to constantly coo, "they're so cute." Four were named Wyatt, Ivar, Travis and Sarah. A fifth was named Reagan, born on the day the former president died. The others were named after members of the family which has owned the aquarium since the 30's. Ivar was named after a branch of the family that started the Ivar's Fish & Chips empire in Washington State.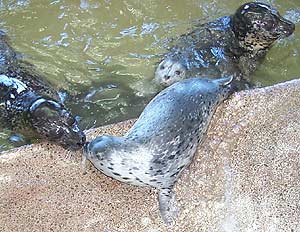 Another two were born a few months earlier, named Lewis & Clark, after the explorers who some two centuries ago actually wandered around the area that would become this town.
Part of the eternal big fun of the aquarium is feeding the seals, which visitors can do after purchasing a cheap bag of yummies for these water-slapping, barking and comical creatures.
Keith tells me all the seals are related, breeding with cousins and other family members, but says this hasn't degenerated their gene pool - yet - and there are no signs it will.
We wander to the tanks that the public sees - except we're above, where they open the tanks to feed the fishies. He gets me to stick my hand into the octopus tank and touch the suction cups on the tentacles. There's a little sticking action to my hand, but not much. Still, it doesn't take much for me to get a little creeped out and my hand doesn't stay for long.
"They've each got their own, different personalities," Keith says. He calls them almost as stubborn as seals. They seem to like some staff members more than others, getting in their way while working in the tank or not cooperating if the octopus decides he doesn't dig you.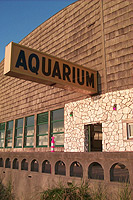 Inside this behind-the-scenes area, it's like a labyrinth of wooden structures, walkways above you, corridors of tanks and other functional equipment. It's a little spooky, actually. All around are old, old remnants of the aquarium's history, including a sign about Clara the seal, who had a messed up-looking eye. It stated she was in no pain, and that one of her favorite tricks was to put her flippers to her mouth, showing tourists she wanted to be fed. Clara died in 1978, Keith says.
This place was actually a natatorium in the 20's, until the Depression killed its economic feasibility in the early 30's. This was a warm, saltwater public bath, with water pumped in from the sea through a pipe (still visible today at the tide line) and then heated. Around the walls were balconies so people could watch others swim in the pool below. For a time, the place served as a salmon rearing facility, and then a place to watch wrestling matches.
The aquarium was started in 1937, making it one of the oldest in the entire nation.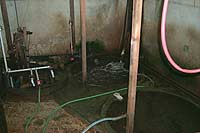 Keith leads us down a stairway some ten feet to a dank-smelling basement, with three giant holes in the ground, filled with rocks. This is the former deep end of the pool, Keith says, and the holes are the filters for the seawater that feeds into the tanks. Each hole spills into another, until water is finally pumped from the bottom of the third filter. Without that, he says, the water would be too murky for the public to see into the tanks.
That pipe is still used to bring water into the aquarium, lying six to 20 feet under the sand, depending on its location. Regular visitors to the area will notice it occasionally changes shape out on the tide line. This is because sands shift and they need to periodically reconfigure it to keep it from being smothered.
Fast forward again to the day I encounter Keith after his trip to Netarts. I'm hanging out behind the scenes again, and his assistant Tiffany shows me a little yellow critter called a sea lemon. If you smell it closely, it does smell a bit like a lemon. There are, apparently, also creatures called sea lettuce on reefs.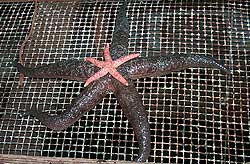 Tiffany holds up a sea cucumber, and out of curiosity I move close to sniff it. This place is full of pranksters, and Tiffany says, "you almost kissed a sea cucumber" - admitting she almost shoved it into my face.
They show me starfish, including one type with really long arms. Keith demonstrates how they stick to things by letting it suction itself to his hand. When he pulls it off, a few of the little "feet" come off. These regenerate, he says. Tiffany adds that they have two sets of eyes at the end of each arm.
The public area of the aquarium showcases dozens of sea species, along with a touch tank and the opportunity to feed those adorable seals. There's nothing like just hanging out, having fun with pranksters and still learning something.
I did, however, get my own prank in: I crank called Keith's cell phone a week later. 200 N. Prom, Seaside, Oregon. www.seasideaquarium.com (503) 738-6211.