BEACH NEWS YOU CAN USE
Covering 160 miles of Oregon coast travel: Seaside, Cannon Beach, Manzanita, Nehalem, Wheeler, Rockaway, Garibaldi, Tillamook, Oceanside, Pacific City, Lincoln City, Depoe Bay, Newport, Wadport, Yachats & Florence.
Summer Cometh: Are you ready?
Baby Seal Lounging on North Oregon Coast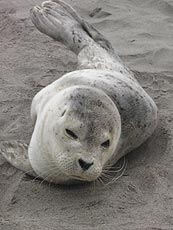 (Seaside, Oregon) – It was a case of being at the right place at the right time.
The Oregon Coast Show was in the middle of filming a segment with BeachConnection.net at the Seaside Aquarium on Sunday afternoon about 5 p.m., when aquarium staff received a call that a baby seal pup had washed up on the southern end of Seaside's beaches.
Since the Seaside Aquarium is part of the Marine Mammal Stranding Network, it is their job to head out to that location and make sure the seal pup is not bothered by humans, especially in misguided attempts at helping a creature which needs no helping at all.
"It just came up because it was tired," said Tiffany Boothe, with the aquarium. "It's a baby, and like all babies, it sleeps a lot. Its mother is probably just out there hunting for food, and will soon be back."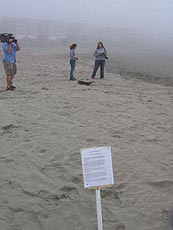 Boothe said the seal pup had obviously wandered up at high tide, and the four-foot trail was visible where it had the scooted along in the dry sand to its current resting spot.
The furry little creature spent considerable time napping as BeachConnection.net, Oregon Coast Show and aquarium staff hovered around it.
Boothe took some measurements and other observations, and determined it to be a male, born in recent months. It was about two feet long. Boothe also took a GPS reading, so Marine Mammal Stranding Network scientists could later make observations on any movements it might make.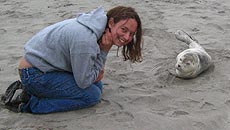 Aquarium staff posted signs to keep people at least 50 feet back, which is also Oregon law. The public must keep their pets away as well.
"People often mistakenly believe they are in trouble when they're not," Booth said. "They're not stranded. They're just resting."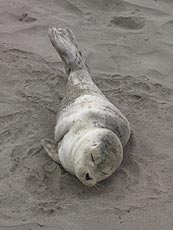 She said visitors to the coast have done crazy things in the past while trying to "assist" a seal pup on the beach. Aquarium staff have answered calls from tourists who had picked up the seal pups and put them in their bathtubs back at their motel rooms, carried them around in their cars, or tried to drop them off at the aquarium.
If you see a mammal on the beach, do not touch it or disturb it. Call authorities to let them know.
Not only do they not require your help, but it is illegal to do so.