BEACH NEWS YOU CAN USE
Covering 160 miles of Oregon coast travel: Seaside, Cannon Beach, Manzanita, Nehalem, Wheeler, Rockaway, Garibaldi, Tillamook, Oceanside, Pacific City, Lincoln City, Depoe Bay, Newport, Wadport, Yachats & Florence.
Summer Cometh: Are you ready?
Oregon Travel Oddities: Sparks Above, As Below
By Andre' Hagestedt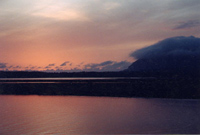 Look for glowing phytoplankton after dusk in Nehalem Bay during the summer
(Oregon Coast) - Summer of 2004 was an extremely warm and interesting one on the Oregon coast. It yeilded two extremely rare natural phenomena coming together with startling frequency - two unbelievably wondrous occurrences that combined to seriously smack me in the head.
While these experiences happened to me, they illustrate some extraordinary possibilities of discovery for any visitor to the coast. These aren't things to be experienced only by regulars, but by any tourist. They happen almost every summer on these shores. They are the result of summer's warmer water conditions, as well as the clearer skies you get at night during the season. You just have to be in the right place at the right time to see them.
On one night, in early August, Oregon's northern coast became a dreamlike, surreal-scape, more like an alien world than our familiar shores. Nothing could be have been more entrancing and extraordinary.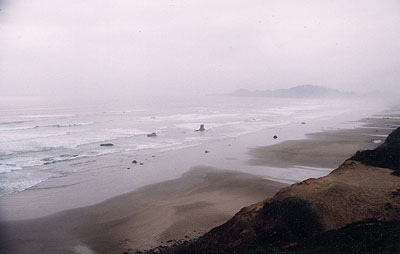 Dark beaches, like this one in Newport's Nye Beach is after dusk, are good for spotting "glowing sands"
Around sunset, I had been chatting with Wheeler businesswoman (and one of our writers) Peg Miller. She told me the Nehalem Bay had been doing that "glowing thing" recently. This meant that, apparently unbeknownst to me, we had been hit with the right conditions for glowing phytoplankton to appear on the beaches and in the bay waters in great abundance. These microscopic critters, called dinoflagellates, get stirred up by the right mix of rain and sunny conditions, and thrown on shore. In Peg's case, she said she stuck her hand in the bay and saw the telltale glowing trail coming from her hand.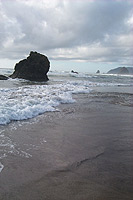 Rock structure at the southern end of Cannon Beach
I flipped out over this possibility. I wasn't aware we'd been through those right conditions. It took me back to the first time I'd heard about this phenomenon, and then to the first time I'd actually seen it.
It was in Newport in 1993, and my friends and I had been drinking. We were wandering the beach in the middle of the night, and I kept seeing tiny, barely visible bluish/green sparks coming from the feet of my friends. I thought it was the booze. But when I said something about it, the others admitted they saw it too. It was then I'd realized I was seeing the strange rarity I'd heard about back in the 80's from a friend who'd grown up in Lincoln City
Fast forward to this night in August, 2004 again: I zipped northward with great anticipation, waiting for night to fall completely. By the time I reached Cannon Beach, it was finally dark. I pulled into a neighborhood on the southern end I wasn't familiar with, walked onto the nearly pitch black beach, and discovered a sizable basalt structure looming there in the dark. Not being well acquainted with this beach and this rocky behemoth, I was a little unnerved - even a tiny bit spooked - in the dark, but felt compelled to walk towards it. Good thing.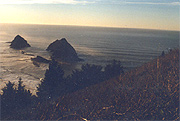 Oceanside, just before the sun sets and the fireworks begin on the ground and in the skies
There was a pool of water around it, and a much larger patch of wet sand surrounding it. It was on that patch where I saw the glowing phytoplankton again: this time much clearer, brighter than in 1993 and many more of them. They erupted like sparks - or like tiny galaxies bursting into a brief existence - from beneath my feet, causing me to shriek in glee. It was like seeing an old friend, or meeting your favorite celebrity.
To add to the wild and surreal beauty of this night, there was a warm wind blowing from the south - as if I was in California. Then I noticed sparks of light in the night sky as well. I had forgotten: this was the height of August's Perseid Meteor Showers (something I'd written about in this publication many times before). Streaks of light flashed briefly and faintly in some spots, at times in great numbers in a short time, almost staccato fashion. But mostly, a giant red fireball would occasionally rip through the black, leaving a brief trail, looking a little like someone had shot a flare.
Thanks to the clearer skies of summer, these meteor showers appear distinctly and vibrantly.
This was indeed like an alien world. A warm wind wafting up the beach from the south, flowing around this weird, unfamiliar black, basalt structure at the tide line; then those sparks coming from both the sand and the sky. Forget Lewis & Clark and their end of the trail. I was Spock or Kirk, and I felt like I'd gone where no man had gone before just by visiting Cannon Beach on this night.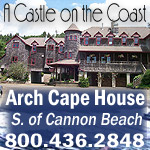 Over the course of the next month, regular nocturnal visits to Oceanside and Manzanita revealed the same thing with regularity. One night, it was particularly strong in Oceanside, and I introduced it to large family (or church group, or something). As the realization spread among them, there were squeals of delight busrting from the kids, one by one, down the beach. The little blue/green guys were still there - and I'd spread the word.
There were still a few shooting stars visible on other nights in the summer as well, although they were at time more prominent than the dinoflagellates. It's interesting to note that those shooting stars are particles of dust hitting our atmosphere - and usually not rocks of any decent size. They aren't much bigger than the phytoplankton are.
I'd never seen anything like it. It was a remarkable summer. That line from a prayer came to mind: "On Earth as it is in Heaven."