Covering 180 miles of Oregon coast travel: Astoria, Seaside, Cannon Beach, Manzanita, Nehalem, Wheeler, Rockaway, Garibaldi, Tillamook, Oceanside, Pacific City, Lincoln City, Depoe Bay, Newport, Wadport, Yachats & Florence.
12/07/06
An Eclectic Oregon Coast Beachy Gift Guide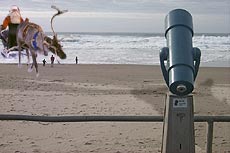 Santa fined for hit-and-run at Lincoln City's D River Wayside, film at 11
(Oregon Coast) - So, the holidays are upon us like a bird of prey. There's no escaping now.
You have a choice. Shop 'till you drop in your own home town inland, fight traffic, get your blood boiling with road rage and spoil that Christmas spirit. Or, you can head west, over the mountains, through the woods and to the coast, and do this shopping thing in a relaxed fashion and find some truly unique gifts. Then, after a calming yet exercise-ridden day, you can retire that evening to the lulling sound of the waves.
The entire Oregon coast is filled with far too many interesting shops to list in one article, but here's a few stunning examples you may not have thought of. Tourists and locals alike have been shopping addicts out here for years - and the numbers are growing.
A Gallery of Gift Ideas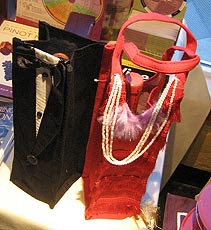 Adorable objects at Village Market, Newport
In Newport's ultra charming (and rather chic) Nye Beach, Village Market & Deli is full of beachy surprises with a continental theme. Santa has already dropped off great gift goodies: three kinds of panetone from Italy, wine books, cheese books and the Market wine and oil sets, plus their always stunning collection of imported cheeses, meats, fresh baked bread, and more.
There are holiday gift bags with some innovative designs, including a pair where one looks like a man's tuxedo and the other is dressed like a lady's formal flapper dress. They are actually not only stunning but cute and even hilarious.
Another highlight are the antique reproduction corkscrews, which look just like the real thing from perhaps 100 years ago, in various designs and forms. At the beach end of NW 3rd, Newport. (541) 574-9393.
In Cannon Beach, you may want to help your pals inland relax. Surya's Essence "Gifts for body, mind and spirit," will aid in that. Lotions, books, candles, scents and a grand selection of soothing esoterica await. 231 N Hemlock, Suite 202. (503) 436-8818. http://www.cannon-beach.net/surya/
One Hour Baskets in Cannon Beach provides gift baskets for all occasions, including holidays, anniversaries, birthdays, landmark events - all personalized. A special Christmas basket filled with treats is one of their spotlighted products. They offer delivery as well. 1235 S. Hemlock. (503) 436-0778. www.onehourbaskets.com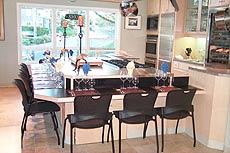 EVOO Cooking School
For the foodie in your life, EVOO Cannon Beach Cooking School not only offers a plethora of interesting cooking classes and events, but it also boasts a gift shop stuffed with distinctive kitchen items. 188 S. Hemlock. 877-436- 3866. www.evoo.biz
Down in the Central Coast town of Yachats, Raindogs carries artisan jewelry from around the world, gifts for babies or pets, music, sculptures, as well as bath and spa accessories. www.raindogsonline.com. 162 Beach St. (541) 547-3000.
Weiss' Paradise Suites & Vacation Rentals - Seaside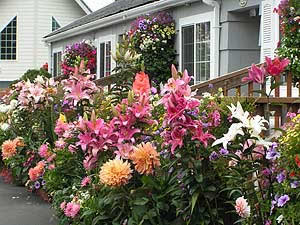 Unique Luxury Accommodations in Seaside. 1BR Suites, 1BR & 2BR Duplex Units and 3BR Houses, units for 2-8 people. Rent our entire property for 20-26. All units close to beach, river and Broadway St.
Suites are designed for two adults; vacation rental units for families. All units have kitchen and many have fireplace, deck and jetted tub. Enjoy comfy robes & slippers, luxury bath amenities, quality linens and more. See us on The Travel Channel's "Great Escapes" show in August 2006. 741 S. Downing St., Seaside. 800-738-6691. www.SeasideSuites.com
One Stop Online Shopping for Coastal Gifts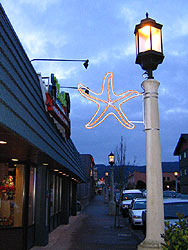 You can shop Seaside from your computer at RegisterLocally.com
In the last year, Manzanita resident Rachel Sip started an idea that's not only different but needed in the world of gift registries RegisterLocally.com. Instead of signing up at one particular large store for your registry, why not have the entire coast at your disposal with its unique, handcrafted items? Sip also added another interesting slant by including the element of eco-friendly gift items. She was inspired by noticing that at the bridal and baby showers of friends, the best gifts were the indie ones purchased from smaller shops on the coast. The site is still relatively new, but new places are added all the time. And you can buy with the good conscience of knowing you've supported local small business people as well as assisted the environment.
There are all kinds of gift ideas floating around this little gem of a site, not just bridal or baby shower ideas. There's also a section for Portland gift ideas. This ain't your parents' online shopping spree. www.registerlocally.com.
Lookout Gift Shop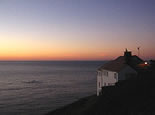 If shopping for coast-oriented gifts with an incredible, panoramic ocean view sounds appealing, this shop atop Cape Foulweather, just north of Newport, is the ticket. 500 feet above sea level, the Lookout overlooks just about everything. A double dose of history, the 1937 building sits on top of the gigantic cape first spotted and named by British navigator Captain James Cook in 1778.

D Sands Condominium Motel, Lincoln City. Getting a free, fresh baked cookie upon check-in is just the beginning. Every room is beachfront, and it's all right up against Lincoln City's most famous stretch of beach, next to the D River. Each room, comes as a suite or mini-suite, and has a kitchen and balcony or patio. Some have gas fireplaces, while all have a DVD Players with movies available for renting (and movie rentals come with free popcorn). There's a heated indoor pool, a spa, and this fabulous beach is lit at night. Rooms sleep anywhere from two, four to six - including a deluxe fireplace suite. Gift certificates are available, and they offer special occasion packages as well. To make a reservation and see a virtual tour of the rooms, visit our website at www.dsandsmotel.com. 171 S.W. Highway 101. 800-527-3925.
Inside the shop, you'll find an incredibly large array of curious and gifts, like myrtlewood, coral, shells, collectibles and a horde of coastal postcards. You'll find coasters made of sandstone, complete with etchings, old floats, hand-painted beach scenes, beach candles, beautiful lighthouse collectibles and a load of cute Christmas ornaments with a beachy theme. Purchase a wide variety of coastal garb, from sweaters, hats and t-shirts to cozy footwear - to remind you of your favorite part of Oregon.
The Lookout is located on Cape Foulweather, north of Newport, and just north of the Inn at Otter Crest turn-off. (541) 765-2270.
Shopping Mall Madness in Lincoln City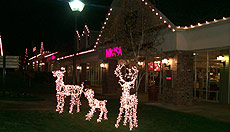 Tanger Outlet Mall
What would Christmas shopping be without a trip to Oregon's biggest outlet malls?
By far, the best of them lay on the coast, including Seaside's sizable outlet mall right on 101. But in Lincoln City, one of the largest in the state is the Tanger Outlet Mall, with 65 stores crammed with designer names and national brands.
Among the treasures you'll find are big names like Bass, Big Dogs, Book Warehouse, Carter's Childrenswear, Casual Male Big & Tall, Coldwater Creek Outlet, Columbia Sportswear, Dress Barn, Easy Spirit Outlet, Eddie Bauer, Factory Brand Shoes, Gap Kids Outlet, Gap Outlet, Jockey, KB Toy Outlet, Koret, L'eggs Hanes Bali Playtex, Levi's Outlet By Most, Liz Claiborne, London Fog, Mikasa, Motherhood Maternity, Norm Thompson, Old Navy Outlet, Oneida, OshKosh, Pendleton Woolen Mills, Perfumania, Pfaltzgraff, Quiksilver, Reebok, Rockport, Samsonite, Tools & More, Totes - Isotoner - Sunglass World, Tree of Life Christian Outlet, Van Heusen, Wilsons Leather Outlet, Zales The Diamond Store Outlet and the wine store, Chateau Benoit, among others.
There's a convenient parking garage and a quaint, village-like atmosphere. Holiday hours can vary. 1500 SE East Devils Lake Rd, Lincoln City. (541) 996-5000.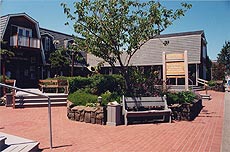 Downtown Cannon Beach
Perfect Presents in Cannon Beach
If starfish are your thing, you'll love this town.
At Basketcase Flowers and Gifts, you'll find actual sand dollars and real starfish as Christmas ornaments, coated in 24-caret gold. Cost is $24.99. 130 N Hemlock, Cannon Beach. Call: 800-611-5826. www.cannonbeachflorist.com
Step into nature and be enveloped at the Wild Bird Shop. Inside, it's filled with a glowing ambience that's soothing, created by a variety of natural products, warm lighting, plants and lovely music. Browse the beautiful tapestries and check out the stunning original outdoor fountains created by store co-owner Brian Godfrey, all made of local rocks and other materials. There are field guides for bird enthusiasts, hummingbird feeders, weatherproof bird feeders, ceramic starfish, relaxing music CD's, natural soaps and lotions, a variety of wildlife art and wind chimes. A sizable catalog exists on 123 S. Hemlock. Call: 800-281-9806. www.wildbirdshop.com.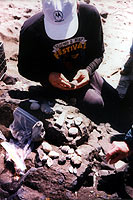 A Fossilling We Will Go

Does someone you know dig fossils? Do they also dig the beach? Newport's Guy DiTorrice is known as Fossil Guy, leading tours around Central Coast beaches to show you how to find all kinds of fossils. It's a lesson and a fun beach walk all at the same time.
DiTorrice provides fossil field trip gift certificates at $29 per person, and discounts made for groups of eight or more. Pre-payment can be made at OregonFossilGuy@hotmail.com. www.OregonFossilGuy.com or call (541) 961-1762.
Oregon Coast Glorious Past Under the Tree
History takes a delightfully beachy turn at Newport's Burrows House and Oregon Coast History Center. Check out its store for a huge selection of books on heritage cooking and gardening, coastal Native Americans, early settlers, videos and DVD's on Oregon lighthouses, early coastal hotels, logging and railroads, and early transportation. You'll also find activity books and kits, T-shirts, sweatshirts, and hats.

Tradewinds Motel, Rockaway Beach
If expansive ocean views, close proximity to golfing, fishing tours and quick access to seven miles of pristine beaches is your thing, then this quintessential beauty in Rockaway Beach is your ticket to vacation fun for families, couples or large groups. Some rooms are pet friendly. All rooms at the Tradewinds Motel are immaculate and have TV's, VCR's and in-room phones with data ports. The oceanfronts all have a queen bed, a double hide-a-bed, kitchen, cozy firelog fireplace and a private deck. Some oceanfront units come with all those amenities but the kitchens. Both types sleep up to four people. The non-oceanfront rooms are appointed with a queen bed, small fridge, and coffee maker – sizable for a two-person romantic getaway, yet still perfect for those on a budget. There is an elaborate oceanfront Jacuzzi suite that has two bedrooms, coming with a kitchen, double hide-a-bed, fireplace and private deck, sleeping as many as six. For those wanting bigger accommodations for family reunions or large gatherings such as weddings, some rooms can connect to create two-room and three-room suites. 523 N. Pacific St., Rockaway Beach. (503) 355-2112 - 1-800-824-0938. www.tradewinds-motel.com
Video/DVD selections include "Yaquina Rails: from Tree to Sea," "The Road from Mud to Glory" (early travel on the Central Coast) and "Rooms with a View" (famous and infamous hotels in the area).
For books, there is the cookbook "All About Crab," "Beachcombing the Pacific," "Glimpses of the Seashore" (early photos of Nye Beach by A.L. Thomas), "Lincoln County Lore" and various books on shipwrecks and other bits of local history. 545 SW Ninth St., Newport. Call: (541) 265-7509.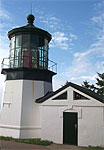 Cape Meares Lighthouse
Oregon Lighthouses Under the Tree
"Oregon Lights" is a new DVD from Oregon Coast Show cameraman and producer Scott Gibson and writer David Anslow, now available online at www.oregonlightsdvd.com. The award-winning show was aired on Oregon Public Broadcasting a few times in the early part of this decade
13 chapters of the video take you through all ten of Oregon's lighthouse, including the private lighthouse owned by famed maritime author Jim Gibbs, as well as some other related subjects.
Those who love to travel the Oregon coast will find this film intoxicating. The DVD is 72 minutes of glorious footage, beautiful scenery, and fascinating background information and history. It takes the viewer on a tour of all the lighthouses up and down the coast, through their history, and touches upon the legends of hauntings as well. It even features interviews with Gibbs, who not only served aboard the crazed Tillamook Rock Lighthouse until it was shut down in 1957, but created his own small lighthouse at his home in Yachats.
The DVD is $14.95, with $3 shipping and handling. It can be previewed and ordered at www.OregonLightsDVD.com.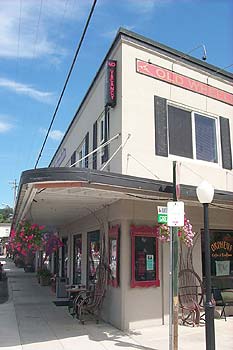 Charming shops of Wheeler
Treasures of Nehalem Bay
Ekahni Books in Wheeler, and its sister business next door, Wheeler Antiques, are filled with a huge array of interesting gift items with a local slant.
There's a load of interesting book titles from the region, which is something Ekahni specializes in all year. Look for books and chapbooks by North Coast writers Gwendolyn Endicott, Tom Bender, Nancy Slavin and Gail Balden. One big favorite is "I Am Karla's Smokehouse," by legendary Rockaway business owner Karla Steinhauser - who has been smoking fish, poultry and meats for 39 years. It comes packed with her renowned tips and techniques for smoking and cooking salmon, as well as her own artwork and historical photos.
For a mere nine bucks, you can get an "Instant MBA:" a Master of Beachcombing Arts. It looks like a degree, with your name on it, but it's signed by "R. Sandy Shores, Ph. D." and Sir Francis Drake. It's the perfect gift for the serious beach bum in your life.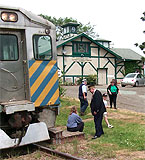 Nehalem Bay Winery
At the tiny little charmer of a store, you'll find various travel guidebooks on Oregon and its coast, tidbits of local history like the stories and photos of "Tillamook: Lest We Forget." Hwy 101, Wheeler. Call 503-368-6881 for more information or to order the Instant MBA.
Fine wine is always welcome at Christmastime, and the Nehalem Bay Winery is certainly the hotspot for this on the north coast, as well as on the central coast at Depoe Bay Windery. For the holidays, they spotlight the slightly spicy "Santa's Elixir," as well as sweatshirts with that little, whimsical logo emblazoned on them. This delightfully unusual place adds a fun, new slant to the whole wine tasting experience. Check out www.nehalembaywinery.com or make sure you stop by on your next visit to the area. Highway 53 - about two miles from Wheeler. 1-888-368-WINE.
Santa Shops in Astoria
The very northwestern corner of Oregon provides a lot of atmosphere for your shopping, with its steep hills, rugged, ancient Victorians oozing charm and a vibe reminiscent of old San Francisco. It's like stepping back in time - but you're never sure which era, exactly. There are so many to choose from all around you.
For the diehard Oregonian, umbrellas of all types - including ones with Astoria themes - can be found at Let It Rain (1124 Commercial St., 503-325-7728). Chris' News has a coastal theme with local souvenirs, and maritime and nautical gifts (1412 Commercial St., 503-325-2832). Dig into Astoria's past with Scandinavian gifts at Finnware 91116 Commercial St., 503-325-5720). There are more coastal themed gifts and local souvenirs at Tiki Charters (350 Industry, 503-325-7818). A Gypsy's Whimsy Herbal Apothecary also carries such items, as well as natural products (1139 Commercial St., 503-338-4871).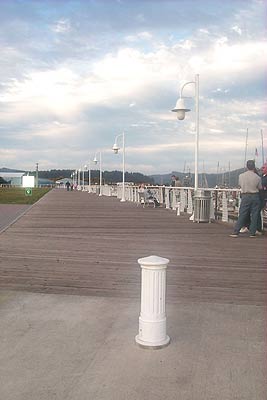 Mo's sits along Florence's waterfront
OK, I Give Up – It's Gift Certificate Time
Giving the gift that shows you have no imagination? Here's a great way to cover that up: a gift certificate from the Oregon Coast.
In Cannon Beach, Primary Elements Gallery has gift certificates that come in arty designs. They also offer free gift-wrapping, mailing services, and free delivery of large or heavy art pieces in a certain price range. Sandpiper Square, 172 N Hemlock. 866-871-0220.
If you love Mo's Restaurants (Cannon Beach, Newport and Lincoln City), you can give a bit of them to a friend. The Lincoln City restaurant sells gift certificates by phone. 860 SW 51st, Lincoln City. (541) 996-2535.
A huge variety of places in Lincoln City offer gift certificates: so many that the Visitors Center has a special section for it on their webiste at www.oregoncoast.org/gifts.
For fine dining pleasures, you'll find the BayHouse and its glorious view of Siletz Bay. They also offer gift certificates on Lincoln City's website and at their restaurant. 5911 SW Hwy. 101. (541) 996-3222.
In Newport, they've got'em as well, at Rogue Ales' House of Rogue Bed and Beer. This will get you goodies at all their outlets, including Portland and Astoria. 748 SW Bay Blvd on Newport's Historic Bayfront. www.rogue.com. For reservations and gift certificates: Stacey@rogue.com or 541-961-0142.
See the larger article from BeachConnection.net, featuring lodgings and other unique businesses that offer gift certificates.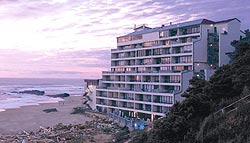 Inn At Spanish Head, Lincoln City. It's Lincoln City's only resort hotel built right on the beach with all oceanfront rooms - nestled against a rugged cliffside overlooking a soft, sandy beach. Enjoy dining in the penthouse restaurant and bar - whether you're in the mood for a casual meal or a candlelight dinner. They offer an array of seafood specialties, juicy steaks and other Northwest favorites, including a decadent Sunday buffet. Rooms range from bedrooms to studios to one-bedroom suites with microwaves and refrigerators to full kitchens. Hotel amenities include wi-fi, spa, saunas, exercise room and a year-round heated swimming pool. Kids will love the game room and easy beach access. Full-service conference and meeting rooms for that inspirational retreat; extensive, gorgeous wedding possibilities. Near the south end of Lincoln City at 4009 SW Highway 101. 1-800-452-8127 or 541-996-2161. www.spanishhead.com
RELATED STORIES
SPECIAL SECTIONS
oregon coast weather
oregon coast mileage chart & map
day trips, suggested itineraries
Seaside, Oregon Lodging
Lincoln City Lodging
Oregon Lodging Specials
Oregon Coast Real Estate
Search BeachConection.net's 800 pages
OR TAKE THE VIRTUAL TOUR

ASTORIA
Where the Columbia meets the Pacific, Land of Lewis & Clark and loads of atmosphere & history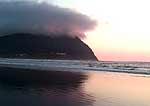 SEASIDE
The Promenade, Tillamook Head, family fun & broad, sandy beaches

CANNON BEACH
A mysterious lighthouse, upscale yet earthy, a huge monolith, fine eateries & an art mecca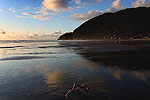 NEHALEM BAY
Manzanita's beaches, Nehalem and Wheeler's quirky beauty; laid back Rockaway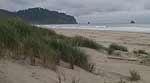 TILLAMOOK BAY
Garibaldi, Barview, Bay City, Tillamook & an oceanfront ghost town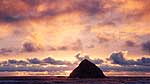 THREE CAPES LOOP
The hidden secret of the coast: Cape Meares, a lighthouse, Oceanside, Netarts and Pacific City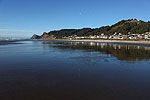 LINCOLN CITY
& THE CORRIDOR OF MYSTERY
Miles & miles of unbroken beaches, Cascade Head, Neskowin and many manmade attractions

DEPOE BAY
A spouting horn downtown, freaky hidden cliffs and whales, whales, whales

NEWPORT
Time-tripping Nye Beach, a bustling bayfront, marine science-central and two lighthouses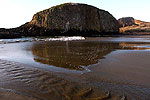 WALDPORT / SEAL ROCK
Pristine, even secretive sands and wild geologic landmarks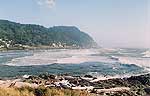 YACHATS
Constantly dramatic wave action, a mix of the rugged & upscale

UPPER LANE COUNTY
25 miles of deserted beaches & oodles of wonders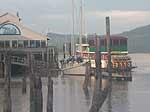 FLORENCE
A lighthouse, ancient bayfront and miles and miles of fluffy dunes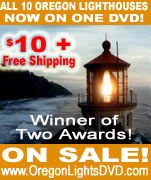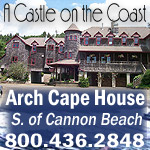 DIVE INTO LUXURY, HISTORY AT THE TIDES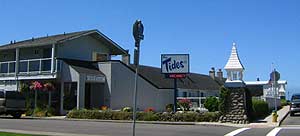 THE TIDES BY THE SEA, Seaside. For over 80 years, The Tides has been a favorite of Seaside visitors. History meets modern luxury here. 51 oceanfront condos, individually owned and decorated. Find suites for couples, small apartments with fireplaces and kitchenettes, one or two bedroom family units with fireplaces, kitchens and dining rooms. There are wonderful oceanview cottages that sleep anywhere from two to eight people, with two bedrooms, some with lofts, fireplaces and kitchens.
Meanwhile, the heated outdoor pool, enormous grounds with picnic tables and location at the quiet southern end of Seaside make for some memorable means of play and repose. 2316 Beach Drive. 800-548-2846. www.thetidesbythesea.com.
For weekly updated info on lodgings and accomodation reviews, see the Travel News section
BREATHTAKING CLIFFTOP IN NEWPORT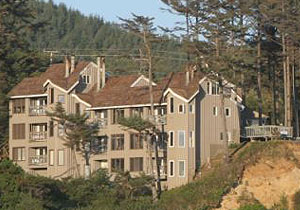 STARFISH POINT is located on the Central Oregon Coast - in Newport - and offers only the finest in luxury condominium lodging. At Starfish Point, every unit is focused on the beauty of the sea and the beach.
All of the units boast two bedrooms, two bathrooms, designer kitchens, wireless broadband Internet, fireplaces, Jacuzzi's and private decks - surrounding you in soothing relaxation. We have a friendly staff dedicated to high quality and superb customer service. 140 NW 48th Street, Newport. (541) 265-3751. (800) 870-7795. www.starfishpoint.com
For weekly Oregon travel picks and lodging secrets, see the Travel News section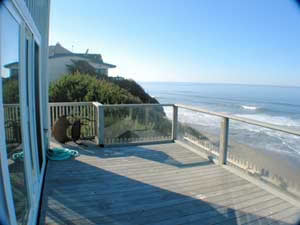 Lincoln City Vacation Homes There's something for everyone among this selection of wondrous homes: smaller homes with a view to a large house that sleeps 15. All the homes are either oceanfront or just a few steps away from the sand – all with a low bank access and fantastic views. Most are in the Nelscott area; one is close to the casino. You'll find a variety of goodies, depending on the home: fireplaces, multiple bedrooms, dishwashers, Jacuzzis, washer/dryers, hot tubs, cable TV, VCR, barbecues; there's a loft in one, and another sprawling home has two apartments. Pets are allowed in some homes – ask ahead. Each comes with complete kitchens so you'll have a home away from home. Most have the seventh night free. Prices range from winter $85 to summer $230 per night. www.getaway2thecoast.com. 541-994-8778.