BEACH NEWS YOU CAN USE
Covering 160 miles of Oregon coast travel: Seaside, Cannon Beach, Manzanita, Nehalem, Wheeler, Rockaway, Garibaldi, Tillamook, Oceanside, Pacific City, Lincoln City, Depoe Bay, Newport, Wadport, Yachats & Florence.
It's Fall on the Coast: Summer is Here Again.
Oregon Coast Travel Blog: Beginnings of the Other Summer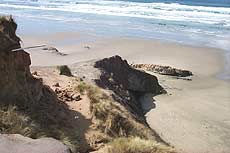 Jump-Off Joe, a Nye Beach landmark in Newport
(Oregon Coast) – The "second summer" is off to a shaky start this early part of September. The legendary phenomenon is intermittent at best, with fog banks, clouds and drizzle moving in and out on a consistent basis, and bouts of sun and little or no wind are interspersed between it all.
It's supposed to be warmer than usual on the coast about now. But that hasn't quite kicked in as yet, although you can probably expect it later in the month – anytime now. September 10, a Saturday, sees somewhat chilly weather in the evening as I wander into Newport, although the skies are mostly clear, and a big moon beams down on the denizens of Nye Beach, who are wandering from place to place during the Jazz at Newport Festival. Various venues throughout town are hosting the musical frivolity, so there's a sense of the neighborhood being quite the party.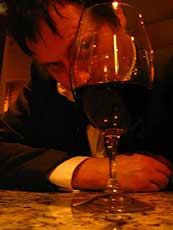 Looking at life through wine-filled glasses at Blu Cork
Eugene pop/jazz diva Hallie Loren is creating a stir at the Blu Cork Wine Bar on this night. And my date, an exquisite thing from Newport named Melissa, is causing a stir with me. Hallie ends the eve with one of her stunning originals, reminiscent of Tori Amos, and both Melissa and I get the shivers over this. This helped things along in a romantic vein. Yow.
Later, it's the kooky dive of Moby Dick's for a spot of karaoke, and then an insanely romantic interlude atop the rocky ledge known as Jump-Off Joe, where moonlight casts this beauty in an especially lovely glow. I'll let you deicide if I'm talking about Melissa or the rock structure.
The editor and his lovely companion
On Sunday, the fog wanders in and out, leaving a decent stretch of sun to bathe the central coast in warmth for a few hours, while winds are decidedly minor. These conditions manage to stay for most of the day, through to sunset. I have breakfast not in the normal fashion, but in the fantastical new Thai Talay in Newport's Nye Beach.
I'm in Seal Rock as the sun makes a spectacular last showing, ever so slowly dipping into the sea, and turning into a shrinking sliver of light. The rock structures of Seal Rock provide beautiful foreground shapes for these photos.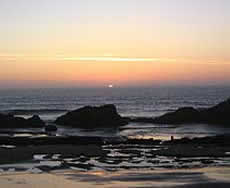 Sunset in Seal Rock
Yachats is my final destination, where I experience an insanely delicious culinary adventure at the newly created Yachats River House. This little trip takes me to India, by way of Yachats, with a curried carrot soup and a most perfect king salmon layered thick with tandoori spices.
This place is a new bit of heaven for the central coast. You'll find it right on 101.
On Monday, I hear swells are supposed to be enormous on the coast, and you can see this in full effect from my vantage point in northern Newport. The waves pounding Agate Beach are indeed huge and impressive.
Yachats River House
This means the wave action in Depoe Bay is also quite a show. The breakers come slamming in with great strength, compressing their power periodically into the basalt rocks, then consequently shooting them out through one or two holes, known as the spouting horns of Depoe Bay. They squirt upwards, sometimes so madly the seawater shoots over the sea wall. The air is so thick with saltwater mist your windshield is covered in the stuff while driving through town.
Dinner is again Thai Talay and their wild, insanely delicious silver noodles: a kind of angel hair pasta that's made out of something vegetable, mixed with bits of egg, cilantro and other tasty layers that create something so good it hurts.
From Newport, it's a manic two-hour drive to Manzanita in the dark, passing through bits of drizzle and shimmering stars, along with brief glimpses of nocturnal beaches that are intoxicating.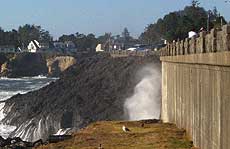 Depoe Bay tidal madness
I drop off my things at our head office in Manzanita, and make a beeline for my favorite bar in the state, Warren House, in Cannon Beach. This place is a blast as always, as are Tim and Sajru (pronounced Sarah) of fab restaurant Newman's at 988 and of The Bistro. Strangely, here, it's overcast, really warm and quite humid, whereas anywhere south of Arch Cape it's a star-filled sky and slightly chilly. Absolutely stunning in both areas.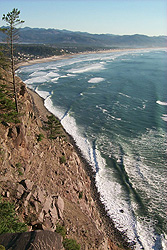 Manzanita from above
On Tuesday morning, it's glorious second summer in Manzanita just before noon. In Cannon Beach, it's drizzling. In between, it's intermittent clouds, wetness and blasts of warm sun that practically beg to sunburn. Later in the afternoon, anything south of Nehalem Bay is full of sun and bereft of wind; but Cannon Beach and Seaside are cloudy.
It's in Seaside where I get the chance to tour the mysterious top floor of the Seaside Aquarium, where apartments once teemed with tenants and activity, back in the 1920's. It's like walking back in time – or into a haunted house. The floors creak and are sometimes tilted at slightly harsh angles, like in a carnival fun house. The mostly empty, dusty rooms stare lifeless at the bare, lonesome hallways. Long dead bathtubs are lined up in one part of the halls, leaning against the walls, looking like shells of the functioning objects they once were. If the rooms contain anything, it's a weird mix of administrative storage, abandoned projects and objects from the past.
It's eerie, creepy and yet thoroughly engaging. Lucky me: just a handful of people will ever get to tour this freaky place, and I'm one of them. There are some whisperings of hauntings in these upstairs, but the aquarium's Tiffany Boothe said that's probably just all the noises the aquarium can make at night, and how surprisingly easy it is to hear anything going on outside on the beach.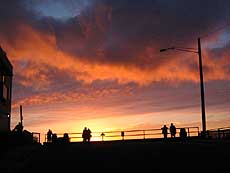 Fiery sunset in Cannon Beach
Dinner is in Cannon Beach, sitting outdoors at Fultano's Pizza and sucking down their intensely delirium-inducing pasta – a homemade concoction that is nothing but pure heaven made with tomatoes. The beginnings of the sunset come streaming through the thick trees on the other side of the fence at the edge of Fultano's patio.
A few minutes later, that sunset is exploding in a massive palette of colors across the sky, illuminating the clouds with eye-popping intensity. It is breathtaking. It seems half the town's current occupants have gathered along the high points to soak this in.
Sometime after night falls, there's more wacky frivolity at Warren House Pub, and then a quick jaunt to the nocturnal beaches of Arch Cape. It's around 1 a.m., and the tide is in its own little world, quite a ways further out than normal for this usually cozy beach.
It's a double dose of beachy freakzone at this point, with glowing sand making its trademark greenish sparks beneath me, and a wild, wild sky above doing some remarkable things. There's a bright moon hiding behind clouds that are alternately dark, thick and then fluffy and light, with spaces in between that show the stars. It looks as if the stars themselves are moving fast, although, it is, of course, the clouds themselves that are moving – and moving swiftly. But for some reason this optical illusion is dominant, and I have to stare at the scene for a while to center my point of view and bring myself back to reality.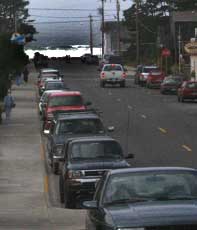 Manzanita in the morning
Meanwhile, the little glowing critters are visible, albeit faint. That's created by microscopic creatures called dinoflagellates, a form of phytoplankton that is bioluminescent. As I predicted, this whole second summer time would create great opportunities to spot these.
Finally, on Wednesday, breakfast consists of Left Coast Siesta in Manzanita again. Yum-o-rama. And the sea is wild and tumultuous again, which is seen well from blocks away, near the top of Laneda Ave. in Manzanita. This is always one of my favorite views: as you come driving into this tiny, adorable town, the ocean is almost pointed to at the bottom of the street, with the leading lines of the street and the parked cars bringing your eye to rest at the end and the tussling waves. Today, they are big and powerful – just a little scary – even at this distance.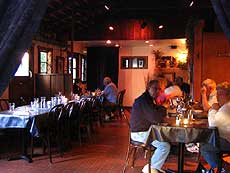 The Bistro, Cannon Beach
After a day's work at the computer, I venture to Cannon Beach for the well renowned The Bistro – a European-style eatery that is legendary. It is so for good reason. In fact, I've had various acquaintances in the last year actually chide me for not having been there yet – sometimes quite rudely. (Relax, I tell them. I'm covering 180 miles of coastline mostly by myself. It may take a bit).
This is place is one delight after another, with recipes and flavors so masterful it is an experience that simply qualifies as soaring: a fantasia for the senses, primarily the tongue. I had the spaghetti and meatballs in a very authentic Euro-style marinara, which came drenched, albeit gracefully, in shredded Parmesan. Bold, rustic flavors permeated this beauty, where mushrooms and green peppers added an extra Old World kick. The meatballs were little monsters that were big on taste. It also came with a potato and leek soup that was a silken delight.