Travel and Beach Secrets for Oregon Coast, Week of 10/30
(Oregon Coast) – Weather, oysters, art and haunted lighthouses highlight a week that is full of possibilities. Conditions could turn either way for the region, with freezing weather hovering around amidst sunny skies, plus the coming of storm season quickly approaching. There's some interesting secrets about coastal weather lurking here. Plus, Cannon Beach overflows with fine art, Newport is flooded with yummy oysters and incredible wines – and more secret spots and other lodging tidbits abound.
Also, if you want to know more about scary lighthouse tales, something big is waiting for you on TV on the Oregon Coast Show.
It's a week that will be remembered.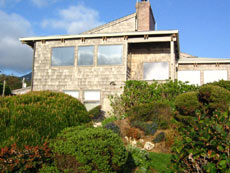 Shaw's B&B
Shaw's Oceanfront Bed and Breakfast, Arch Cape. Get ready to really get away from it all in an extraordinary setting that screams romance and/or relaxation, where you can have a stunning small home all to yourself – and still get breakfast cooked for you.
Shaw's Oceanfront Bed and Breakfast is on the north Oregon coast in beautiful Arch Cape, just four miles south of Cannon Beach – about halfway between Astoria and Tillamook. It is an achingly beautiful beachfront property, where mystifying Castle Rock sits offshore and fires up the imagination with interpretations of its shape.
Step off the charming wooden deck, stroll through the seaside garden, and you're on the beach. Recline on the deck and enjoy the sunshine – which isn't as rare as you might think this time of year - or sit back and soak up the view while the sound of the surf relaxes you.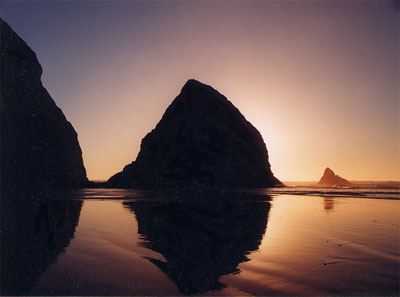 Arch Cape
Shaws' is one of those unforgettable places, close to the ocean, where you can watch storms with a unique perspective, or bask in the sun of those more-frequent-than-you-realize clear days of December, November and especially in the tiny, "hidden summer" of February, when the coast takes on about 14 days worth of balmy, calm weather.
During winter storms, thrill to waves exploding against Castle Rock, while a fire crackles in the fireplace.

Tradewinds Motel, Rockaway Beach
If expansive ocean views, close proximity to golfing, fishing tours and quick access to seven miles of pristine beaches is your thing, then this quintessential beauty in Rockaway Beach is your ticket to vacation fun for families, couples or large groups. Some rooms are pet friendly. All rooms at the Tradewinds Motel are immaculate and have TV's, VCR's and in-room phones with data ports. The oceanfronts all have a queen bed, a double hide-a-bed, kitchen, cozy firelog fireplace and a private deck. Some oceanfront units come with all those amenities but the kitchens. Both types sleep up to four people. The non-oceanfront rooms are appointed with a queen bed, small fridge, and coffee maker – sizable for a two-person romantic getaway, yet still perfect for those on a budget. There is an elaborate oceanfront Jacuzzi suite that has two bedrooms, coming with a kitchen, double hide-a-bed, fireplace and private deck, sleeping as many as six. For those wanting bigger accommodations for family reunions or large gatherings such as weddings, some rooms can connect to create two-room and three-room suites. 523 N. Pacific St., Rockaway Beach. (503) 355-2112 - 1-800-824-0938. www.tradewinds-motel.com
This place is perfect is for the couple on a retreat or a family of four or so, easily accommodating all.
The guests' cozy living room is furnished with easy chairs, skylights, a sofa and more. Stretch out on the cushioned window seat and view the surf up close. You can watch the beautiful ocean, hordes of local pelicans and migrating whales, even from the dining area.
A garden patio greets you at the entrance to Shaw's Oceanfront Bed and Breakfast, and fresh flowers welcome you inside. 79924 Cannon Road, Arch Cape, Oregon. 1-(888) 269-4483 www.shawsoceanfrontbb.com
Cape Lookout State Park, west of Tillamook. At Cape Lookout State Park, the road changes from Whiskey Creek Road to Cape Lookout Road - hence the designation of MP 0 at this point.
The beach at this popular park is mostly one immense, sandy stretch, going on for nearly five miles to the north into Netarts Spit. Parts of the beach dip steeply into the tide line, causing the waves to crash loudly and abruptly, then quickly running out of steam and altogether creating an intense, natural spectacle.
Hiking on the Netarts Spit is no small feat, but you'll dig the solitude as much as the opportunity for clam digging. A ways after the two-mile point, look for paths onto higher dunes for more stunning viewpoints. Along much of the way, green, mushy marshland follows you to the end of the spit, where roses, wild strawberries and other plant life delectables lie on the pathways.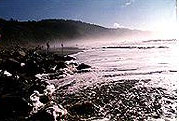 If you're hiking this entire sandy wonder and looking to make this journey in a loop, this is sometimes a difficult undertaking. There is no official Return Route around the spit. However, the bayside is filled with thick vegetation, and if you're really willing to rough it, you could trudge through the brush even without a real trail.
Camping: Cape Lookout boasts 191 campsites (two accommodating the disabled), one electrical site, four group camping areas, a reservable picnic area, a meeting hall, four yurts, 54 full RV hookup campsites (maximum 30 feet), full restroom and shower facilities as well as a waste disposal station.
Cape Lookout has a $3 day-use fee. Campsite reservations can be made at (503) 842-2545.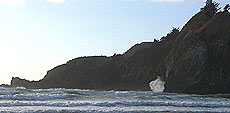 Dramatic waves in Newport, late Oct.
Storms Begin to Arrive, and Other Surprises. It isn't exactly storm season by any means, but the storms are coming nonetheless, and you're apt to see some spectacular wave action any moment now.
The Oregon coast has been the recipient of a couple crazed storms already, although mostly rain and wind have taken their swipes at the shoreline, and not the giant paws of the Pacific. At least not a heck of a lot. Some areas reported some mighty breakers here and there in the last two weeks, and even sunny, apparently calm weather has produced large waves that have been spectacular (such is as these Newport, pictured here).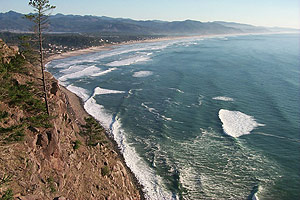 Sunny and calm at Nehalem Bay (Manzanita)
Still, however, rather warm, sunny weather is not out of the question for the following weeks. You'll find plenty of cold, winter-like days where the sun shines pretty heavy throughout November, but you'll encounter a few quite comfortable ones as well.
Lesson learned: November can still be a mixed bag of pleasures – with magnificent storms beginning to roll in as well as some very nice, pleasant days. Keep your eye on the weather reports.
Oyster Cloyster, Newport. November 4 means the famous "Oyster Cloyster" in Newport, an event that brings an evening of elegance and culinary decadence in the seafood world. This dazzling occasion of fine dining, wine, atmosphere and live music takes place at the Oregon Coast Aquarium after dark, and is a benefit for the Oregon Coast Community College Foundation.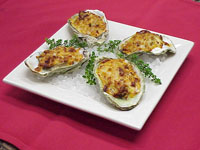 As many as 15 chefs from the Northwest – mostly the coast – will be on hand, challenged to create original culinary masterpieces based on a main ingredient: oysters from the northwest. The décor and presentation are stunning, and food is served as appetizers in a smorgasbord style - although there is nothing small about the pure enormity of edibles available. "No one goes home without being really satisfied," says A.T. Ronan, OCCC Foundation Executive Director and Development Director for the college.
Fine Oregon wines are spotlighted, there are raffles for elaborate gift baskets for guests, and chefs will get some mighty wonderful awards for their works of art. The award trophies given at the end of the night are highly coveted art pieces in themselves: stunning blown-glass oyster shells that are lighted from underneath.
Ticket price at the door will be $75. 541 574-7141 or 574-7131. Tickets can also be ordered through the college's website at www.occc.cc.or.us/oystercloyster. Read the full story here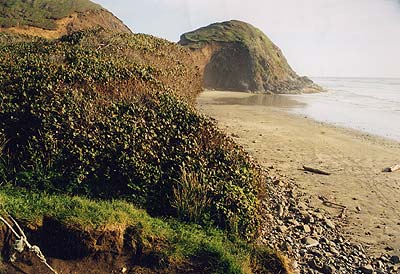 Ocean Beach Picnic Ground
Two Sides of one Hidden Spot (between Florence and Yachats). Ocean Beach Picnic Area and Rock Creek Campground share an interesting structure that has two sides to its face.
Ocean Beach is a quaint hidden spot that's often overlooked because of its size, but it's well worth it. Take the tiny, paved – but steep – road down to the parking lot and you'll find two picnic tables overlooking a lovely view of the sandy beach. Beach access was apparently torn away by storms in recent years, so that's not easily done anymore.
At the beach's southern end is an intriguing, bubble-like headland with an indentation that looks a bit like a cave. (Look for MP 174.)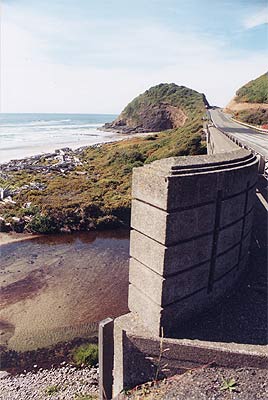 Roosevelt Beach
To the immediate south lies Rock Creek Campground and Roosevelt Beach. The Forest Service operates this one, accessible by turning inland. 16 campsites are nestled in the forest here.
BREATHTAKING CLIFFTOP IN NEWPORT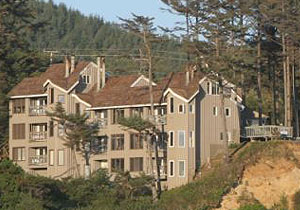 STARFISH POINT is located on the Central Oregon Coast - in Newport - and offers only the finest in luxury condominium lodging. At Starfish Point, every unit is focused on the beauty of the sea and the beach.
All of the units boast two bedrooms, two bathrooms, designer kitchens, wireless broadband Internet, fireplaces, Jacuzzi's and private decks - surrounding you in soothing relaxation. We have a friendly staff dedicated to high quality and superb customer service. 140 NW 48th Street, Newport. (541) 265-3751. (800) 870-7795. www.starfishpoint.com
But the real discovery is the beach. If you're not camping here, you can find this gem by looking for a couple of unmarked dusty patches on the side of the road immediately south of a small bridge – and just the other side from the headland at Ocean Beach. You'll find a long stretch of bluffs which allow you access to Roosevelt Beach at various points.
You'll find this charming creek spilling into the ocean, and the other side of that headland from Ocean Beach looks strangely identical with a very similar indentation in it. The strand wanders on for a while and disappears out of sight beyond the sandstone bluffs, meanwhile dotted with intriguing rock structures and covered half in stones and half in sand.
It's a fascinating and enchanting spot, made more so by the fact it's largely hidden and very unpopulated.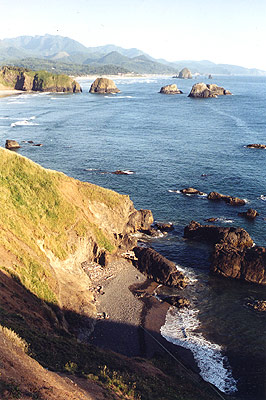 Stormy Weather Arts Festival, Cannon Beach (Nov. 3 – 5). Blustery weather cometh – at least to Cannon Beach (whatever the forecast says). There, art galleries and performance venues take center stage once again with the annual "Stormy Weather Arts Festival." Each November in this sleepy little hamlet, artists of every kind join together to create a festival filled with music, theater, poetry and art. Writers, singers, composers, painters, glass artists and sculptors will be on hand from November 3 - 5, to present and demonstrate their artistic endeavors to the public.
The Palette Puddlers Artist Group, who paint in all types of media, will hold an art show throughout the weekend at Cannon Beach Elementary School. 3 p.m. Friday.
The Quick Draw Event is where 14 artists will have one hour to paint, complete, and frame a piece, while a rapt audience watches. The art is then sold by auction to lucky bidders. This event is sold out, however.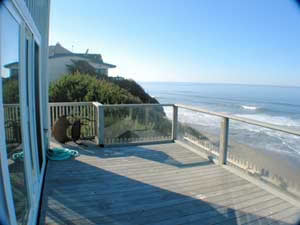 Lincoln City Vacation Homes There's something for everyone among this selection of wondrous homes: smaller homes with a view to a large house that sleeps 15. All the homes are either oceanfront or just a few steps away from the sand – all with a low bank access and fantastic views. Most are in the Nelscott area; one is close to the casino. You'll find a variety of goodies, depending on the home: fireplaces, multiple bedrooms, dishwashers, Jacuzzis, washer/dryers, hot tubs, cable TV, VCR, barbecues; there's a loft in one, and another sprawling home has two apartments. Pets are allowed in some homes – ask ahead. Each comes with complete kitchens so you'll have a home away from home. Most have the seventh night free. Prices range from winter $85 to summer $230 per night. www.getaway2thecoast.com. 541-994-8778.
The Art Walk on Saturday is a wonderful way to see the galleries of Cannon Beach and watch visiting artists from around the world demonstrating their art. The Surfsand Resort will host about a dozens artists, all of which are normally shown at local galleries. Plus look for many musicians and artists doodling and noodling about town. http://www.cannonbeach.org/events/stormy.htm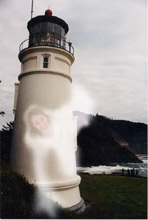 Haunted Oregon Lighthouses on TV, Thursday and Friday. Halloween may be over, but the fascination with the idea of haunted lighthouses in Oregon isn't.
The Oregon Coast Show (Channel 22, KPXG), will spotlight these haunted tales the following two Thursdays – Nov. 2 and Nov. 16 – at 7:30 p.m. on channel 22, or on Comcast cable ch. 5. It will also air Thursdays and Fridays on Nov. 2 - 3, and Nov. 16 – 17, in Tillamook County and Lincoln County, on Charter cable ch. 18.
The episodes are partially footage from Oregon Coast Show producer Scott Gibson's DVD "Oregon Lights," which will be released soon for purchase. Other parts of the Oregon Coast Show segments on haunted lighthouses come from BeachConnection.net editor Andre' Hagestedt, who acts as the on-air reporter, transitioning sections of the show segments and sharing his own knowledge about the subject.