Covering 180 miles of Oregon coast travel: Astoria, Seaside, Cannon Beach, Manzanita, Nehalem, Wheeler, Rockaway, Garibaldi, Tillamook, Oceanside, Pacific City, Lincoln City, Depoe Bay, Newport, Wadport, Yachats & Florence.
1/27/07
Stranded on the Oregon Coast: Another Snow Storm Tale
By Andre' Hagestedt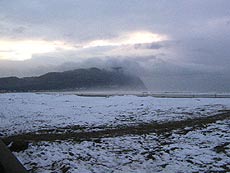 Seaside
(Oregon Coast) – The recent snowstorms here in Oregon wreaked plenty of havoc and created more than a few dropped jaws at the scenic splendor and complete oddity of it all. It certainly made life for BeachConnection.net a little more difficult at times. When you live part time between the towns of Newport and Portland, life isn't normal to begin with. But these occasional inundations of the white stuff each year always makes things a bit more interesting for me, and these icy clouds bring plenty of silver linings.
They say life's a beach, and it certainly is for me. But since it's my job to be at the beach, these crazy ice storms that slam the valley every year seem to happen while I'm on the coast and they keep me there. What a bummer, right? I'm stranded on the coast because of a snowstorm. I hate to keep bragging, but this one of the many benefits of this job.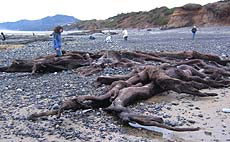 Melissa and the dog behind this massive stump root system
It's happened to me the last two years in a row. But this year, it first happened about New Year's Eve, where some ice storm delayed my return to our Portland office for a day or two. It forced me and my beautiful friend Melissa to go exploring an extraordinary Newport beach where the sand levels had gotten so low you could see some unusual geologic structures reappearing. The beach at Moolack Beach has the remnants of some ancient stumps, at least three hundred years old, whose origins are the subject of no small amount of argument.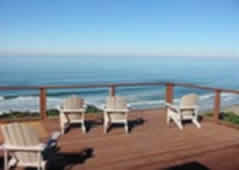 A1 Beach Rentals, Lincoln City. Perfect for large family vacations all the way down to a getaway lodging for two - with over 25 vacation rental homes to choose from. A breathtaking collection of craftsman or traditional beachfront homes, or oceanview houses – from one to seven bedrooms. In various areas of Lincoln City and overlooking the beach, with some in Depoe Bay. All kinds of amenities are available, like hot tubs, decks, BBQ, rock fireplaces, beamed ceilings and more. Some are new, some are historic charmers. Lincoln City, Oregon. 1-(503)-232-5984. www.a1beachrentals.com.
The resulting story on these oddities on our website catapulted us into the national limelight for a brief period. Melissa's dog Charly also benefited from this trip: she got to maniacally bound about the beach, chasing birds that were yards away from her and simply running amok.
A couple weeks later, the snow and ice descended on the coast and valley with full force, creating some of the most stunning pictures on the coast you could ever imagine. The cold let up just long enough for Melissa to join me in Portland, and then the following day allowed me to take her to the north coast for the first time. We hit the peaks on Highway 26 and encountered enough frozen spots to cool our pace through the coast range and make things a little scary.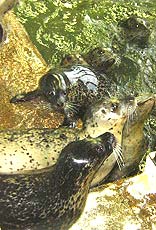 Huddling seals at the aquarium
First, we arrive in Seaside, where the snow has started to melt a little, but there's still a formidable blanket on the ground, making a spectacular scene. Manager Keith Chandler gives Melissa and I the nifty insider's tour of the Seaside Aquarium, where we get to witness the seals do some wild, weird things. When Keith first appears at the edge of their pool, they make swift moves towards him as if he may have food, and they huddle together in this strangely human-like manner, with their faces peering up anxiously, looking like an odd choir.
They apparently absolutely love another handler there, Jason, and they would follow him in lightning fast flights from one side of the pool to the other as he ran back and forth in front of them. It was hilarious.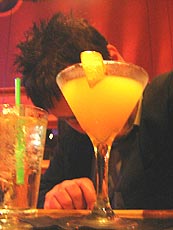 Fun and funky drinks at the Lumberyard
Next, we made a beeline for Cannon Beach, where we wound up eating at The Lumberyard Rotisserie and Grill. Melissa told me she was really in the mood for a burger – not a fast food one, but something in the gourmet variety. I was in the mood for something much more complex. With both of us being food snobs, I quipped to her, "Now don't you go getting all low-brow on me." The Lumberyard proved the perfect compromise. She had some elaborate hamburger concoction; I had a delicate and intriguing turkey potpie. I also had some extraordinary martini drink with orange juice that I can never remember the name of, but which I can't get enough of whenever I'm here.

Tradewinds Motel, Rockaway Beach. All rooms at the Tradewinds Motel are immaculate and have TV's, VCR's and in-room phones with data ports. The oceanfronts all have a queen bed, a double hide-a-bed, kitchen, cozy firelog fireplace and a private deck. Some oceanfront units come with all those amenities but the kitchens. Both types sleep up to four people. Others are appointed with a queen bed, small fridge, and coffee maker – sizable for a two-person romantic getaway, yet still perfect for those on a budget. There is an elaborate oceanfront Jacuzzi suite that has two bedrooms, coming with a kitchen, double hide-a-bed, fireplace and private deck, sleeping as many as six. For those wanting bigger accommodations for family reunions or large gatherings such as weddings, some rooms can connect to create two-room and three-room suites. Some rooms are pet friendly.523 N. Pacific St., Rockaway Beach. (503) 355-2112 - 1-800-824-0938. www.tradewinds-motel.com
On my frequent trips up and down 160 miles of coastline (this is almost weekly), I often encounter something kooky, offbeat or surreal. This is the Oregon coast, after all, where "living on the edge of the continent" has a distinctly dual meaning. This dinner was no different: a manager approached an off-duty employee and asked if he could retrieve some child's shoe from the roof (an icy, snow-covered roof, no less). Apparently the kid had thought it funny to throw his own footwear onto the top of the building.
The road between Cannon Beach and Manzanita (about 12 miles) was slightly messy in some spots, but perfect in others. Particularly crazy was one spot just outside the border of Oswald West State Park where part of one lane had washed away, and a crew carrying "stop" and "slow" signs regulated access.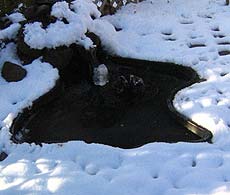 Fountain behind the San Dune
We stayed at Manzanita's San Dune Inn on this Friday and the subsequent Saturday, overnighting in the "honeymoon" suite at the backside of this charming and always engaging little motel. Here, it had snowed about a foot, and much of the town was still covered, although high tides had washed most of the beach clean of the powder. The private driveway for this room was thick in white, and the small fountain back there, surrounded by snow, sometimes froze at night. It was awe-inspiring and surreal to see the town where until recently I'd lived part time in such a weird state.
Later, Melissa and I imbibed a few at Nehalem's The Wateringhole, and later we ended up in Seaside again (somehow the roads didn't seem as bad the second and third time).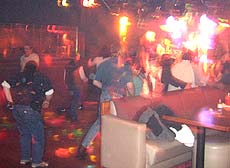 Girtle's dance floor in Seaside
We ended the night with a rousing time at the wacky Girtle's, a top 40 dance bar where oddities always seem to happen. This time, also, was no different. First, the very "white" dance crowd, mostly near middle age, was interesting at best to watch while attempting to move to rhythms. Some interesting crusty characters inhabited this place tonight too. Then, owner Bob shows up riding a segway inside the bar. Wow.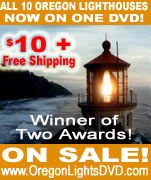 The next day, on Saturday, the rain kicks in and washes much of the snow away on the north coast, but there's talk the night will be exceptionally cold and freeze all that over. We hightail it for Cannon Beach, and have an early afternoon breakfast at Fultano's Pizza, where the pasta is so incredible it's a major addiction of mine. Melissa but opted for the lasagna, but she was very taken with Fultano's exceptional homemade sauce in both dishes, after sampling mine a few times.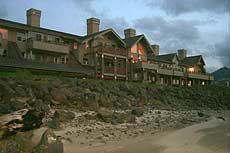 Ocean Lodge, Cannon Beach
I toured her around various sights on the north coast, especially Cannon Beach. This town has a gorgeous beach; there is no doubt about that. But the buildings themselves have a unique charm, and she is engrossed in the elegant, graceful and handsome architecture of larger lodgings like Stephanie Inn and Ocean Lodge, as well as many of the other smaller but no less grandiose inns.
I make an attempt to show her the secret spot just south of the tunnel that's nicknamed "magic rocks beach," on a tiny road called Falcon Cove Road. While the rest of the roads were fine by this time, what I didn't count on was the lack of traffic on this road, coupled with the thick forest overhead: the ice here did not thaw. Our car got stuck for a little while, but we crawled our way back up by moving slowly. I had to bag this little bit of show and tell, which was quite unfortunate because this spot is so remarkable.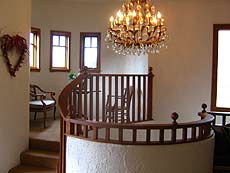 Inside of Arch Cape House
We stop at Arch Cape House for a brief chat with owner Barbara. This castle-like structure is ten times more striking all covered in snow, looking more like a lodge in the Swiss Alps than the coastal wonder it actually is. Melissa is also mowed over by the beauty and charm of this place.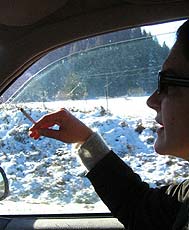 Snow packs around Tillamook with Melissa in the foreground
At night, it's up to Cannon Beach, with the roads in the Nehalem area so frozen over they were like one big, long "slip 'n' slide." Manzanita northward to Cannon Beach was largely fine, however, and we enjoyed an incredible dinner at The Wayfarer. Melissa even exclaimed: "this was the best fish I've ever had in a restaurant." We finished the evening by getting silly at the Warren House Pub, where one local man told us it is apparently legal to walk around Cannon Beach naked (he said he'd actually talked to a former mayor about this). I also ran into a Portland couple I know, again proving how Oregon is one big neighborhood.
The next day, after a hearty yet innovative breakfast at Manzanita's famous Big Wave Café (I had a zippy, eye-opening eggs benedict creation with a chipotle-fused sauce), we moved southward back to Newport. It was a sunny, warm day, melting the remainder of the beach snow in most spots. The usual two hours from Manzanita to Newport was elongated a bit by a few troubling ice spots between Bay City and Pacific City.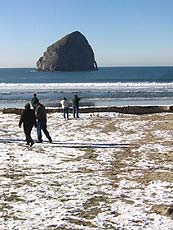 Snow and Cape Kiwanda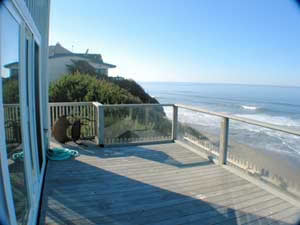 Lincoln City Vacation Homes There's something for everyone among this selection of wondrous homes: smaller homes with a view to a large house that sleeps 15. All the homes are either oceanfront or just a few steps away from the sand – all with a low bank access and fantastic views. Most are in the Nelscott area; one is close to the casino. You'll find a variety of goodies, depending on the home: fireplaces, multiple bedrooms, dishwashers, Jacuzzis, washer/dryers, hot tubs, cable TV, VCR, barbecues; there's a loft in one, and another sprawling home has two apartments. Pets are allowed in some homes – ask ahead. Each comes with complete kitchens so you'll have a home away from home. Most have the seventh night free. Prices range from winter $85 to summer $230 per night. www.getaway2thecoast.com. 541-994-8778.
Around Tillamook, the snow was piled heavy in most areas, looking very European in spots, with the thick forests covered in white. Finally, in Pacific City, we pulled over and ogled the snow on the beach. The sun was beating down, albeit weakly, and it wasn't able to melt away much of the white stuff on the upper dunes. Parts of Cape Kiwanda still had some snow on it as well.
All this snow on the beach was not only grand but also rather historic.
By the time we hit Lincoln County, no snow was to be found, except for some notoriously shady spots under leafy canopy near the beach or on the east side of the highway. I managed to find patches at Jump-Off Joe in Newport, at a rest stop just south of Depoe Bay and large chunks at Fogarty Beach between Depoe and Lincoln City.
Then came the fun stuff. As Sunday drew to a close, with Melissa and I often huddled together in her Newport home because of the cold, the weather reports squawked ominously about more ice and snow. It didn't look like she would be able to take me to Portland (where I'd left my car) anytime soon.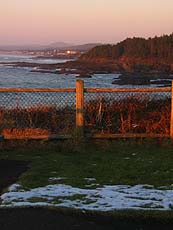 Vibrant sunset near Depoe Bay
As the week wore on, I caught glimpses of life in P-town through the front page of the Oregonian or various Internet reports: it was freezing, blizzard white and full of fender benders. No way could Melissa make it over the coast range throughout the week. So, I relaxed on the beach, worked a bit, borrowed Melissa's car for appointments, and ate myself silly at places like Village Market and Deli, the Rogue Brewery's restaurant on the Newport bayfront, Landmark in Yachats, or Melissa's fine cooking.
I happily lived my Newport life for a few days, playing with the dog in between sessions on my computer, getting sloshed with friends at the Sand Bar at night, and took a walk or a drive or two down to the beach. Strangely, I got a little more done here, just goofing off half the time, than I do while slaving away at my computer full time at my part time Portland digs.
We left Portland on a Friday and returned the following Friday, once the ice let up. I actually wasn't glad to be back in Portland.
For business purposes, it's still necessary for us to have a Portland office. But I can tell you I won't be there as often now. As I've said before about my job as editor of an online beach travel publication, one which requires me to be at the beach most of the time: "It's a hard job, but someone has to do it." I'll just be doing my job a bit more frequently now, thank you very much.


D Sands Condominium Motel, Lincoln City. Getting a free, fresh baked cookie upon check-in is just the beginning. Every room is beachfront, and it's all right up against Lincoln City's most famous stretch of beach, next to the D River. Each room, comes as a suite or mini-suite, and has a kitchen and balcony or patio. Some have gas fireplaces, while all have a DVD Players with movies available for renting (and movie rentals come with free popcorn). There's a heated indoor pool, a spa, and this fabulous beach is lit at night. Rooms sleep anywhere from two, four to six - including a deluxe fireplace suite. Gift certificates are available, and they offer special occasion packages as well. To make a reservation and see a virtual tour of the rooms, visit our website at www.dsandsmotel.com. 171 S.W. Highway 101. 800-527-3925.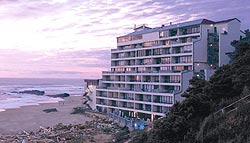 Inn At Spanish Head, Lincoln City. It's Lincoln City's only resort hotel built right on the beach with all oceanfront rooms - nestled against a rugged cliffside overlooking a soft, sandy beach. Enjoy dining in the penthouse restaurant and bar - whether you're in the mood for a casual meal or a candlelight dinner. They offer an array of seafood specialties, juicy steaks and other Northwest favorites, including a decadent Sunday buffet. Rooms range from bedrooms to studios to one-bedroom suites with microwaves and refrigerators to full kitchens. Hotel amenities include wi-fi, spa, saunas, exercise room and a year-round heated swimming pool. Kids will love the game room and easy beach access. Full-service conference and meeting rooms for that inspirational retreat; extensive, gorgeous wedding possibilities. Near the south end of Lincoln City at 4009 SW Highway 101. 1-800-452-8127 or 541-996-2161. www.spanishhead.com
RELATED STORIES
SPECIAL SECTIONS
oregon coast weather
oregon coast mileage chart & map
day trips, suggested itineraries
Search BeachConection.net's 800 pages
Oregon Coast Real Estate
OR TAKE THE VIRTUAL TOUR

ASTORIA
Where the Columbia meets the Pacific, Land of Lewis & Clark and loads of atmosphere & history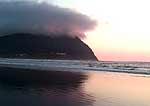 SEASIDE
The Promenade, Tillamook Head, family fun & broad, sandy beaches

CANNON BEACH
A mysterious lighthouse, upscale yet earthy, a huge monolith, fine eateries & an art mecca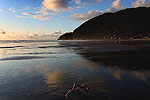 NEHALEM BAY
Manzanita's beaches, Nehalem and Wheeler's quirky beauty; laid back Rockaway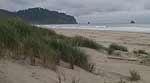 TILLAMOOK BAY
Garibaldi, Barview, Bay City, Tillamook & an oceanfront ghost town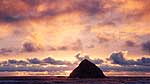 THREE CAPES LOOP
The hidden secret of the coast: Cape Meares, a lighthouse, Oceanside, Netarts and Pacific City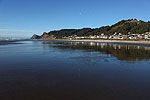 LINCOLN CITY
& THE CORRIDOR OF MYSTERY
Miles & miles of unbroken beaches, Cascade Head, Neskowin and many manmade attractions

DEPOE BAY
A spouting horn downtown, freaky hidden cliffs and whales, whales, whales

NEWPORT
Time-tripping Nye Beach, a bustling bayfront, marine science-central and two lighthouses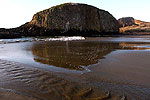 WALDPORT / SEAL ROCK
Pristine, even secretive sands and wild geologic landmarks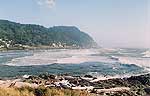 YACHATS
Constantly dramatic wave action, a mix of the rugged & upscale

UPPER LANE COUNTY
25 miles of deserted beaches & oodles of wonders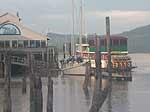 FLORENCE
A lighthouse, ancient bayfront and miles and miles of fluffy dunes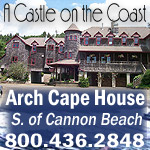 DIVE INTO LUXURY, HISTORY AT THE TIDES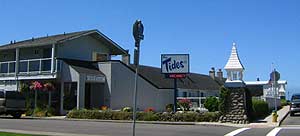 THE TIDES BY THE SEA, Seaside. For over 80 years a favorite of Seaside visitors. 51 oceanfront condos, individually owned and decorated. Suites for couples, small apartments with fireplaces and kitchenettes, one or two bed family units with fireplaces, kitchens and dining rooms. Oceanview cottages sleep anywhere from two to eight, w/ two bedrooms, some with lofts, fireplaces and kitchens. Heated outdoor pool, enormous grounds w/ picnic tables - all at quiet southern end of Seaside. 2316 Beach Drive. 800-548-2846. www.thetidesbythesea.com.
BREATHTAKING CLIFFTOP IN NEWPORT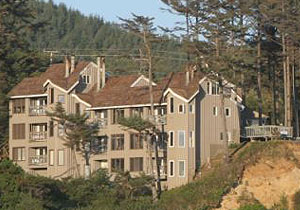 STARFISH POINT Newport - Offers only the finest in luxury condominium lodging. Every unit is focused on the beauty of the sea and the beach.
All units boast two bedrooms, two bathrooms, designer kitchens, wireless broadband Internet, fireplaces, Jacuzzi's and private decks. Friendly staff dedicated to high quality and superb customer service. 140 NW 48th Street, Newport. (541) 265-3751. (800) 870-7795. www.starfishpoint.com
For weekly updated info on lodgings and accomodation reviews, see the Travel News section
Weiss' Paradise Suites & Vacation Rentals - Seaside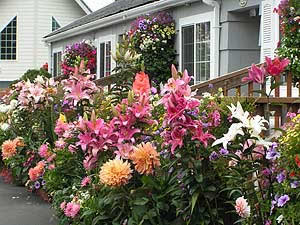 Unique Luxury Accommodations in Seaside. 1BR Suites, 1BR & 2BR Duplex Units and 3BR Houses, units for 2-8 people. Rent our entire property for 20-26. All units close to beach, river and Broadway St.
Suites are designed for two adults; vacation rental units for families. All units have kitchen and many have fireplace, deck and jetted tub. Enjoy comfy robes & slippers, luxury bath amenities, quality linens and more. See us on The Travel Channel's "Great Escapes" show in August 2006. 741 S. Downing St., Seaside. 800-738-6691. www.SeasideSuites.com