BEACH NEWS YOU CAN USE
Covering 160 miles of Oregon coast travel: Seaside, Cannon Beach, Manzanita, Nehalem, Wheeler, Rockaway, Garibaldi, Tillamook, Oceanside, Pacific City, Lincoln City, Depoe Bay, Newport, Wadport, Yachats & Florence.
Summer Cometh: Are you ready?
Five Astounding Stops on Oregon's Coast
By Andre' Hagestedt
Looking to wow friends and/or family on your coastal trip?
Some places are well known to many, but contain places and pleasures that aren't so obvious and thus need exploring. Then, there are some spots you've probably never even heard of, and you often drive past them on your coastal visits.
Here are five spots that are guaranteed to make an impression on your friends and family - whether you be tourist or local.
Cape Kiwanda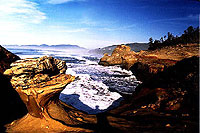 The wonders never cease on top of the golden, weather-sculpted cliffs of Cape Kiwanda - the centerpiece to Pacific City. Offshore sits the stately Haystack Rock, almost as if it guards these cliffs.
Scale to the top of the cliffs via a strenuous incline made of loose sand that makes it harder. Once there, incredible sights await, such as wild, craggy structures with weird color schemes, resembling another world. There are secret trails leading you to more stunning viewpoints, and a small cove with minute cracks in the rocks where the tide can sometimes squirt out.
It's the gateway to a stunning, even sometimes alien landscape, serving up hidden glimpses of parts of the cliff which jut and wriggle their ways out into the ocean. There's a nearly endless parade of incredible viewpoints you can't get anywhere else in the area. And on sunny days, the cape becomes especially entrancing as the sun sets the cliffs on fire and causes the tumultuous water below to turn a deep, dark blue in stark and unforgettable contrast.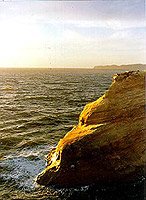 The entire area is one remarkable package of natural fun and frolic, rambling on for several hundred feet in different directions and hiding numerous treasures all over.
Zip up the huge sandy hill to its top and explore the mini-forest there, or let yourself tumble its long, steep expanse, as many children do. You'll see them shooting down on boards of various kinds - sometimes with more than one piled on top - or in some cases, even by intentionally tumbling themselves to the bottom.
At its base, a world of mesmerizing little tide pools appear along the rocks at low tide, sometimes opening up sea caves for your inspection.
The dune on top inspires kids of all ages to engage in all sorts of sledding behaviors.
Ever Astounding Arch Cape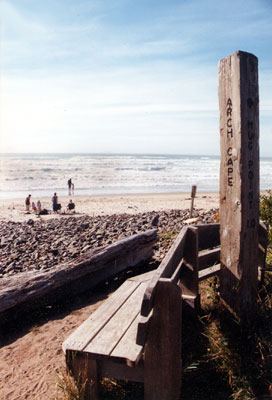 A couple of miles south of Hug Point (just south of Cannon Beach) you'll encounter the lovely little beach interlude known as Arch Cape. It's a tiny community that consists of a few homes and one or two businesses right on 101. But mostly it's a couple of beach accesses hidden behind some neighborhood streets - and it's one truly romantic beach walk.
This beach, a mix of cobblestones and sand, reaches north all the way to near Hug Point (which is totally accessible at low tide after a two-mile walk.) But on its south side you'll find a small grouping of rock structures hugging a basalt point. At lower tides, you can walk between these and the cliffs and explore a rocky beach full of boulders, dramatic structures and that glorious standby of great dates: poking around tide pools with the object of your affection.
To find a totally hidden spot adjacent to Arch Cape, you may be able to walk past those rock structures to a bit of secret paradise. Or, drive through the Arch Cape tunnel about a mile, until you spot a sign signaling "Falcon Cove Road." This is a residential district, so you'll want to be respectful here as you park near a somewhat slippery, muddy beach access.
Once on the beach, you'll find one of the more unusual spots on the coast. Here, the beach is mostly comprised of large, polished cobblestones. It's a strange place: essentially you're walking on a huge pile of rocks, sometimes carved into odd tiers, making it hard to traverse in places. The water crashes loudly on the steep shore, dissipates quickly, then it makes a weird noise as the waves recede and pull on the rocks. Because of that it's nicknamed "Magic Rocks Beach."
On the south side, things are covered in large boulders and you can sometimes make it over these huge stones quite a ways until it all dead-ends.
Nehalem Bay State Park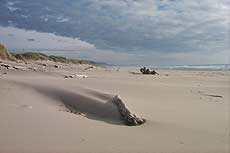 Nehalem Bay State Park
At the north end of Nehalem, this sprawling shoreline of nothing but sand goes on for over two miles. A good two miles down the sand spit you may find spots to watch seals rather closely.
But don't get too close: bothering them in their natural habitat is illegal.
This beautiful state campground contains 284 campsites, full toilet systems and hot showers. Each campground features a picnic table and a fire pit. There's also a horse camp with 17 sites and two corrals. There's also a horse rental business there in the high season that features some beautiful animals for hire.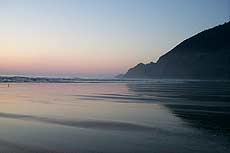 Manzanita
A little closer to civilization, the beaches of Manzanita include loads of wonders all their own. A wide and beautiful sandy beach fills the eye here. Although at the beach's northernmost access - near Neahkahnie Rd. - it quickly becomes large cobblestones until it ends at the base of Neahkahnie Mt. some 200 feet down.
The most obvious beach accesses lie past its downtown and at the bottom of the main road, Laneda Rd. But there are numerous hidden ones south of there, between the homes, along the beachside roads. These eventually dead-end at a back entrance to Nehalem Bay State Park.
In this tiny town that's full of culinary pleasures, wondrous new objects can pop up on the beach at sufficient minus tides. Depending on the amount of sand lying around that time of year, different rock objects appear on an otherwise smooth, barren beach.
Hidden Rocks of Depoe Bay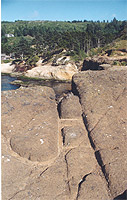 Look for Vista St. along the northern part of Depoe Bay, just south of the massive Trendwest developments, and this will lead you down to a charming, weather-beaten neighborhood and an amazing span of puffy, bubble-like basalt cliffs.
Here, you'll find an area which delivers astounding, dizzying views of wild stuff you won't be able to witness any other way. To the north, weird coves and hidden caves become apparent. Straight out to sea, you're high above the crushing, crashing waves and a captive audience member to some amazing oceanic power.
This spot is actually known as Depoe View Park, although there are no signs designating it as such.
Throughout this entire section, large and small crevices, perches and an endless amount of craggy boulders make for incredible climbing and exploring fun. All of it sits about 50 ft. above where the roaring, rather frightening surf pounds onto the cliffs below. You can sometimes even feel the waves hitting the rocks as their power resonates through the stone.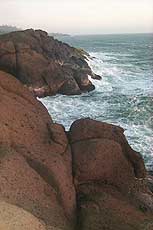 Then, at the area's southern end you can see Depoe Bay, and if you peep around the corner, you can catch close up glimpses of unusual rock structures.
Also at the southern end, a large formation juts out into the sea, sometimes allowing you to climb up and walk out even farther out over the ocean. However, much of the time its access point is so soaked by seawater it's not a good idea to go ambling up these rocks. A spectacular sight here is the ocean spraying this section with either small waves or a constant stream of thick, salt-water mist.
A small trail meanders between these cliffs and the private residences above, and there's even a picnic table for those hungry for grub as well as astounding views.
This area can be found by heading down Vista St. to its end, carefully parking without imposing on one of the private homes here, then follow the sign that says ``To the rocks.''
Indian Beach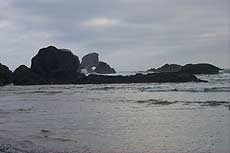 One outstanding feature at Indian Beach is the rock structure in the diastance called "Goonies Rock," because it was used in a famous scene in the movie, "Goonies."
At the northern end of Cannon Beach's Ecola State Park, another 1.5 miles after the main part of the park, you'll find a crescent-shaped beach filled with cobblestones, where a there's a lovely view of Tillamook Rock Lighthouse and where numerous rocky shapes stand and get slammed by large waves. At the cove's southernmost end, you can amble over some large boulders and reach more rock slabs to sit on, perfect for watching the water rage against other wedges that dare stand against it.
This rocky semi-circle is enclosed by two headland areas, with maybe a quarter mile worth of walking area. Granted, it's mostly covered with stones and doesn't have much in the way of flat sandy areas, so it's not the best spot for lying around. But it is undeniably beautiful and cozy, with a viewpoint and a picnic table sitting above its northern end.
At the parking lot for Indian Beach is the main trailhead going over Tillamook Head. It's another six miles to Seaside from there.
To get to Indian Beach, drive into Ecola State Park and follow the signs.