BEACH NEWS YOU CAN USE
Covering 160 miles of Oregon coast travel: Seaside, Cannon Beach, Manzanita, Nehalem, Wheeler, Rockaway, Garibaldi, Tillamook, Oceanside, Pacific City, Lincoln City, Depoe Bay, Newport, Wadport, Yachats & Florence.
Summer Cometh: Are you ready?
Chasing Glowing Sands and Forest Fires on Oregon's Coast
By Andre' Hagestedt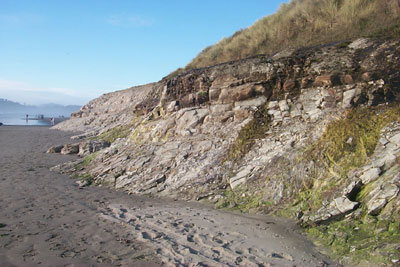 Glowing phytoplankton was seen at the bottom of these cliffs in Newport
(Oregon Coast – Five days of escape from the heat. Five days of not wearing shoes (most of the time). Five days of remarkable, even bizarre discoveries in the natural world, which heralded a summer full of wild things in store for the traveler to the Oregon coast.
It's all part of this job as editor of this online publication. It's a sandy, frenetic job, running up and down some 130 miles between Seaside and Newport – but someone has to do it.
On this particular chunk of July, the extreme heat of inland Oregon chased hordes of travelers from the valley to the coast, and this mass exodus also happened to coincide with the appearance of what is sometimes known as "glowing sands," a wild and weird natural event that is caused by bioluminescent phytoplankton.
It's something that's created by a form of plankton called dinoflagellates – a form of which glows when disturbed or touched by something. There are other types of dinoflagellates, but these happen to glow a bluish green in the water or on the sand, in much the same way a firefly glows.
I heard about them in the late 80's and was captivated by the idea. My first experience with them was in 1993 in Newport, and I've since seen some incredible sights involving these critters. They are simply mind blowing.
It's in Newport where I spot them again on this jaunt around the coast. My friend Debbie and I saunter down to the Don D. Davis Memorial Park, in Nye Beach, to play around the beach. On a whim, I decide to look for the glowing sand thing, and sure enough, I discover it in a small wet patch up against the cliff – perhaps a good 100 feet from where the tide line tends to be.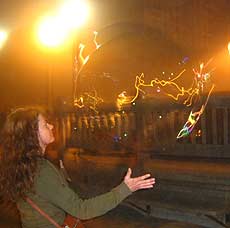 Debbie toys with and taunts giant soap bubbles
This is unusual, because this means the high tide had to have gone all the way up to the bottom of the cliff in order to bring them here. Yet it's summertime, and we have fairly calm waters. Truly odd, I think, yet upon fact checking this with local beach expert Guy DiTorrice, he says it's not unusual for some high tides to get that far up the beach, even during the fairly placid summer.
Meanwhile, Debbie is completely freaking out over the phenomenon. In between shrieks of delight, she keeps exclaiming, "I've lived here all my life and never seen this!"
The next night got even stranger. Debbie, her boyfriend Robert and I begin to head for that patch of beach again. On the way, at the Nye Beach Turnaround, there's a guy making enormous soap bubbles two or three feet wide and sometimes ten feet long. It's mind-bendingly surreal, especially at night. He has an audience that started with us, but soon dozens of others collect around him to watch.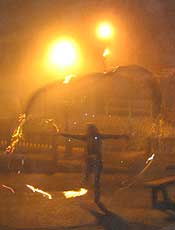 Attack of the giant soap bubble
Debbie constantly runs at them to chase them or try and pop them. Some of the photos of these moments are truly freaky.
At some point, in a strange coincidence, it turns out the soap bubble man is a guy named Dustin I once knew when I lived in Salem.
So, the four of us all car pool it and head down to the same beach, where we find the glowing sparks in the sand not so distinct as the night before. We're all walking backwards, scraping our feet on the sand to make them come out, as this is what it takes for them to appear. It's more than a little comical to see that I have three other human beings shuffling their feet backwards to see the little guys – in what I now call the "glowing sand" dance. Before long, another couple that just happened to be nearby caught wind of what we were doing, and they too were engaged in the glowing sands dance.
I could only laugh about the power that these tiny things and I have to make others look really goofy.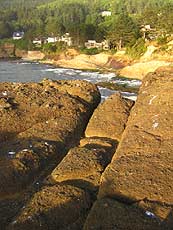 Oddities in Depoe Bay
The next day, I quickly photograph some geologic oddities in the rocks at a secret spot at the north end of Depoe Bay. These too are quite out of the ordinary features, even for the normally surprise-filled basalt structures that line Oregon's coast.
From here, I hightail it up to the north coast to hang with my old friend Bob. Late that night, Bob and I saunter around the deserted, pitch black beach of Arch Cape, and discover the phytoplankton is monstrous here. In some spots, you kick the sand and an enormous shower of sparks shoots out into the dark. I have never seen it quite like this. It's absolutely unforgettable.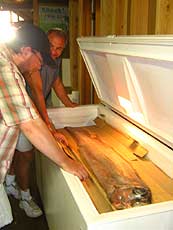 Keith shows off the freaky fish
The next day, a Monday, I check out someone else's discovery. Keith Chandler at the Seaside Aquarium shows me the freaky fish they found recently just north of Seaside. Called King-of-the-Salmon (Trachipterus Altivelis), this rare find normally lives 1600 feet under the sea.
Keith shows me a disgusting photo of him licking the eye of the creature, and begs me to do the same. I think he even attempts to bribe me. What a nutcase. In fact, I don't really believe he actually did it – and that the photograph isn't quite all it seems.
I asked Keith if the glowing plankton had been seen in Seaside, and he admitted he couldn't recall ever seeing it there in all his life. He theorized it almost never shows up, if at all, because the Columbia River may push too much fresh water into the sea north of Tillamook Head.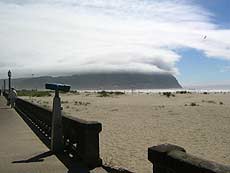 Tillamook Head, with "a hat on"
It was here I photographed Tillamook Head with its top smothered in clouds, which Keith referred to as "wearing a hat."
Later that night, I look for the the glowing sand stuff around Seaside to no avail. Keith was proably right. I do, however, see it in Cannon Beach, at the dark southern end.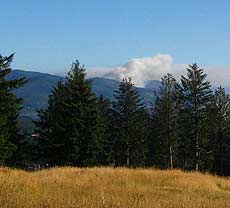 Smoke in the distance, seen from above Manzanita
Then, it's more fun at Warren House, perhaps my favorite bar in the state, and I meet a couple of exquisite women visiting from Colorado. I get to play tour guide and gave them advice on finding the glowing phytoplankton on the beach, and gave them instructions for finding cool wine tasting and dining opportunities in Yamhill County's wine country.
Tuesday, I'm photographing chunks of the north coast, when I spot this unusual cloud-like structure to the south of the Nehalem Bay. It's a giant, billowing thing, which looks suspiciously as if it may be a fire.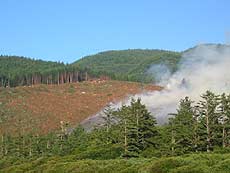 Fire behind Rockaway
Sure enough, as I head towards Rockaway Beach, I see a massive off-white cloud rising from the forest in back of the tiny resort town. This is indeed a forest fire, although it doesn't appear as if it's too large or heading for any homes up on the bluff overlooking town.
According to news reports, it encompassed 35 acres and took 50 firefighters to try and subdue it, although by mid-week it wasn't quite out completely. The fire was on private land owned by a local logging company, and as of this writing, the cause is unknown.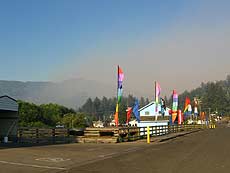 Smoke-filled haze at Pacific Oyster on Tillamook Bay
It created havoc just up the road, however. While you couldn't smell the smoke in town, the wind shot the plume into Garibaldi and throughout Tillamook Bay. Once you rounded the bend to Garibaldi, the smoke became thick and stifling, and the sun was dimmed considerably. Apparently some ashes fell in that area as well. In Bay City, right on the bay, anything farther than a distance of a mile got hazy and was veiled from sight. It was thick, eerie, and uncomfortable to breathe it.
Manzanita in the daylight
In the evening, it was a business meeting and then a spot of drinking at the Wateringhole in Nehalem with Rachel of Registerlocally.com. I then got to play tour guide again and showed her the wacky glowing stuff on the beaches of Manzanita. It was fairly visible near the tide line, and Rachel was suitably blown away. Here, it did something I've never seen, however. It was more visible in the water itself this time, as incoming waves would recede back into the sea. As each wave began slipping backward, the little dinoflagellates would "twinkle" in the water, like little stars popping in and out of existence very quickly.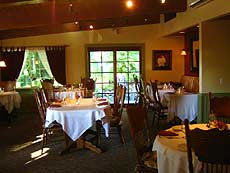 Exploring Nehalem River Inn
The following day, a Wednesday, I conducted business on the north coast, including discovering the stunning Nehalem River Inn, near the Nehalem Bay Winery on Highway 53. During most of these days wandering the coast, the temperatures had been pretty comfortable, although Wednesday wound up in the 80's if you headed just a little inland along the Nehalem Bay. As you drove further into Highway 53, the temps were much higher, and this tree-lined and slightly mountainous farmland reminded me of my travels in Europe during various summers. The Inn, however, with its gorgeous, posh interior and beautiful outdoor dining area and hotel, felt distinctly like some places I'd been to in Germany's Black Forest in the sweltering heat. I was transported back in time. My head was reeling with all this.
Proof of the coast's strange weather personality: a quick drive to Manzanita and Oswald State Park saw temps drop fast into the low 70's. Another 10 miles up the road, on the other side of Neahkahnie Mountain and a few headlands, Cannon Beach was grey and in the high 60's.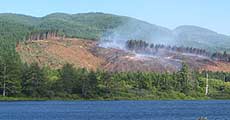 Fire still smolders in Rockaway
I eventually met up with my good pal, Abby (whom I've nicknamed Abby-Normal, after a line from the "Young Frankestein" movie). This meant driving into Rockaway again, where some parts of the fire still smoldered.
After nightfall, I dragged her on a small tour of the glowing phytoplankton. It turns out, her mother and other locals (she grew up on this part of the coast) referred to these little bioluminescent beasties as "star stomping." We started in Arch Cape, then Manzanita, and then the Nehalem Bay. In the first two, they weren't nearly as visible as before, but Abby-Normal was completely amazed and consistently squealed with delight. She too grew up here and had heard about it for many years, but doubted its existence.
There are few feelings like causing your friends to have coastal science epiphanies.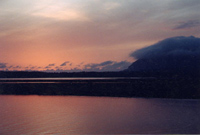 Dipping your hands in Nehalem Bay at night could result in some incredible wonders
Then, the glowing phytoplankton tour took the wildest turn. In Nehalem Bay – just as I had previously heard of – if you move your hand around in the water, a strange glowing trail will travel behind you. Indeed, this is what happened, and it was stranger than I had pictured. Abby and I took our beach flip-flops and moved them around in the water, which made a deeper movement and thus more of the weird radiance.
I had never seen this before either, and was completely floored.
As a side note, locals have told me that swimming in the river or bay at night under these conditions is an especially surreal experience, where your whole body looks like a glowing skeleton in the water.
As I took Abby back to her pad in Rockaway, the fire on the hill is still smoldering at night. You could still see giant hotspots, appearing as if they floated above the town in the dark.
It was here the jaunt ended, with our Portland office calling me back, in spite of the heat back in town. I left at midnight, and after an increasingly bleary-eyed trip through the coast range and atmospheric, forested Highway 6, I arrived in Portland near 2 a.m.
Now, the real research begins: it's time to track down phytoplankton experts and find out about what exactly I saw here.